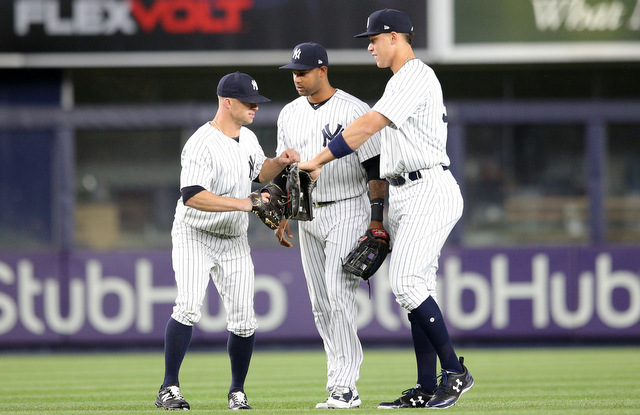 The Yankees wrapped up a wildly successful 8-1 homestand last night, and they'll now go out on the road for a six-game trip through Pittsburgh and Boston. But first: an off-day. There's no Yankees game today. Lame! This team is mighty fun to watch, isn't it? Anyway, I have thoughts on stuff.
1. There is noticeably more energy at Yankee Stadium this year. Maybe it's just general "hey baseball is back hooray" early season enthusiasm, but I went to plenty of April home games last year and the year before and the two years before that, and the atmosphere was not close to what it was during the homestand. At first I thought it was just the fans getting into Michael Pineda chasing perfection in the home opener, but no, the energy has stuck. It's been pretty cool. The new center field landing areas are packed each night and that seems to help. There's more people moving around and more noise in general. There's also been some changes to the between innings entertainment — the Subway Race is gone (wtf?!?) and so is Cotton Eye Joey (woo!) — that, if nothing else, has brought some fresh content. The between innings entertainment at Yankee Stadium went stale a long time ago. I'm sure things will cool down as the season progresses and we get into the dog days, but right now, fans definitely seem to be into this new young Yankees team. The ballpark has been much livelier than it was the past few Aprils. (Now please do something about those damn security lines, Yankees. Too many people are missing the start of the game because they're stuck waiting on line outside.)
2. I mentioned this yesterday, but Luis Severino appears to be much more confident on the mound this year. He's getting the ball, throwing it with conviction, and attacking hitters. That wasn't the case last year. The same seems to be true with Pineda. In the past he had a tendency to wander around the mound a bit and get fidgety. Pineda's body language has always been … interesting. That's a good word. Interesting. Anyway, there's no real way to measure a pitcher's confidence, but we can measure his pace on the mound thanks to PitchFX and Trackman. The numbers show Severino and Pineda are indeed working quicker this year:
2016 Severino: 21.7 seconds between pitches (as a starter only)
2017 Severino: 19.5 seconds
2016 Pineda: 23.8 seconds
2017 Pineda: 22.7 seconds
Furthermore, CC Sabathia has trimmed his pace from 24.8 seconds between pitches last year to 23.0 seconds this year. (The MLB average is 24.0 seconds.) According to man of the people Lucas Apostoleris, Severino (-2.2 seconds) and Sabathia (-1.8 seconds) have the two largest pace drops in baseball from last year to this year. No one has cut more time between pitches than those two. Pineda isn't far behind either at -1.1 seconds. (Masahiro Tanaka is at +0.2 seconds.) Could this be part of a team-wide emphasis on working quickly — the Yankees as a team went from 24.0 seconds last year to 23.4 seconds so far this year — or is this just three starting pitchers pitching well and feeling confident? I'm inclined to think it's the latter right now. Pace is not necessarily a proxy for confidence, though having watched Severino and Pineda so far this year, they do seem to be much more confident and aggressive, and I think that can lead to working quicker on the mound.
3. Dellin Betances made a pickoff throw to first base the other day! Friday night, specifically. The Yankees had a one-run lead with two outs in the eighth inning. Matt Adams was at the plate and Stephen Piscotty, who went 7-for-12 (58%) in stolen base attempts last year, was on first base. Here's the pickoff throw: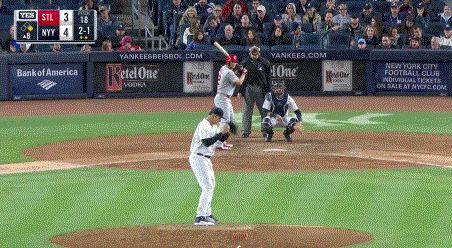 That's an honest-to-goodness pickoff throw with some velocity on it. Not some sort of half-baked lob you usually see from pitchers who have trouble throwing to the bases, like Jon Lester. No, that throw was not particularly close to actually picking the runner off first, but that's not really the point. Betances forced Piscotty to dive back into first base and he put it in his head that yes, he will throw over. That's something Dellin didn't do at all last year. Runners knew they could take a great big lead against him and run on his first move, because he wasn't throwing over to first. He was going to the plate. Betances worked on his defense over the winter — not just his pickoff throws, also making plays on weak grounders hit back at him — and we're seeing some results. Two Saturdays ago a runner was thrown out trying to steal against Betances for the first time since September 1st, 2015. That was 23 steal attempts ago. (Austin Romine was behind the plate too, not Gary Sanchez and his rocket arm.) Holding runners is a clear weakness for Dellin and he worked on it during the offseason. He's holding runners a little better and he actually made a pickoff throw. It's not much, but it is progress.
4. The whole Chris Carter thing isn't really working out. I understand why the Yankees signed him given the cost and uncertainty surrounding post-shoulder surgery Greg Bird, but he's sort of a square peg in a round hole on the bench. Bird is going to play and play a lot, and because Carter is a first baseman/designated hitter only, there's no other way to get him in lineup. He can pinch-hit and that's really it. Carter is 4-for-26 (.154) with eight strikeouts thus far and I wonder whether steering clear of contact challenged bench players would be the smart move going forward. It can be tough to keep your timing down while playing sparingly, and that problem could be exacerbated by having difficulty making contact in the first place. Garrett Jones, a similar player to Carter, didn't work out in 2014. Andruw Jones figured out how to thrive as a part-timer later in his career when he was swinging and missing a bunch, but Jones was a Hall of Fame caliber talent, and I think he's an outlier. I guess we have to consider these things on a case-by-case basis. Jones and Carter were regulars before they joined the Yankees and had their roles reduced, so perhaps that explains why they didn't hit in pinstripes. Even with limited playing time, I figured Carter would have already run into a home run by this point of the season. Instead he's flailing at pitches off the plate and popping up the pitches he should crush.
5. The Yankees just put together an eight-game winning streak and have won nine of their last ten games overall, and the schedule may have had something to do with it. The Rays, Cardinals, and White Sox aren't very good — the Rays and Cardinals sure seem to be mistake prone this year, and the White Sox are rebuilding — so the Yankees are beating up on some bad teams. I've seen that bandied about a little bit the past few days. Two things about that. One, you can only play the teams on your schedule. Two, one of the many reasons the Yankees missed the postseason three times in the last four years was their inability to beat the teams they were "supposed" to beat. They went 3-7 against three crummy NL West teams last year (Padres, Rockies, Diamondbacks). In 2014 they went 2-4 against the 70-92 Astros and 8-11 against the 77-85 Rays. In 2013 they went 0-4 against the 74-88 Mets. The Yankees had a way of playing down to their competition. They trailed in five games during the eight-game winning streak, yet they managed to come back and win partly because the other team made mistakes, and they took advantage. The Yankees had problems doing that in the past.
6. Aaron Judge's third inning ground out last night was his 130th career big league at-bat, meaning he is no longer rookie eligible. (He can still win Rookie of the Year this year.) He is only the fourth player drafted by the Yankees in the first round to exhaust his rookie eligibility in pinstripes since Derek Jeter. Judge, Phil Hughes, Joba Chamberlain, Ian Kennedy. That's the list. (Eric Milton and Brian Buchanan were first round picks by the Yankees who eclipsed the rookie limits with the Twins after being part of the Chuck Knoblauch trade.) Judge and Buchanan are the only position players drafted by the Yankees in the first round who managed to reach 130 big league at-bats since Jeter. That is pretty nuts. A combination of things (bad drafting, bad development, bad luck) have resulting in the Yankees having little success with their first round picks the last two and a half decades, though I should note part of that is forfeiting picks to sign free agents and never being bad enough to have a top ten pick. But still. You've got to hit on more first rounders than that. Hopefully Judge represents the start of the sea change. The financial playing field has been leveled over the years, making those high draft picks more important than ever.