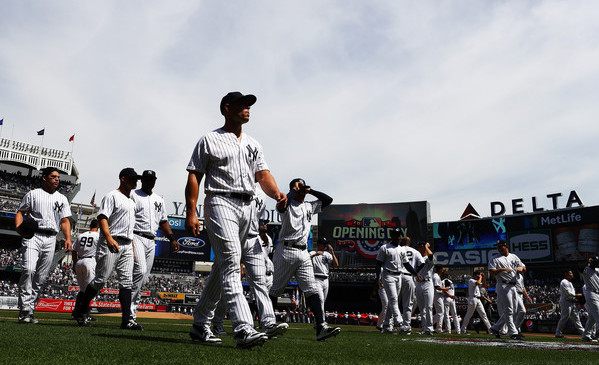 The Yankees and Rays will resume their three-game series with the middle game this afternoon. Assuming the weather cooperates, that is. It should. When I checked the forecast last night, it said it would rain in the morning and dry up by game time. Anyway, here are a few early season thoughts.
1. Later today left-hander Jordan Montgomery will make his first big league start and I wonder whether Joe Girardi will pair him with catcher Kyle Higashioka. Higashioka caught Montgomery for much of last season with Double-A Trenton and Triple-A Scranton, so there's familiarity there, plus the Rays are starting left-hander Blake Snell. Higashioka is a right-handed batter with some pop. Seems like a good way to get him his first start, right? Pair him with a pitcher he knows and give him the platoon advantage at the plate. My hunch is Girardi will stick with Austin Romine behind the plate while Gary Sanchez is out, but Higashioka is going to have to start once in a while, and this afternoon's game seems like the perfect time to give him his first start.  A lot will be working in his favor, both on the offensive side and defensive side of the ball.
2. Prior to Monday's game Girardi said he won't necessarily stick with Brett Gardner and Jacoby Ellsbury hitting one-two while Sanchez is out, though those two are playing well right now, and my guess is Girardi will keep them together atop the lineup as long they're both hitting. We've seen them both get hot at the same time in the past — the first few weeks of the 2015 season come to mind — and when it happens, they can carry the offense. That means Greg Bird won't hit third whenever he returns because there's basically no chance Girardi will stack three lefties at the top of the lineup. Matt Holliday third and Bird in the cleanup spot? Or maybe drop Bird to fifth or sixth given his sluggish start? Regardless of what happens with Bird, I don't think Girardi ever wanted to move Ellsbury down in the lineup, and now that both he and Gardner are playing well, I think it gives Girardi an accuse to bat them one-two again. We'll see what happens.
3. The Yankees seem to be giving Jonathan Holder every opportunity to prove his worth in middle relief. He's appeared in four of seven games so far, and Girardi has used Holder in all sorts of situations. Here are the situations Holder has been brought into in those four appearances:
April 2nd: Start of the seventh inning down five.
April 4th: Start of the eighth inning with a five-run lead.
April 7th: Start of the sixth inning with a one-run lead.
April 8th: Start of the eighth inning down one.
In that April 7th game, the first batter Holder faced was Mark Trumbo, a player who was very capable of tying the game with one swing. (Trumbo struck out.) The Yankees clearly like Holder. They wouldn't have called him up last September if they didn't. Holder is not really as good as his 2016 minor league numbers would lead you to believe — he threw 65.1 innings with a 1.65 ERA (1.30 FIP) and 42.4% strikeouts and 2.9% walks at three levels last year — but he definitely has a chance to be a big league reliever. The Yankees are in position to ease Holder into things. They have Aroldis Chapman and Dellin Betances for the late innings, and Tyler Clippard and Adam Warren are capable third and fourth pieces. Girardi can pick and choose his spots with Holder while still getting him plenty of work, and that's exactly what has happened so far.
4. Are you enjoying Holliday so far? I sure am. That dude is a total pro at the plate. He's almost the perfect middle of the order veteran for a team that is transitioning to youth like the Yankees. He grinds out at-bats, takes his walks, hits to all fields, hits for power … what's not to like? Holliday sets a good example for the young players and, in the grand scheme of things, helping the kids is more important than whatever he contributes at the plate this season. As productive as Carlos Beltran was last season, he was mostly a dead pull hitter who rarely walked (5.7% walks before the trade), and the Yankees needed to get away from that profile. Holliday will make a pitcher work and he's not easy to defend. It's refreshing. The season is still very young, but it's tough not to impressed with what he's bringing to the table as the designated hitter.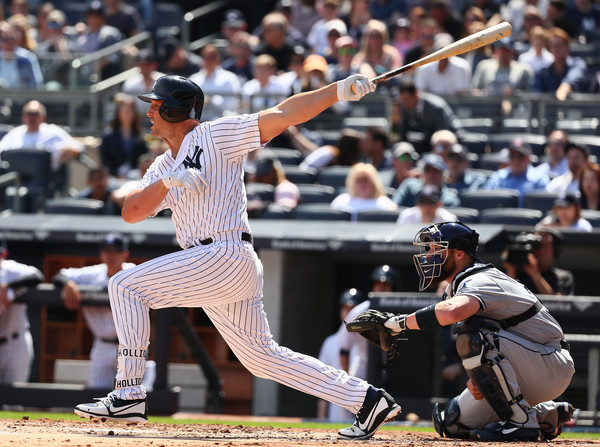 5. Speaking of the designated hitter, the Yankees have an interleague series coming up soon. They'll be in Pittsburgh next weekend, April 21st to 23rd. I wonder what that will do to the lineup? Is Holliday going to sit, or will Girardi run him out there in left field for a few innings each night to make sure he gets three at-bats? Left field at PNC Park is not small. It's one of the most spacious left fields in baseball. I want Gardner out there running fly balls down. It's so ridiculously early in the season that I say sit Holliday next weekend and try to get by without the big bat in the lineup. The last thing the Yankees want is Holliday to pull a hamstring or something running after a fly ball, you know? Maybe if this were September and the Yankees were in a postseason race, I'd feel differently. This early in the season though? Forget it. Use Holliday to pinch-hit that weekend and nothing more.
6. Luis Severino threw 14 changeups out of 89 total pitches in his start last week — disclaimer: the Trackman system has had some pitch classification issues early on — which is a pretty good ratio considering the Orioles only had three left-handed batters in the lineup. More than anything, I thought Severino was working very quickly and throwing with a lot of conviction. It looked like he had a reliever's mentality while working as a starter. Get the ball and throw it. Four runs in five innings isn't great — the two-out walk to the un-walk-able Adam Jones that set up the Manny Machado three-run home run was Severino's biggest mistake of the night — but I thought Severino looked better in that start than he did in any start last season. We'll see how he looks going forward and how much he uses his changeup. I'd say I am cautiously optimistic at best right now. One or two starts isn't enough to win me over.
7. Am I the only one who doesn't care one bit about the New Era logo on the side of the hats? When it was first announced, I hated the idea. How could they desecrate the iconic interlocking NY hat??? Now that it's been a few games, I hardly even notice it's there. Meh. I wonder if the same thing will happen when the Under Armour logo makes its way onto the front of all jerseys in a few years. (MLB has announced Under Armour will replace Majestic as the league's official uniform provider in 2020.) It's only a matter of time until we see advertisements on jerseys. You know that, right? That's an untapped revenue stream MLB and the MLBPA won't sit on much longer. As long as it's done tastefully and MLB jerseys don't look like NASCAR cars, I'll live. The thought of the New Era logo on hats bothered me. Now that I see it in action game after game, it's no big deal. I'm guessing I'll have the same reaction with the Under Armour logo and the inevitable jersey advertisements that are coming.