Maybe it was the young guys were thriving, maybe it was because the Yankees were playing the Red Sox, but man, that was the most satisfying victory of the season so far. Aaron Judge hit a homer to put the Yankees on the board, Luis Severino threw seven impressive innings, and heck, Greg Bird pitched in an RBI! Aroldis Chapman made it a bit scary in the ninth inning but eventually got out of it for a 3-1 Yankees victory in the Fenway Park.
The Judge and the Bird
In the second inning, Aaron Judge hit a birthday celebration home run off Rick Porcello. Starlin Castro reached on a Xander Bogaerts throwing error to begin the frame. Looked like a routine play, then the throw fell short and Mitchell Moreland couldn't save the shortstop from an error. With a runner on first, Judge squared up an 88 mph fastball from Rick Porcello and sent it into the right field bullpen to give New York a 2-0 lead. I thought, if Judge were to hit a home run in Fenway, it would be a majestic shot going over the Green Monster, but this is good too. Drove it the opposite field (385 feet) and gave Yankees a two-run advantage. Judge also drew a walk later on in the sixth on a very, very close pitch off the outside corner. Last year's Aaron Judge probably flailed at it haplessly but he showed some exceptional plate discipline to let it go and take a walk.
After tonight, Judge is hitting .281/.352/.672 with 7 home runs in 71 PAs. That is pretty good. He also gave Yankee fans a little scare by jumping into the stands to make a catch. It was initially ruled a foul ball but upon further review, they reversed the call. I'm just glad that his legs are okay after this: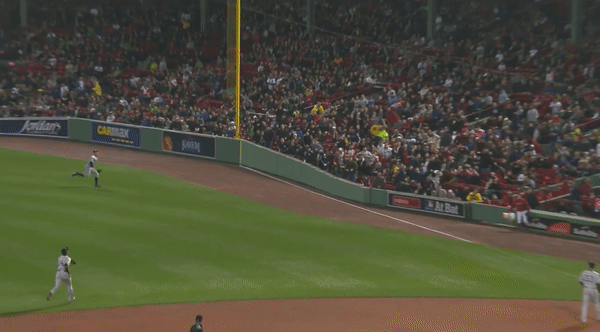 The other Yankee run was driven in by none other than Greg Bird. Judge advanced to second on a wild pitch after said walk in the sixth inning. Bird got a fastball on the outside and drilled it towards the Green Monster to score Judge. Prior to that at-bat, Bird was hopelessly whiffing at fastball offerings from Porcello. Pretty encouraging to see him do anything positive right now. I believe he will be alright though. Players do go through tough patches at times. Meanwhile, there was another young Yankee thriving on the other side of the ball.
Severino good
This is what we all waited for from Luis Severino. The young righty, who has been teasing the Yankee fans with potential and enigmatic performances the last few years, made a very strong case to be a not only a long-term starting pitcher but also maybe the best in the rotation. Well, he has a lot of things to take care of — especially lowering the home run rate — in order to be excellent for years, but he showed tonight what he can do when everything clicks.
Per Brooks Baseball, Severino was throwing some serious heat tonight, as usual. He clocked at 99.8 mph with his fastball, which is pretty impressive given that Brooks Baseball doesn't really go with the new velocity measuring system by MLBAM (measuring at 50 ft from home plate as opposed to 55 ft). He also generated 13 total whiffs — seven from fastball, five from slider and hey, one from changeup! I'd like to see more from his third pitch from here on.
When it comes to an eye test, Severino looked a thousand times better than he did last year. He seemed to hit the spots better, deliver them with much less doubt, went after hitters with tons of confidence in his pitches, etc. He's had great stuff for a long time. Whatever Pedro Martinez taught him and/or he adjusted in the Spring Training has paid dividends so far. After tonight, he has a 33 strikeouts-to-4 walks ratio in 27.0 IP, which is excellent. His ERA is down to 3.00 and FIP is at 2.87.
Lastly, here's that nasty slider…
Hold unto your butts
After Dellin Betances took care of the Red Sox hitters in order in the eighth, it was up to Chapman to get a save and finish the win for the Yankees. Something seemed a bit off with him tonight. Maybe it's the cold weather or the four-day rest he got (or both), but he had trouble commanding his pitches from the get-go, walking Andrew Benintendi and allowing a deep double to Mookie Betts to start the frame. Uh-oh. With that, the tying run was already on the plate. Chris Young, pinch-hitting for Moreland, hit an RBI grounder to get a run in for Boston but also an out count for New York.
With a runner on third, it was Hanley Ramirez up for the Sox. Ramirez isn't off to a good start but you always worry about him because he has good pop in the bat, especially with the Green Monster favoring his HR chances. Chapman, again, ended up walking him to make it runners on corners. Thankfully, Jackie Bradley Jr. struck out swinging on a bad slider way over the strike zone and Josh Rutledge struck out on a fastball located well (possibly the best one Chapman threw all night) to end the ballgame. 3-1 Yankees. I needed a cigarette after that frame.
Box score, WPA graph and updated standings
Here's tonight's box score and standings thanks to ESPN and WPA graph from Fangraphs.

Source: FanGraphs
---
The Yankees are back at it again at Fenway tomorrow. Masahiro Tanaka is up on the hill against the noted Yankee killer Chris Sale.