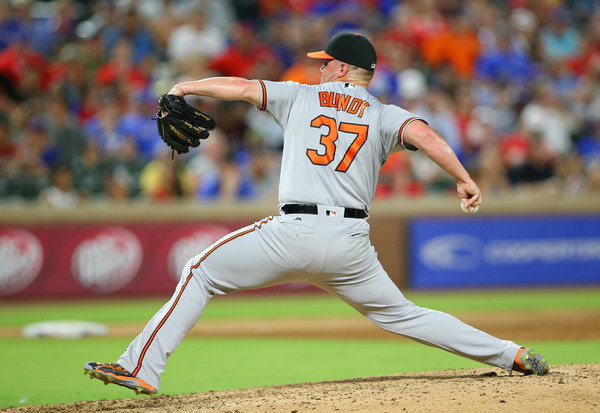 Happy Memorial Day, folks!
The Last Time They Met
The Yankees hosted the Orioles for a three-game series to close out April, winning two. It was a high-scoring affair – the Yankees outscored the Orioles 30-22 – with two of the games going into extra innings, and it left the two tied atop the AL East. It was an excitingly frustrating (or frustratingly exciting) series. Some notes:
The Yankees were trailing 11-8 heading into the bottom of the ninth in game one. Jacoby Ellsbury brought them within 2 runs with an RBI groundout, and then Starlin Castro tied it with a two-run home run. And then Matt Holliday walked it off in the bottom of the tenth.
Didi Gregorius made his season debut in that first game, and he returned in style by going 2-for-5 with a double and an RBI. He went 7-for-15 in the series, putting the ball in play in 14 of his 15 plate appearances.
Aaron Judge had himself a series, going 5-for-9 with 7 runs, 3 HR, 5 RBI, a steal, and more walks (6) than strikeouts (4).
Injury Report
Closer Zach Britton has been sidelined with a left (pitching) forearm strain since early May, and is not expected back until late June. The Orioles had a top-five bullpen by most measures last year, due in no small part to Britton's staggering 0.54 ERA in 67.0 IP (as well as his 47 saves in 47 chances). They're a middle-of-the-pack group this season, and they've already blown eight saves, as compared to fourteen in 2016 as a whole.
Utility player Ryan Flaherty is also on the DL (right shoulder strain). There's a slim chance that he could be back during this series, but a June return seems much more likely. And Adam Jones was out of the team's lineup on Saturday and Sunday due to hip and ankle soreness; he isn't expected to head to the DL, but he may be limited this week.
Their Story So Far
The Yankees are meeting the Orioles at a fairly opportune time, as they have lost seven in a row by a combined score of 38-17. The Orioles have had a rough May in general, posting a 10-15 record over the last four weeks. They currently sit third in the AL East at 25-23, and their -7 run differential suggests that they are a true talent .500 team (as has been the case for much of Buck Showalter's tenure).
Underperformance may well be the defining characteristic of their first two months. Manny Machado (98 wRC+), Adam Jones (91 wRC+), Mark Trumbo (93 wRC+), and J.J. Hardy (52 wRC+) have disappointed with the bat, and Chris Tillman (95 ERA+), Kevin Gausman (67 ERA+), and Ubaldo Jimenez (58 wRC+) have struggled in the rotation. Most of these players were expected to perform much, much better, and there's reason to expect them to rebound – but the Orioles must be getting antsy.
The Lineup We Might See
Showalter has mixed-and-matched his lineup more often than in years past, due to injuries, underperformance, and attempting to find a fit for new additions. He also utilizes a couple of platoons, notably in the corner outfield. Assuming that Adam Jones will be playing, however, it's a fairly safe bet that we'll see something like this:
Seth Smith, RF
Adam Jones, CF
Manny Machado, 3B
Chris Davis, 1B
Mark Trumbo, DH
Welington Castillo, C
Trey Mancini, LF
Jonathan Schoop, 2B
J.J. Hardy, SS
The Starting Pitchers We Will See
Monday (1:05 PM EST): LHP Jordan Montgomery vs. RHP Dylan Bundy
Bundy was a consensus top-five prospect heading into 2013, due to his overpowering stuff and advanced pitchability (especially for someone who would spend the entirety of the 2013 as a 20-year-old). A series of injuries limited him to 63.1 IP over the next three seasons, and many wondered if he'd ever be able to contribute at the highest level as a result. He had a solid (and mostly healthy) 2016 as a swing man, tossing 109.2 IP of 4.02 ERA (107 ERA+) ball as a rookie. And he's been even better this year, with a 142 ERA+ in 64.2 IP through ten starts.
All of those injuries took their toll on Bundy, as he's now limited to a low-90s fastball. He also throws a low-80s slider, low-80s change-up, and a mid-70s curveball. The slider and change-up are his best pitches, and both are used to pick up whiffs.
Last Outing (vs. MIN on 5/23) – 7.0 IP, 6 H, 2 R, 3 BB, 7 K
Tuesday (7:05 PM EST): RHP Luis Severino vs. RHP Chris Tillman
Shoulder bursitis kept Tillman out until May 7, so he has only made four starts in 2017. He was the nominal ace of the Orioles from 2013 through 2015, and, despite a poor 2016, hopes were fairly high that he would be healthy and effective this year. The early returns have been less-than-stellar, but he did come back a bit earlier than expected.
Tillman's fastball usually sits in the low-90s, but it has been limited to the upper-80s since his return from the DL. He throws a four-seamer, two-seamer, and cutter, and all are right around the same velocity. He also throws a slider, a change-up, and a knuckle-curve.
Last Outing (vs. MIN on 5/24) – 5.0 IP, 9 H, 4 R, 2 BB, 3 K
Wednesday (7:05 PM EST): RHP Masahiro Tanaka vs. RHP Kevin Gausman
Gausman may well be the most disappointing player on the Orioles, given his prospect pedigree and the promise he showed in 2016. His strikeout (from 23.0% to 14.9%), walk (6.2% to 8.6%), and home run (1.40 per nine to 1.67) have trended in the wrong direction, and an increase in velocity implies that there isn't an injury limiting him. The Yankees have hit him heard both times they faced him this year, so here's hoping that trend continues.
Last Outing (vs. HOU on 5/26) – 6.2 IP, 8 H, 2 R, 0 BB, 2 K
The Bullpen
The repercussions of the loss of Britton cannot be overstated, as the Orioles bullpen was very dependent upon pre-assigned roles (sound familiar?). The rest of the bullpen is just 11 for 19 in save opportunities, and Brad Brach has struggled since inheriting the closer's mantle. Him, Mychal Givens, and Darren O'Day are Showalter's high-leverage arms, and the aforementioned Jimenez has become the long-man out of the bullpen (he went 6 IP yesterday, allowing 2 runs). Brach didn't pitch this weekend, and Givens and O'Day only went once apiece, so the core group is fairly well-rested.
Yankees Connection
I mentioned Buck Showalter, Vidal Nuno, and Chris Davis last time around. You can now add the immortal Richard Bleier to the list, as he has thrown 11.2 IP out of the bullpen since his call-up on May 3. He spent all of 2016 in the Yankees organization, posting a 1.96 ERA in 23 IP in the majors. And, as much as I'd like to make a joke about the Yankees giving up on him, he's a 30-year-old journeyman with an extremely limited track record.
Who (Or What) To Watch
I'm interested in watching Dylan Bundy, given his tumultuous journey to the majors and his still-impressive stuff. The Yankees saw him four times last season (two starts), but his stuff has improved dramatically this season.