So close! The Yankees very nearly made another miraculous ninth inning comeback in Thursday night's series opener against the Astros. Instead, the final out was recorded at home plate, and they lost the game 3-2. Man, that would have fun. What a wild ending.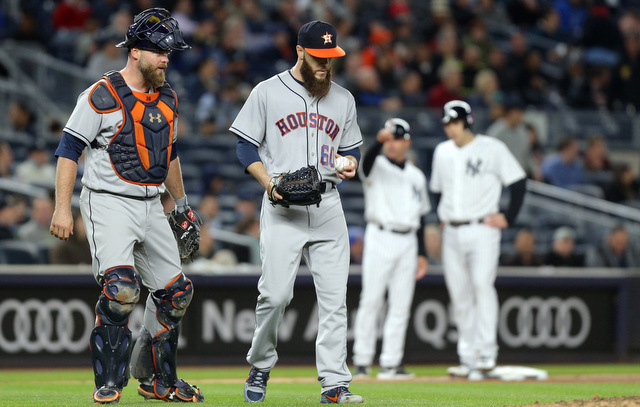 Keuchel On The Ropes
Early on, it sure looked like Dallas Keuchel would cruise to a complete game shutout, probably on fewer than 100 pitches too. He's regained his Cy Young form this season, and he held the Yankees to two baserunners — a Chase Headley infield single and a Chris Carter ground ball single — in the first four innings, and he needed only 42 pitches to do it. Four of the 13 batters he faced those four innings made first pitch outs.
The Yankees finally put together a rally in the fifth inning, and they needed an error to do it. First baseman Yulieski Gurriel dropped the ball on Headley's routine grounder to third base. The throw to first was perfect. Right to Gurriel's chest. It just clanked off his glove. Very weird. Didi Gregorius followed with a single and Aaron Hicks followed with a walk to load the bases with one out. Woo! Then Carter struck out for the second out. Boo!
Fortunately, Jacoby Ellsbury came through with a clutch catcher's interference to force in a run with two outs. You'd think Brian McCann would know better, right? Maybe scoot back a step or two when Ellsbury is in the box. Ellsbury always picks a good time for catcher's interferences, it seems. That brought Gary Sanchez to the plate with two outs, and he reached out for a 2-0 sinker and grounded out weakly to end the threat. Drat. One run is better than no runs though.
In the very next inning, the Yankees again threatened against Keuchel, this time thanks to back-to-back singles by Matt Holliday and Starlin Castro. Castro's single was a rocket off the wall in left field that wasn't more than a few feet from going over from a game-tying two-run home run. He hit it so hard he had to hold at first. Runners at the corners with one out! Then strikeout strikeout strikeout. Woof. Aaron Judge, Headley, and Gregorius couldn't even put a ball in play.
On the bright side, the Yankees did get Keuchel's pitch count up in those fifth and sixth innings. He threw 42 pitches in the first four innings and 55 pitches in the fifth and sixth inning. Hooray for avoiding the complete game? Making them use the bullpen is better than not making them use the bullpen. Keuchel allowed one unearned run on five hits and a walk in his six innings. He struck out nine. Great pitcher pitched great. News at eleven.
Pineda's One Mistake
On a night he was going to have to be close to perfect to win, Michael Pineda made only one real mistake on the mound, and unfortunately it came right after his defense made a mistake behind him. Josh Reddick lifted a weak fly ball to shallow center field that fell between Gregorius and Ellsbury for a single. It was Ellsbury's ball all the way. The outfielder charging in has to call off the infielder looking over his shoulder.
Anyway, Reddick's fly ball dunked in for a single, extending the inning and giving Carlos Correa a chance to bat with a man on base and two outs. Pineda made one of his classic two-out mistake pitches and Correa almost effortlessly lifted it into the right field seats for a two-run home run. Sanchez wanted the ball down and away, but Pineda left it up in the zone: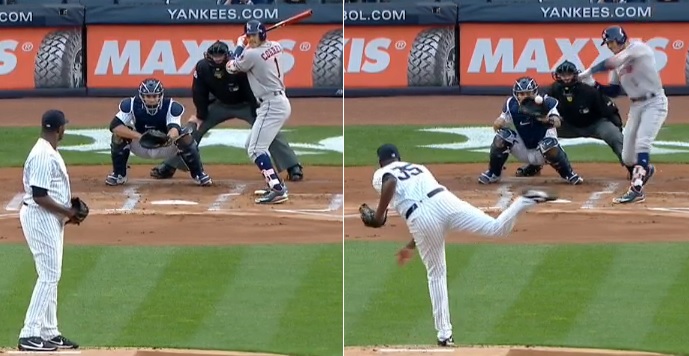 Sigh. Make a mistake to Correa and he'll do that. Following that home run Correa was 6-for-9 with three dingers against Pineda in his career. In related news, Pineda walked him on four pitches next time up.
Aside from that though, Pineda was very good, allowing just one more run on a two-strike slider George Springer dug out of the dirt in the fifth inning. Nori Aoki reached on a fielder's choice and stole second earlier in the inning to set that up. Pineda executed a good two-strike slider and Springer went down and got it. What can you do? Sometimes you make a good pitch and get beat anyway. Such is life.
Pineda finished the night having allowed three runs — all three were earned because the Reddick fly ball was ruled a hit (neither Gregorius nor Ellsbury touched it) — on six hits and one walk in 6.2 innings. This is only the second time Pineda has allowed as many as three runs in his last six starts. The missed location to Correa stunk, but overall this was another good outing for Pineda. He's been pretty solid so far this season.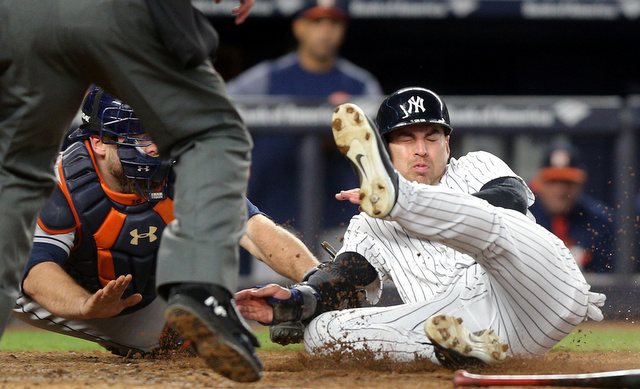 Fighting Spirit!
For the fourth time in their last seven losses, the Yankees had the tying run on base in the final inning. Even when they lose, they don't go down quietly. A Hicks walk and an Ellsbury single-plus-stolen base combination gave the Yankees runners at second and third with two outs in the ninth. The tying run was at second! They might still lose, but at least they were going down with a fight, you know?
Sanchez then provided the big hit with runners in scoring position the Yankees had been seeking all game. He yanked a single through the left side of the infield, scoring Hicks easily. Ellsbury was sent home and … was thrown out at the plate by Jake Marisnick to end the game. A walk-off out at the plate. Zoinks. Here's the video:
Given the result, it was a really bad send. That said, I'm okay with third base coach Joe Espada waving Ellsbury around. I think the odds of Marisnick's throw being off-line are greater than the odds of Holliday, the next hitter, getting a hit against the very nasty Ken Giles. Marisnick made a great throw. A perfect throw, really. And Ellsbury was out. Sucks. Just one of those games the Yankees weren't meant to win, I guess.
Leftovers
Adam Warren had something of an off-night in relief of Pineda. He stranded an inherited runner at second after entering in the seventh inning, and finished the night having allowed a hit and two walks in 1.1 innings. Warren didn't allow a run, but he wasn't quite sharp either. Jonathan Holder and Chasen Shreve combined for a scoreless ninth. Shreve getting the call in the left-on-left matchup spot over Tommy Layne seems notable.
One Yankee reached base multiple times: Hicks. He drew three walks. Hicks has 20 walks and 13 strikeouts so far this year. Ellsbury, Sanchez, Holliday, Castro, Headley, Gregorius, and Carter accounted for the seven hits, all singles. The Yankees went 1-for-9 with runners in scoring position and the one was Sanchez's hit in the ninth, in which Ellsbury was thrown out at home. Womp womp.
And finally, Ellsbury's catcher's interference was the 28th of his career. That is second all-time. Ellsbury is one behind Pete Rose for the record. Rose had 15,890 plate appearances in his career. Ellsbury has 5,084.
Box Score, WPA Graph & Standings
Head over to ESPN for the box score and updated standings, and MLB.com for the video highlights. Don't miss our Bullpen Workload page either. Here's the graph of win probability:

Source: FanGraphs
Up Next
Same two teams Friday night, in the second game of this four-game series. Finesse lefty Jordan Montgomery and power righty Lance McCullers Jr. are the scheduled starting pitchers. RAB Tickets can get you in the door if you want to catch that game.