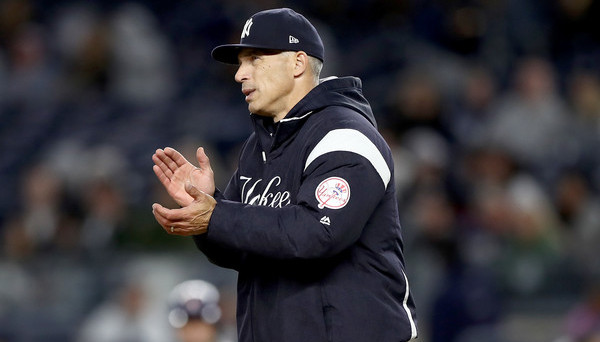 The Yankees have a pair of games today, and I suppose it's fitting they're going to play two on Derek Jeter day. Jeter's No. 2 will be retired later tonight, prior to the second game of today's doubleheader. But first, the Yankees have Astros have to play the first game, and the Yankees will have to do it without Aroldis Chapman. He was placed on the disabled list earlier this morning.
Anyway, the Yankees come into today having lost three straight games for the first time since the first week of the season. Annoying! The Yankees are still in first place though — shout out to the Royals for taking care of business against the Orioles these last few days — and their +51 run differential remains best in the AL. A little bump in the road, this is. You've got to win one before you can win two, so let's do that this afternoon. Here is the Astros' lineup and here is the Yankees' lineup:
LF Brett Gardner
CF Jacoby Ellsbury
DH Matt Holliday
2B Starlin Castro
RF Aaron Judge
SS Didi Gregorius
3B Chase Headley
1B Chris Carter
C Austin Romine
RHP Luis Severino
Perfect baseball weather in New York today. Bright blue sky, only a few clouds, and temperatures in the 80s with a cool breeze. Love it. This afternoon's game will begin at 2:05pm ET and you can watch on YES. Enjoy the game.
Roster Updates: As I said, Chapman has been placed on the disabled list. Chad Green is up to take his roster spot. Also, Rob Refsnyder has been called up to serve as the 26th man for the doubleheader, but apparently the rules say he is only available for the second game, not the first. Weird.