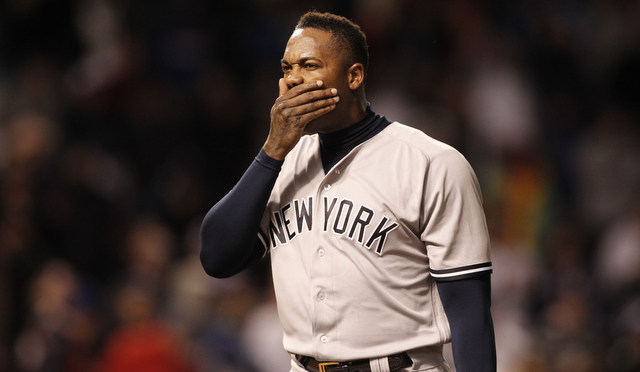 So it turns out there was something physically wrong with Aroldis Chapman these last few days. Earlier this morning the Yankees announced they have placed their closer on the 10-day disabled list with left rotator cuff inflammation. Marly Rivera says Chapman had an MRI yesterday morning, which showed no structural damage.
The plan, according to Brian Cashman, is to shut Chapman down for two weeks, then reevaluate things. Chapman first told the Yankees he was experiencing discomfort Friday, after his rough outing against the Astros. He is six weeks into a five-year contract worth $86.5M, so you can be sure the Yankees are going to play it safe here. They're not going to push him hard and risk a more serious injury.
Fortunately the Yankees have a top notch reliever to replace Chapman in the ninth inning in Dellin Betances. I know Dellin struggled a bit late last season, but as long as he's healthy, I am 100% confident in him closing games. Tyler Clippard will presumably take over the eighth inning and Adam Warren the seventh. That's usually how Joe Girardi rolls.
Of course, having a great closer replacement doesn't mean losing Chapman won't hurt. The Yankees are now short a high-end reliever and their bullpen will suffer because of it. Bullpen depth was an undeniable strength for the Yankees in the early going this season. That takes a hit now. Hopefully they can weather the storm until Chapman returns.
Starting with his outing in Boston two weeks ago, Chapman hasn't looked quite right the last few times out, especially so in his last two appearances. His velocity was fine — Chapman has averaged 99.6 mph and topped out at 101.4 mph this month — but his command was non-existent and nothing seemed to be coming easy. The shoulder issue would explain that.
It's worth noting Chapman has a history of relatively minor shoulder injuries. He missed a little more than a month with shoulder inflammation at midseason in 2011, and he also missed a few games with shoulder soreness in 2012, 2014, and 2015. None of those required a trip to the disabled list. A history of shoulder problems, even minor ones, doesn't exactly make me feel any better.
The Yankees called up Chad Green from Triple-A Scranton to fill Chapman's roster spot. He'll presumably take over as the long man, allowing Warren to slide into a more traditional setup role. I have to think Jonathan Holder will see some increased responsibility with Chapman out as well. He might share seventh inning duty with Warren. We'll see.