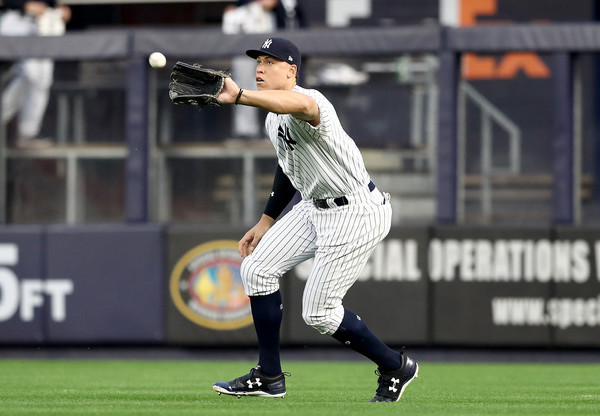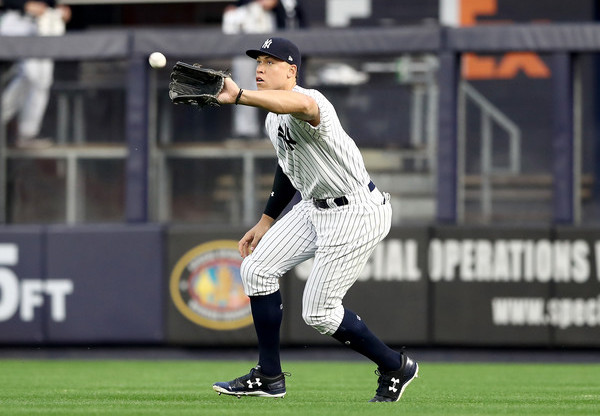 If the season ended today, Aaron Judge would finish in the top three of the AL MVP voting. Forget Rookie of the Year. I'm talking MVP. Judge is hitting .315/.419/.685 (195 wRC+) overall and he's tied with Mike Trout for the MLB lead with 15 home runs. Do that for a first place team and you're going to get plenty of MVP support. He's been awesome thus far.
The home runs get all the attention and deservedly so, but Judge is not a one-dimensional player. It can be easy to stereotype him as a lumbering slugger given his size, though Judge is a good athlete and he helps the Yankees with his right field defense too. He's a sneaky great athlete, and that athleticism was on full display Sunday:
That's the catch of the season so far, right? For the Yankees, anyway. I'm having a tough time coming up with other memorable defensive plays. I'm sure they exist, but nothing is immediately coming to mind. If that ball falls in, the game is tied and Evan Longoria is on second base with no outs, giving the Yankees a 30.9% win probability. Instead, it was a double play, leaving the Yankees with a 68.4% win probability. Massive defensive play, that was.
The catch this weekend was not the first time we've seen Judge make a highlight reel catch. Remember when he flipped over the wall at Fenway Park? Or when he did this? Or this? Those aren't easy plays! Judge made them look easy. His throwing arm is also a weapon. His throws look effortless and yet they carry and carry. Look:
Before the season
Baseball America
(subs. req'd) said Judge is a "slightly above-average runner underway and plays average defense in right field with a well above-average throwing arm." UZR says he's been about average in the field (+0.8 runs saved). Total Zone thinks he's been a bit better (+5). DRS thinks Judge has been elite in the field. The outfield DRS leaderboard:
Jarrod Dyson: +9
Jason Heyward: +8
Aaron Judge, Kevin Kiermaier, Guillermo Heredia: +7
Heyward has split time between center and right fields this season, so Judge is first among full-time right fielders. That's pretty awesome. It's difficult to say which defensive stat is right. UZR? DRS? Total Zone? The important thing is they all agree Judge has been a positive in the field. He's saving the Yankees runs. Exactly how many is up for debate.
Statcast's new catch probability drops batted balls into five buckets based on how often similar balls are turned into outs around the league. Here are Judge's catch probability numbers:
One-Star Catches (caught 91-95% of the time): 100%
Two-Star Catches (76-90%): 100%
Three-Star Catches (51-75%): 100%
Four-Star Catches (26-50%): 50%
Five-Star Catches (0-25%): 0%
Batted balls that are turned into outs 51% to 95% of the time around the league have been turned into an out 100% of the time by Judge so far this season. The only thing he hasn't done is make the super duper highlight reel plays, the ones very few outfielders can make. The Five-Star Catches. Eventually he'll make one of those too. For now Judge is making all the defensive plays he's supposed to make, and then some.
The last few seasons the Yankees have typically enjoyed strong outfield defense thanks mostly to Brett Gardner in left and Jacoby Ellsbury in center. Right field has been a problem. The Yankees lived with Carlos Beltran's glove out there because he brought offense. Now they're getting the best of both worlds from right field. Judge is giving them offense and defense. He impacts games on both sides of the ball.
I'm not really sure where I'm going with all this other than to say Judge has been really good in the field this season. There's much more to this guy than mammoth dingers. He's a very good all-around player. Probably better than most non-Yankees fans given him credit for. Watching him every day though, we've been able to see exactly how good he is defensively, and that two-way play is a reason he's a extremely super early MVP candidate.