Well … at least they didn't get shut out. But boy, that was a forgettable one. Lance McCullers Jr. is a pretty good pitcher and he pretty much toyed with the Yankee lineup for the most of his outing. Meanwhile, Jordan Montgomery went up against the powerful Astros lineup and the result was so-so (4 ER, 6 IP but 1 BB in 7 K). The offense managed to pick up a run in the bottom of the ninth but that was it. 5-1 Astros. The Yankees are now on a three-game losing streak.
McCullers'd
Just like Dallas Keuchel yesterday, the Yankee bats let McCullers cruise through the lineup early on. Unlike Keuchel, McCullers is a power pitcher who can get whiffs from his mid-90's fastball, nasty breaking ball and changeup. Last season, he had some trouble limiting the walks (5.00 BB/9 IP) but that's not the case so far in 2017: 2.42 BB/9 IP after tonight's outing. He's also striking a ton while at it (10.61 K/9 IP). I genuinely think we're seeing a future Cy winner in development.
For the first five innings, the Yankees only had two baserunners and they were both on Aaron Judge's base hits. It was particularly brutal in the fifth. Judge doubled to deep left (114 mph exit velo) to lead off the inning. With the Yankees lineup, you'd think that they could drive in a run or two, right? Nope. McCullers struck out the next three hitters swinging to strand Judge at second. Maybe the lineup is in a bit of a funk but at the same time, they ran into a talented pitcher who had everything clicking tonight.
The Yankees had the best chance against McCullers in the sixth. They got two runners on base with one out (Brett Gardner single and Matt Holliday reaching on an Alex Bregman error). However, Starlin Castro and Jacoby Ellsbury both followed it up with weak grounders to immediately kill that rally. Just been that kind of night for New York.

Just trailing the entire game
It was a 0-0 pitching duel until the top of the fourth. Montgomery allowed ground ball singles to Carlos Correa and Marwin Gonzalez. Brian McCann, as he did many times back when he was with the Yankees, hit a fastball in his happy zone into the right field second deck. 3-0 Astros. Houston added another run in the fifth. George Springer led off the inning with a double. Montgomery got the next two hitters out without advancing Springer to the third. However, Correa hit a bloop single that fell right in front of Judge. The right fielder's throw home was way over Gary Sanchez's head but that wouldn't have mattered – Springer scored easily to make it 4-0 Astros.
I didn't have too high expectations for Montgomery. 1 BB and 7 K's are pretty great, especially considering he had walk problems prior to tonight. 4 ER in 6 IP do leave something to be desired. It's a lot to ask for a rookie pitcher to pitch a gem against the Astros lineup though. He's still learning and developing. For what it's worth, this 89 mph cutter to get Jake Marisnick to strike out swinging was a gem. Boy, I hope he throws more of it.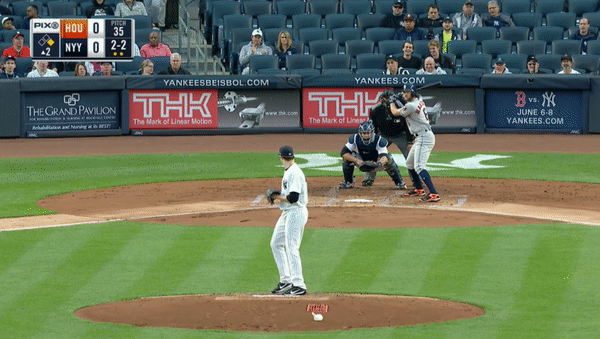 In the meantime, Astros brought in their bullpen arms starting in the bottom of the seventh. Will Harris and Luke Gregerson each threw a perfect frame with three strikeouts combined. Were the Yankees, who displayed one of the best offenses in the baseball up to this series, finally going to get shut out? Well…
Adding one in the end
Trailing 5-0 into the bottom of ninth, the Yankees were in the danger of being shut out for the first time this season. With the Indians being zeroed earlier today, only the Yanks, Nationals and Twins (!) were the remaining teams this season that haven't been shut out.
Because it wasn't a save situation, Astros put in James Hoyt instead of Ken Giles. Hoyt has a neat back story. Check out this read. Anyways, Holliday reached on an infield single to start the frame. Hoyt struck out Castro but Ellsbury singled to right to put the runner on scoring position. Judge struck out swinging and the hopes of Yankees getting a run seemed pretty dim. However, never fear, Didi Gregorius singled to right-center to finally avoid a shutout! But well, that was it. Hoyt struck out Ronald Torreyes to end the game and that was it. 5-1 Astros. Bleh. I won't be watching the re-run of this game.
Leftovers
On a game that majorly stunk, there were few saving graces. For instance, Giovanny Gallegos made his ML debut in the ninth inning. He threw two pitches and retired Carlos Correa to end the top of the ninth. I'm hoping he gets more looks in the ML.
But wait, there's more! Aaron Judge, who had been in a little bit of slump lately, went 2-for-4 tonight with a pair of rocket base hits. Didi Gregorius also had a 2-for-4 night and, as I mentioned, drove in the Yankees' only run of the night.
Also, there was an egregious display of #umpshow in the bottom of the seventh. Chase Headley showed a bunt but the Will Harris cut fastball nicked his finger. The game delayed a bit with the trainer and Girardi tending to the third baseman. However, Headley insisted in staying in the game and it seemed like the game was going to go on … then he got into an argument with home plate ump Adrian Johnson and got ejected. That was a very confusing situation. After the game, Girardi said that McCann asked Headley if the ball hit him and Headley responded. However, Johnson thought that Headley was talking to him and the situation escalated from there. For what it's worth, here is Adrian Johnson's version of the story. In my opinion, it was a gross misunderstanding and mishandling of the situation from the ump. It happens but it's not a good look.
Box score, standings, WPA graph
Here is tonight's box score, updated standings and WPA graph.

Source: FanGraphs
---
There is supposed to be a 1 pm EST game tomorrow, but we'll see. The weather doesn't seem promising from what I've heard. If it happens, it'll be a match of Luis Severino vs. Mike Fiers. I predict this losing streak will stop at some point – we'll see if it'll be at the next game.