Yeah, just a bad game all-around. The bats got shut down by fastball-changeup mix master Marco Estrada while Luis Severino and Luis Cessa did not have their best showings. The Yankees drop the first of the home three-game series to the Blue Jays 7-1 in a typical oh-well-it's-just-a-game fashion.
Laboring through 5.2 innings
Severino started the game with spottier command than what he's shown in April. He got into a jam in the first but got out of it unscathed. However, he allowed a two-run homer to Ryan Goins (!) in the 2nd inning to put the Jays up top 2-0. On a 3-1 count, Severino wanted to throw a strike and the ball missed Austin Romine's outside corner spot.
The Yankees scored a run in the bottom of 4th to inch it close to 2-1. In the bottom of sixth, with Severino heading towards 100 in pitch count, the Jays got couple of baserunners on with a Justin Smoak infield single and Devon Travis ground-rule double. Goins hit a deep fly that looked like a double at worst, but Jacoby Ellsbury made a great leaping catch to rob him. However, Ellsbury flipped the ball right over Aaron Judge's head and both runners — from 2nd and 3rd base — were able to score for a rare 2-run sacrifice fly. Two hitters later, Chris Coghlan saw a hanging slider in the middle of the plate and took it into the right field seats for a 5-1 Jays lead. Joe Girardi then took out Severino for Cessa. He departed with a very mediocre 5.2 IP, 8 H, 5 ER, 2 BB, 3 K and 2 HR line.
After showing what he can do when everything clicks, Severino couldn't deliver today. Happens to young pitchers. Actually, happens to all pitchers. Pitching is a hard occupation. While he didn't totally melt down, it surely would have been nice for things to go his way more often. His command was just off tonight. Look at all those pitches he missed trying to nick the strike zone corners. There are tons towards the lower right part and left side: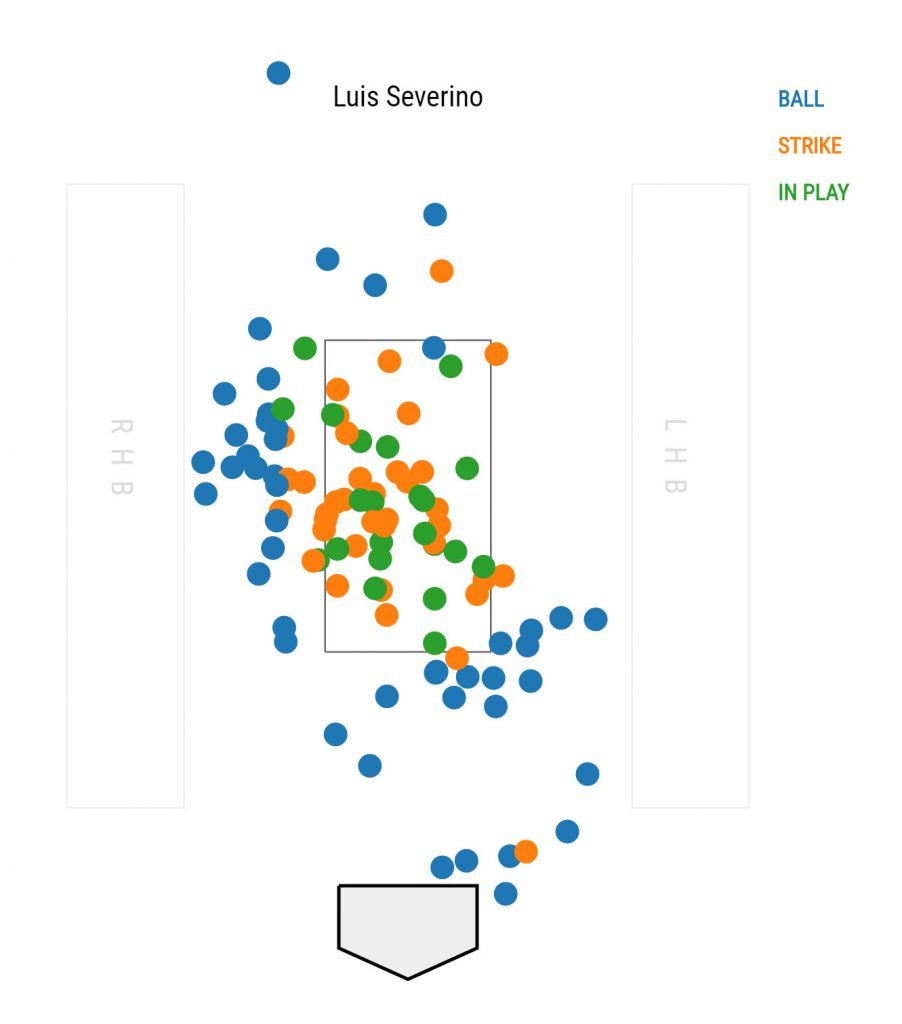 Oh well. He'll bounce back.
Death by changeup
My personal opinion is that, in the world of Noah Syndergaard sliders and Dellin Betances curveballs, the fastball-changeup combination remains the superior approach for pitchers. Hitting is all about getting the timing right and pitching is disrupting it. And boy, Estrada really disrupted Yankee hitters' timing up tonight. That's what he's been living off of since 2015.
Not only is Estrada good at changing speeds, he also specializes in changing hitters' eye levels. Check out the zone profile of his game tonight from Baseball Savant: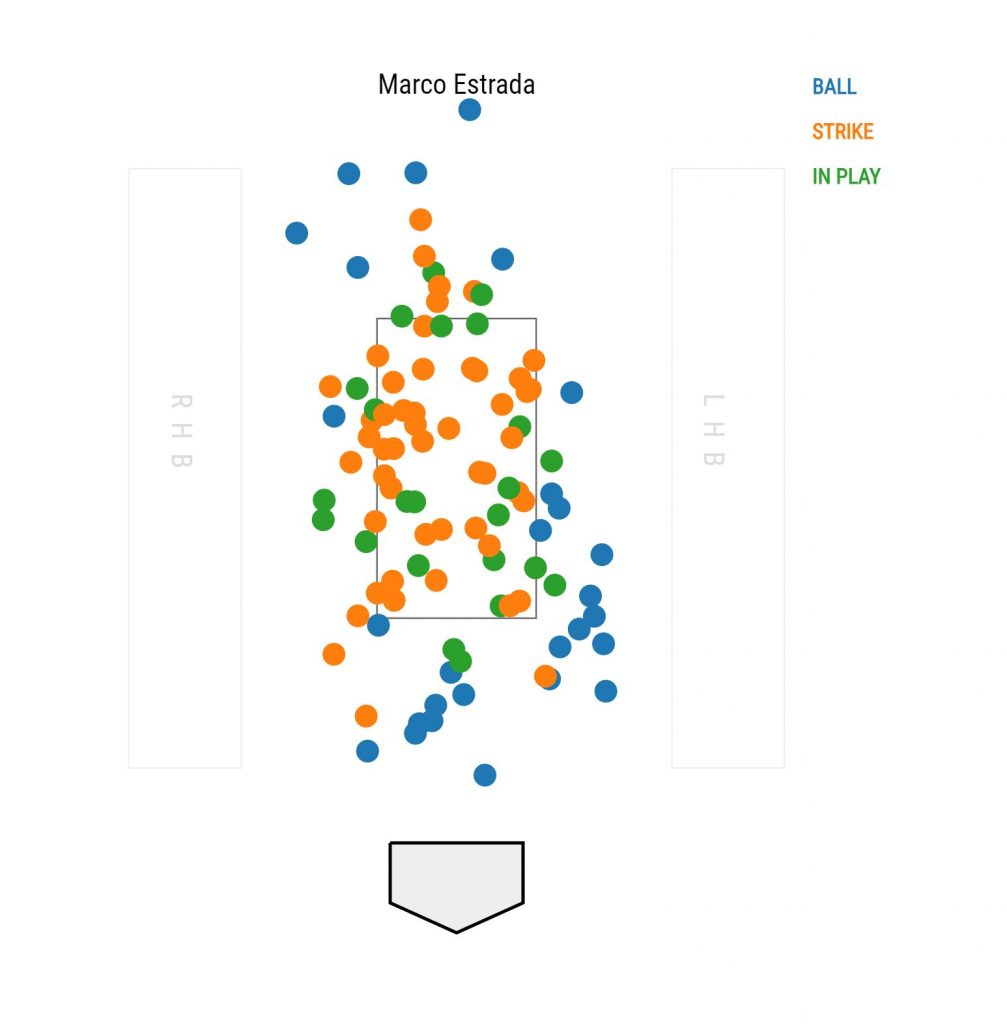 That's a healthy mix of pitches both low and high. Yankees hitters did have seven base hits against Estrada but none of them were extra-base hits and they only scored a run – on an RBI single by Aaron Judge (who else?). Per Brooks Baseball, Estrada threw 37 fastballs and 45 changeups. That will get into hitters' heads.
Miscellaneous
It took him until May but Ellsbury finally got his trademark catcher's interference tonight. In the bottom of 6th, Ellsbury hit a grounder up to a middle that seemed like a fielder's choice, but he just nicked the catcher's mitt on the backswing, so umpire Jordan Baker rewarded him a base. That was Ellsbury's 27th career catcher's interference and he needs three more to surpass Pete Rose's record. Incredible. We're all rooting for ya, Jacoby.
On a quiet night for the bats, Starlin Castro still got some base hits. The second baseman got two hits in four at-bats, upping his season average to .358. Rest of the lineup collected only four hits, and, as mentioned, none of them being extra-base hits. Remember when too many homers was a thing? That was just this past weekend. They'll get it going soon, hopefully.
Luis Cessa pitched the rest of the way after Severino departed and well, he was unspectacular. 3.1 IP, 4 H, 2 ER, 1 BB, 1 K and one long home run allowed to Jose Bautista. He'll likely be sent back to Triple-A for tomorrow and they'll promote another fresh arm in case of a long-relief situation.
Box score, standings and WPA graph:
Here's tonight's box score, updated standings and WPA graph.

Source: FanGraphs
---
The Yankees face the Blue Jays again tomorrow. Masahiro Tanaka will be on the hill against Mat Latos (!).