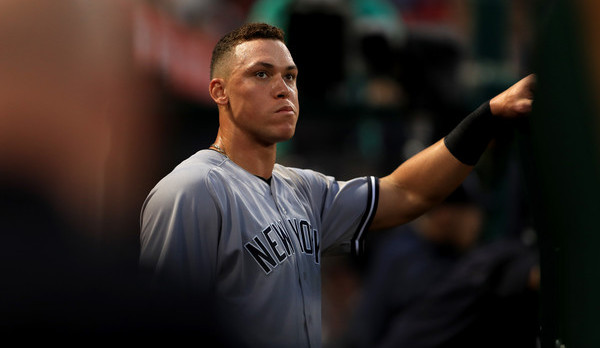 Last night's loss was pretty annoying. That felt like a game the Yankees really should have won given the fact they had a lead with six outs to go, and also had some prime run-scoring changes in extra innings. And it all happened late at night for us East Coasters, which makes it that much worst. Blah.
Well, whatever, time to move on. The Yankees and Angels are wrapping up their three-game series tonight and a win for either team clinches the series win. Considering the Halos kinda stink and don't have Mike Trout, losing the series would be a real bummer. Get the win tonight, win the damn series, then go to Oakland. Sounds like a plan. Here is the Angels' lineup and here is the Yankees' lineup:
LF Brett Gardner
CF Aaron Hicks
DH Aaron Judge
1B Matt Holliday
2B Starlin Castro
C Gary Sanchez
SS Didi Gregorius
3B Chase Headley
RF Rob Refsnyder
RHP Michael Pineda
The weather is great in Anaheim, I assume. Is it ever not? Tonight's series finale will begin a little after 10pm ET. The game will be on YES locally and ESPN nationally. Enjoy the game.
Injury Update: Still no word on the severity of CC Sabathia's hamstring strain. He went for tests today and the Yankees are waiting for the results. The fact he hasn't been put on the disabled list is … good?
Roster Move: The Yankees sent down Ben Heller and called up Ronald Herrera, the team announced. Herrera is coming up from Double-A. The Yankees got him from the Padres in the Jose Pirela trade.