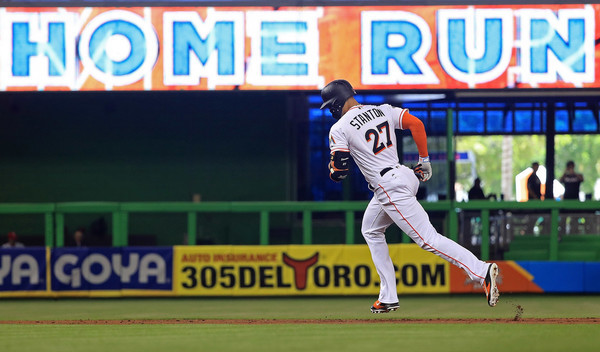 According to Jon Heyman, the Yankees have checked in with the Marlins about slugger Giancarlo Stanton. The two sides aren't close to a deal and it's unclear how serious the Yankees are about a potential trade. This could have been a due diligence thing. That said, the Marlins are selling and the team itself is in the process of being sold, so it stands to reason everyone is available. It never hurts to listen, right? Right.
Stanton, 27, is hitting .271/.356/.578 (137 wRC+) with 30 home runs this season, most among all non-Aaron Judge hitters in the big leagues. He's right smack in the prime of his career and he's averaged 45 home runs per 162 games since Opening Day 2014. The guy is a monster. He's also owed $295M from 2018-27. Goodness. The contract includes an opt-out after 2020, though Stanton would be leaving $218M on the table by walking away. Opting out is far from a guarantee, even if he continues to stay healthy and play well.
There's a few interesting angles to the reported Stanton interest. For starters, the Yankees seem to be pretty well set on the outfield corners going forward with Judge and Clint Frazier. They're definitely set in right field. We know that much. The jury is still out on Frazier, as impressive as he's been early in his MLB career. I suppose there's also the designated hitter spot, though tying that up with a big money player signed long-term isn't a great idea (See: Rodriguez, Alex).
Secondly, Stanton's contract would hurt the team's chances to get under the luxury tax threshold next season. The original 13-year, $325M contract came with a $25M average annual value and luxury tax hit. That's not the luxury tax hit the Yankees would assume, however. They'd take on a luxury tax hit closer to $30M once you adjust for the timing of the trade, assuming they didn't change the calculation in the latest Collective Bargaining Agreement.
And third, the Yankees would have to give up some pretty damn good prospects to get Stanton. The Marlins are not going to take okay-ish prospects in a straight salary dump. It would be shameful. MLB should just fold the franchise if that happens. If the Marlins are going to trade Stanton, literally the greatest player in franchise history and someone who is still in the prime of his career, they're going to do it because they get blown away with an offer.
My guess is the Yankees checked in because they check in on everyone, and hey, there's always a chance the Marlins offer Stanton on favorable terms. You've got to ask to find out. That all said, what about looking at this through the Bryce Harper lens? Harper, another prime-aged superstar, will be a free agent after next season and the Yankees are expected to be very involved. Players that good and that young are hard to find. You go all-out to get them.
Harper is going to smash contract records and will almost certainly be the first $40M per season player in baseball history. He might get a $500M contract. It's very possible. Compared to Harper's upcoming contract, taking on Stanton at $295M from 2018-27 could be a downright bargain. Harper is the better player, but is he $10M+ per year better? Peak Harper and peak Stanton might not be so different, and peak Stanton is available right now (in theory).
I don't think the Yankees have serious interest in Stanton right now. I think they made the call because they make every call. They wouldn't be doing their job if they didn't. Ultimately, I think the luxury tax plan and keeping the top prospects is too important to swing a Stanton trade right now. Harper will cost a ton of money, but it is just money, and the Yankees have plenty of it. They could wait a year to sign Harper for nothing but cash whereas Stanton costs money and prospects.