The Fighting Spirit has kicked it into high gear. The Yankees won a game they really had no business winning Thursday night. The Rays gift-wrapped the game-tying run and the result was a 6-5 walk-off win for the Yankees in eleven innings. The Yankees have won four straight and seven of their last nine games. Do we love this team? Yes. Yes we do.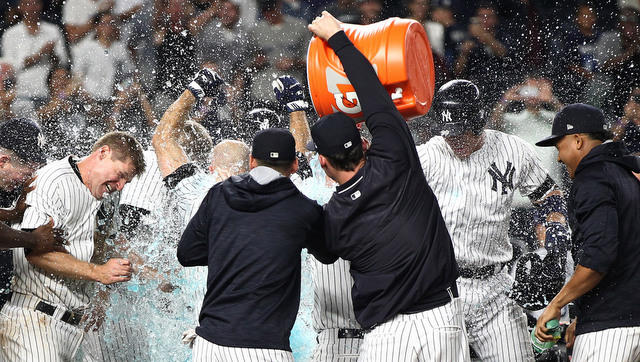 Three Early Runs
Nice start to the game. The Yankees got on the board first in the second inning when Jacoby Ellsbury drove in Chase Headley with a hard-hit double into left field. The ball was well-struck, though Corey Dickerson also took an interesting route, and the ball dropped in. Headley singled as the previous batter and chugged all the way around from first for the 1-0 lead. Todd Frazier followed with an opposite field single to make it 2-0.
Gary Sanchez whacked a solo home run out to left field in the third inning for a 3-0 lead, and off the bat, I thought it was a medium deep fly ball. Sanchez had to go down to get it and it looked like the ball was off the end of his bat. It just kept carrying and carrying and carrying into the left field seats. Pretty cool. Gary's pretty damn strong. He's not Aaron Judge, but he doesn't need to completely barrel up the ball to get it out of the park.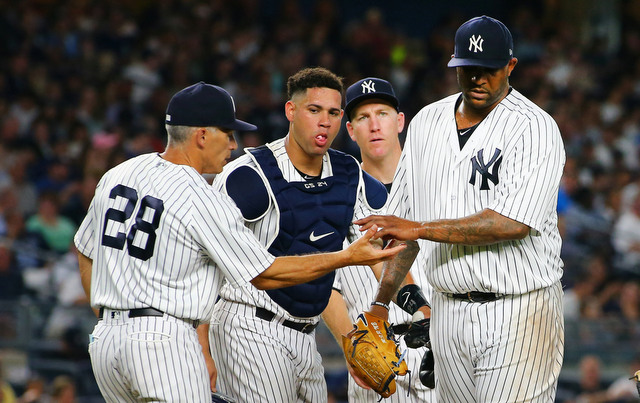 Sabathia's Short Night
CC Sabathia's night went south real quick. He cruised through the first four innings with relative ease, allowing only a solo homer off the top of the wall to Evan Longoria, before things unraveled in the fifth. It started, oddly enough, with a strikeout. Tim Beckham opened the inning with an eleven-pitch strikeout that seemed to really take a lot out of Sabathia. He left a few too many pitches up in the zone after that at-bat.
The back-to-back one-out doubles by Adeiny Hechavarria and Peter Bourjos were shots down the line. Hechavarria's was a soft line drive juuust inside the third base line while Boujos' was a hot shot grounder just out of the reach of a diving Headley at first base. A few inches in the other direction and those balls are outs. So it goes. A six-pitch walk to Steven Souza Jr. — ball four looked like strike three, but the Yankees didn't get the call — ended Sabathia's night.
I had no problem with Joe Girardi removing Sabathia after the walk, even with his pitch count at 86. Sabathia was laboring, the tying and go-ahead runs were on base, and the middle of the order was coming up. This is an important series! Chad Green came in, a high-strikeout reliever who hadn't allowed a hit in his previous 9.1 innings, and he promptly gave up a two-run double to pinch-hitter Brad Miller. Argh.
The two runs on the double were charged to Sabathia, so his final line: 4.1 IP, 5 H, 4 R, 4 ER, 1 BB, 3 K. That's unfortunate. He was pretty good through four innings. The double by Miller was especially annoying because Green got ahead in the count 1-2, ran it back full, then got beat on a hanging slider. A hanging slider! Green has one of the highest fastball swing-and-miss rates in baseball, and he got beat on a slider. So annoying.
The Big Spots Find Wade
Green picked an unfortunate time for his worst outing in a very long time. Maybe his worst of the season. After allowing the go-ahead double to Miller in the fifth, Green allowed a solo home run to Dickerson in the sixth, though, to be fair, it's not like he made a bad pitch. Dickerson tomahawked the hell out of a high fastball:
The Yankees had their best scoring chance of the night in the sixth inning, when they loaded the bases with one out and had Chris Archer on his last legs. Back-to-back singles by Didi Gregorius and Headley got the rally started, then Ellsbury drew a four-pitch walk. Who saw that coming? Anyway, up came Frazier and Tyler Wade with the bases loaded. The next seven pitches:
slider (swing and miss)
slider (called strike)
slider (fouled away)
slider (Frazier swings and misses for strike three)
fastball (called strike)
slider (borderline called strike)
slider (Wade swings and misses for strike three)
Slider pitcher leans on slider to escape massive jam against the bottom of the lineup. Predictable as it gets. The Frazier at-bat was really bad. He looked lost. You'd hope for a better at-bat than that from a dude whose been around a while. Also, I don't understand why Matt Holliday didn't pinch-hit for Wade. I know Holliday has been pretty terrible since coming back from the disabled list, but it's not like Wade has been tearing it up either.
Two innings later Holliday was used as a pinch-hitter, though not by Girardi and not for Wade. Girardi was ejected for arguing balls and strikes in the seventh inning, so bench coach Robbie Thomson was calling the shots. Gregorius and Headley started the eighth with back-to-back singles, and Holliday pinch-hit for Ellsbury. He got Gregorius home with a fielder's choice to cut the deficit to 5-4. Progress! Ronald Torreyes then pinch-ran for Holliday.
Torreyes moved up to second on Frazier's single, which again brought Wade up to bat in a big spot. Redemption for the sixth inning strikeout? No, a double play. Hit it hard right at the shortstop for a 6-3 inning-ender. Pretty much the only way you could double him up with his speed. Had Holliday pinch-hit for Wade in the sixth inning, Torreyes would have replaced him to play second base, meaning Holliday never pinch-hits for Ellsbury and … my head hurts.
But wait! Another big spot found Wade. In the tenth — we'll get to game-tying rally in a bit — Wade came up with the winning run on second and … struck out. On four pitches, all sliders in the dirt, against someone named Andrew Kittredge. Brutal. The poor kid was booed off the field. A Headley walk and a Torreyes bunt got the runner into scoring position. Frazier flew out to left field for the second out of the inning.
All told, Wade went 0-for-5 with three strikeouts and the double play, and the game found him in big spots three times. Pretty rough. At the same time, he's third on the current second base depth chart, and he's been in the big leagues for about ten minutes. There are better days ahead. Wade's a gamer and he'll shake it off. Fortunately, the rest of the Yankees bailed him out Thursday.
Gardner To The Rescue
Man, how clutch has Brett Gardner been this season? He brought Wrigley Field to its knees with that go-ahead three-run home run back in May. Remember the game-tying ninth inning homer against Matt Bush and the Rangers last month? That dude has been providing big hits all the season and he gave the Yankees two Thursday night.
The first came in the ninth inning. He lined a leadoff triple into the left-center field gap with the Yankees down 5-4. The Yankees did their best to screw that up. Clint Frazier grounded out to the drawn in infield on the first pitch and Judge flew out to shallow right for the second out. Too shallow to score Gardner. The Yankees went from runner on third with no outs to runner on third with two outs real quick.
Sanchez did his part to blow the rally. He hit a soft ground ball to shortstop that should have been the 27th and final out of a 5-4 win for the Rays. Instead, second baseman Tim Beckham and shortstop Adeiny Hechavarria miscommunicated, and the ball scooted between them and into left field to tie the game. Here's the video:
How? I've seen plenty of outfielders miscommunicate over the years, but two infielders? On a ground ball? I could understand a pop-up, but a ground ball? Geez. Hey, I'm not complaining. The Yankees tried like hell to waste Gardner's leadoff triple and the Rays wouldn't let them. Better to be lucky than good, I guess.
Gardner's triple allowed the Yankees to tie the game in the ninth. In the 11th, he pounced all over a hanging slider from that Kittredge fella for a walk-off home run into the short porch. It was Gardner's third career walk-off homer — two of the three have come against Tampa, coincidentally enough — and his 18th homer of the season, setting a new career high. Awesome. Sabathia called Gardner the "heart and soul" of the team after the game and who the hell am I to disagree?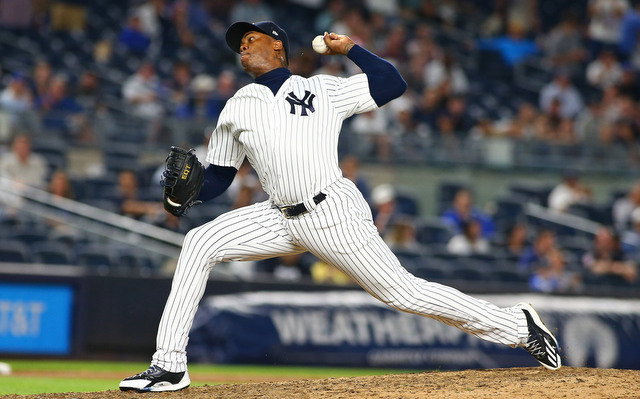 Leftovers
Aroldis Chapman threw perfect 10th and 11th innings and looked better than he had all season. It was his best outing of the year, pretty easily. Six up, six down, four strikeouts, eight swings and misses among 19 total pitches. Total domination. Maybe the World Series hangover is no more? Whatever it was, hopefully this Chapman is here to stay. That other guy was annoying.
The bullpen as a whole was pretty strong after Green. Tommy Kahnle, Dellin Betances, and Adam Warren combined for three scoreless innings between Green and Chapman, striking out four total. Green had (probably) his worst outing of the season while Chapman had his best. That's baseball for ya. Nice work by the relief crew, even with Green have a tough time.
Every starter had at least one hit except Wade. Gardner, Sanchez, Gregorius, Headley, and the elder Frazier each had multiple hits while Gardner, Headley, and Ellsbury drew the walks. Headley reached base four times in the game (three hits, one walk) and he's now reached base 14 times in his last six starts. That'll work, Chase. Keep it up.
Judge chipped a tooth! He got conked in the mouth by a stray helmet during the celebration after Gardner's walk-off. You can kinda sorta see it. The Yankees say Judge has a chipped tooth — he didn't lose the tooth, so that's good — and he'll be available to play tomorrow. No harm, no foul.
And finally, Sabathia picked up his 2,800th career strikeout in the fifth inning, moving him into 20th place on the all-time list. By the end of the season, only Randy Johnson (4,875) and Steve Carlton (4,136) will have more strikeouts among left-handed pitchers. Pretty crazy.
Box Score, WPA Graph & Standings
The box score and updated standings are at ESPN, and the video highlights are at MLB.com. Don't miss our Bullpen Workload page. Here's the win probability graph:

Source: FanGraphs
Up Next
This four-game series is just getting started. The Yankees and Rays will continue this four-game set Friday night. Masahiro Tanaka and Austin Pruitt are the scheduled starting pitchers. Want to catch that one at Yankee Stadium? RAB Tickets can get you a good deal.