Yucky way to end the six-game winning streak. But! The Yankees are still in first place. Shout out to the Royals for taking two of three from the Red Sox this weekend. The Yankees missed out on the sweep and dropped Sunday's series finale to the Rays. The final score was 5-3. Bring on the trade deadline.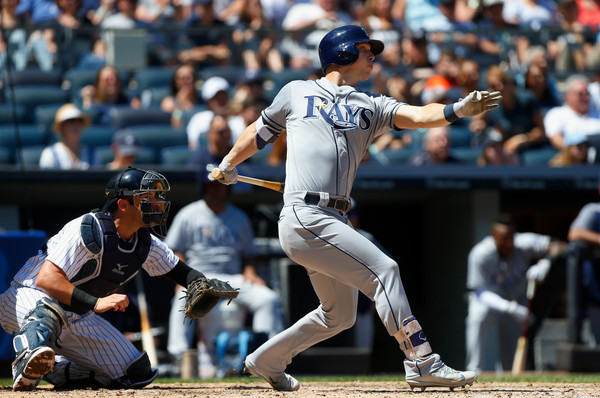 Jordan's Not-So-Good July Ends
Why are the Yankees still pursuing Sonny Gray even after acquiring Jaime Garcia? Because Jordan Montgomery sure seems to be hitting a rookie wall. He went into Sunday's start with a 5.13 ERA (4.78 FIP) in five starts and 26.1 innings in July, and that was before he failed to make it out of the third inning against the Rays. This was the third time in Montgomery's last five starts that he didn't complete five innings. Few too many short starts from the rotation lately.
Tampa Bay jumped out to a quick 1-0 first inning lead thanks to a four-pitch walk (Steven Souza Jr.) and an 0-2 single (Trevor Plouffe), which tells you where Montgomery was Sunday. He was behind in the count all afternoon. He faced 16 batters and six — six! — saw a first pitch strike. Five of the 16 saw a hitter friendly 2-0 or 3-1 count. The third inning in particular was brutal:
Peter Bourjos: 2-0 count
Steven Souza: 2-0 count
Evan Longoria: 1-0 count
Lucas Duda: 3-1 count
Trevor Plouffe: 0-2 count!
Corey Dickerson: 1-0 count
Wilson Ramos: 3-1 count
Dude. I like Montgomery, but he's not going to blow anyone away, so falling behind in the count that much is a recipe for, well, pretty much exactly what happened Sunday. Bourjos (double), Longoria (infield single), and Duda (walk) all reached base in that third inning to load the bases with one out. Montgomery was able to strike out Plouffe, giving him a chance to escape the inning unscathed. Instead, he hung a two-strike curveball to Dickerson, who punched it out to center field for a two-out, two-run single. Montgomery's lucky he held him to only a single: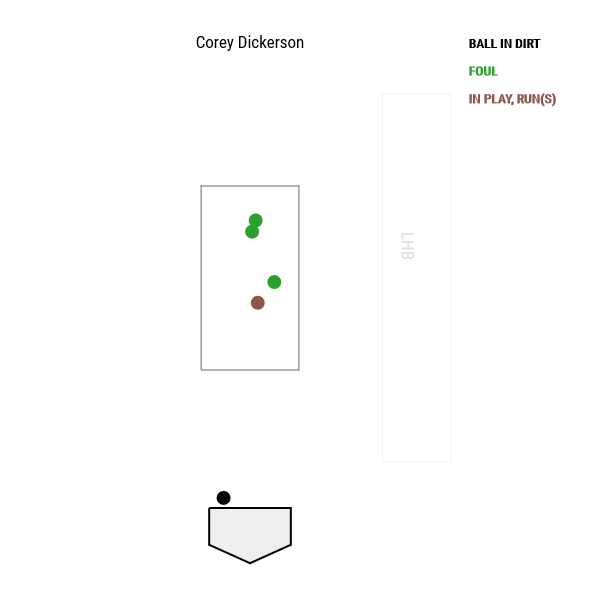 Got away with three hangers in that at-bat before getting burned by the fourth. By time Dickerson stepped to the plate, Montgomery was 24 pitches into the inning, so I'm sure fatigue was a factor. Then again, given the way he was behind in the count all day, control wasn't his strong suit to start with. Ramos lined a single to center to score another run, giving the Rays a 4-2 lead and ending Montgomery's afternoon.
Joltin' Toe
So it seems Ronald Torreyes is an everyday player again. I guess that was inevitable after Tyler Wade struggled and was booed off the field Thursday night. Torreyes has started all three games since then and hey, he's played well. Sunday afternoon he was pretty much all the offense for the Yankees, clubbing a two-run home run (!) in the second inning and a run-scoring double in the fourth.
The home run gave New York a 2-1 lead and it came on the hangingest hanging slider that ever hanged. Jacob Faria threw a terrible pitch and Torreyes made him pay with a bullet into the left field seats. Chase Headley drew a walk earlier in the inning. Torreyes has three home runs this season now, you know. He hit one all of last season. Torreyes is only 24. Maybe he's growing into some power? Or maybe Faria made a terrible pitch and the ball is juiced. Whatever.
Anyway, Toe's run-scoring double in the fourth inning was set up by a Todd Frazier walk. Unlike the homer, the double did not come on a bad pitch. In fact, Toe went down and dug a changeup out of the dirt.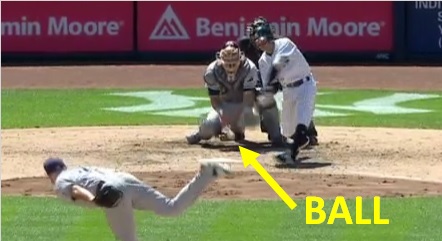 No idea how he hit that. I guess having great bat-to-ball skills and being, uh, vertically challenged helped Torreyes go down and get that ball, and loop it into the left field corner. Frazier chugged all the way around from first to score and he very narrowly slid in safely. It was a bang-bang play at the plate. Torreyes went 2-for-4 with a double and a homer Sunday. The rest of the Yankees went 2-for-28 (.071). There's yer ballgame.
Blown Chances
This game was lost in the fifth and sixth innings. The Yankees put five men on base those two innings with zero hits. Zero hits! The Rays did everything they could to give the Yankees the game. Brett Gardner and Clint Frazier started the fifth with back-to-back walks, then moved up on a wild pitch. Tampa was up 4-3 at the time, so the Yankees had the tying run at third and the go-ahead run at second with no outs and the 3-4-5 hitters coming up. Good situation!
The Yankees scored zero runs. Sergio Romo came out of the bullpen, slidered Aaron Judge to death for a strikeout, and got Matt Holliday to pop up in shallow right field. Shallow enough for Plouffe, the first baseman, to catch it. Rays manager Kevin Cash brought in lefty Dan Jennings, who got Didi Gregorius to ground out to short to end the inning. All they needed from Judge and/or Holliday was a fly ball or a grounder to the right side. They got neither.
In the sixth, the Yankees got another gift when Adeiny Hechavarria threw away a potential 6-4-3 double play ball from Torreyes, giving the Yankees new life. A walk (Todd Frazier), the error, and a hit-by-pitch (Austin Romine) loaded the bases with one out. Then Gardner hit a weak ground ball to first base — Plouffe threw home for the force out — and the young Frazier flew out to right. Five free baserunners in those two innings. No runs.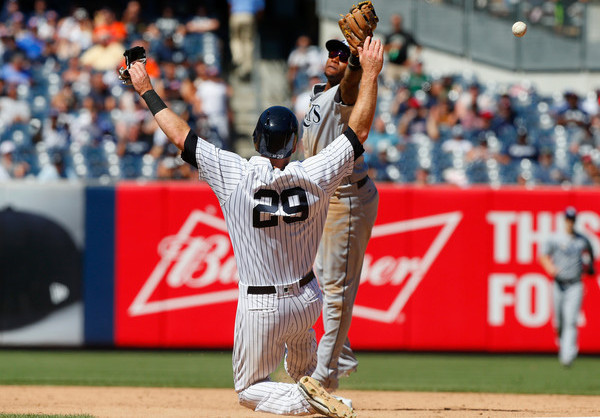 The Yankees did threaten in the ninth inning thanks to a Gardner single and a Frazier walk. The tying run was on base and the go-ahead run was at the plate. Alex Colome got Judge to pop up behind first base on a hanging … something. Not sure if it was a cutter or slider or whatever. It had a little wrinkle in it. Either way, it was a hanger. Holliday then grounded out to third and that was that. Game over. The Yankees with runners in scoring position: 1-for-11 (.091).
Leftovers
Shout out to Luis Cessa for sparing the bullpen after Montgomery's short start. He tossed 3.1 scoreless innings. Only one hit too. (But four walks.) Chasen Shreve got two big outs in the seventh — he grounded out Duda with two men on and struck out Dickerson with the bases loaded — before giving way to Chad Green. Green struck out six in 2.1 innings. He also allowed an insurance run on an infield single (Mallex Smith), a stolen base, and a booming double (Souza). All things considered, one run in 6.1 bullpen innings is pretty good.
The Judge and Holliday slumps continue. Judge went 0-for-4 with a walk and two strikeouts, and is 19-for-85 (.224) with a 36.9% strikeout rate in the month of July overall. I had a feeling the baseball gods wouldn't let us get through the season without a month like this. Sucks. Holliday went 0-for-5 with two strikeouts. He did hit a fly ball to right field in the seventh. It was the second ball he's hit out of the infield on the homestand. Going back to the start of that nightmare West Coast trip, Holliday is hitting .137/.204/.255 in 113 plate appearances. He looks lost.
Tough day for Romine behind the plate. He took a hard foul tip to the throat — it bounced it the dirt and right up under his mask — got hit in the helmet by a backswing, and took a pitch to the left hand. He had to leave the game after that. X-rays came back negative and Romine is day-to-day. Having to scramble for a backup catcher right before the trade deadline would have been bad.
Gardner extended his hitting streak to 12 games with his ninth inning single. The young Frazier had a single and also made a great jumping catch on the warning track to help out Montgomery. Those were the only non-Torreyes hits. Lots of walks though. Seven total. Two each by the Fraziers and one each by Gardner, Judge, and Headley. Really needed to capitalize on those free baserunners, dudes.
Box Score, WPA Graph & Standings
For the box score and updated standings, go to ESPN. For the video highlights, go to MLB.com. My Google issues are resolved, so our Bullpen Workload page is back up and running. Here's the loss probability graph:

Source: FanGraphs
Up Next
This four-game series is over and the homestand continues Monday night with the first of three against the Tigers. But first, the trade deadline. The deadline is 4pm ET Monday. Will the Yankees reel in Sonny Gray? My guess is yes. Anyway, Luis Severino and Michael Fulmer are the scheduled starters for Monday night's series opener. That should be fun. There are three games remaining on the homestand and RAB Tickets can get you in the door to all three.