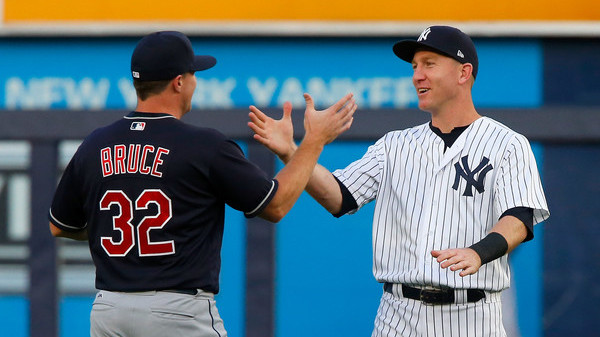 Thanks to yesterday's rainout, the Yankees and Indians will play a single admission doubleheader today. Second one of the season for the Yankees, and their third doubleheader overall. Can't beat two games for the price of one. Yeah, it's going to do a number on the pitching staff the day before the start of a hugely important four-game series with the Red Sox, but what can you do? At least reinforcements are coming Friday.
Winning two games today sure would be swell, but before you can win two, you have to win one. The Yankees got shut down by Corey Kluber on Monday and hey, it happens. Kluber is really good. Trevor Bauer though? That's another story. I know he pitched well when these two teams met in Cleveland, but if you want to win a postseason spot, he's the kinda guy you've got to beat up on. Here is the Indians' lineup and here is the Yankees' lineup:
LF Brett Gardner
RF Aaron Hicks
C Gary Sanchez
SS Didi Gregorius
DH Greg Bird
3B Todd Frazier
CF Jacoby Ellsbury
2B Ronald Torreyes
LHP Jaime Garcia
Lovely weather in New York today. Doubleheader weather. Much better than all that rain yesterday. The first game of today's doubleheader is scheduled to begin at 1:05pm ET, and you'll be able to watch on YES locally and MLB Network out-of-market. Enjoy the game.
Injury Update: Aaron Judge (shoulder) feels better, though he continues to receive treatment. He's going to play in the second game of the doubleheader. Judge has not had an MRI or a cortisone shot, though it has been discussed. I have no idea what the Yankees are waiting for. Between this and letting Bird play on a bad ankle for a month, they're really Metsing it up with the injuries to their young guys this year.
Appeals Update: Joe Girardi said MLB has not yet scheduled appeal hearings for Sanchez and Austin Romine. That doesn't mean it couldn't happen tomorrow, but right now there's nothing on the books. Sure sounds like the hearings won't happen until after rosters expand Friday though. Sanchez was suspended four games and Romine two games for their roles in the brawl with the Tigers last week.