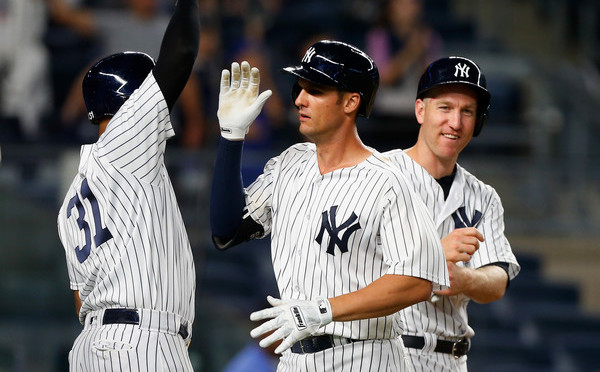 So this is it. The most important series of the season. Truly. These four games with the Red Sox will determine whether the Yankees have any chance at winning the AL East, or will have to shift gears and begin focusing on the wildcard. And, truth be told, the Yankees probably need to sweep this series to have a shot at the division title. They're 5.5 games back. A split accomplishes nothing. Winning three of four gets the Yankees to within 3.5 games with 26 to play, but no head-to-head games against the Red Sox. One game at a time though.
The Yankees just got swept by the Indians and it was abundantly clearly which team went to the World Series last year and which team is hoping to get to the postseason for only the second time in five years. The Yankees have to treat these four games like postseason games. They really do. Because this is their postseason. The wildcard race is tight and the division title is becoming more and more unrealistic. Win tonight, move on to the next one. Here is the Red Sox's lineup and here is the Yankees' lineup:
LF Brett Gardner
CF Aaron Hicks
C Gary Sanchez
SS Didi Gregorius
2B Starlin Castro
RF Aaron Judge
DH Chase Headley
1B Greg Bird
3B Todd Frazier
LHP CC Sabathia
Cool and cloudy in New York today. Damn near autumnal. Tonight's series opener will begin a little after 7pm ET And you'll be able to watch on WPIX locally and MLB Network nationally. Enjoy the game.
Injury Update: Clint Frazier (oblique) continues to progress and started throwing today. Now that he's throwing and swinging a bat, I imagine it won't be too long before he begins a minor league rehab assignment.
Roster Moves: The Yankees have sent Caleb Smith and Jordan Montgomery to Triple-A Scranton, and called up Gio Gallegos, the team announced. Gallegos replaces Smith. Montgomery was the 26th man for yesterday's doubleheader and had to go back down after the game.
Appeals Update: MLB has scheduled Sanchez's and Austin Romine's appeal hearings for tomorrow, reports Mike Mazzeo. The ruling will not necessarily come tomorrow, however. Hunter Strickland had to wait six days between the hearing and the ruling after throwing at Bryce Harper earlier this year, though that was unusually long. Sanchez and Romine probably won't have to wait that long. Either way, the Yankees picked up Erik Kratz earlier today for extra catcher depth.