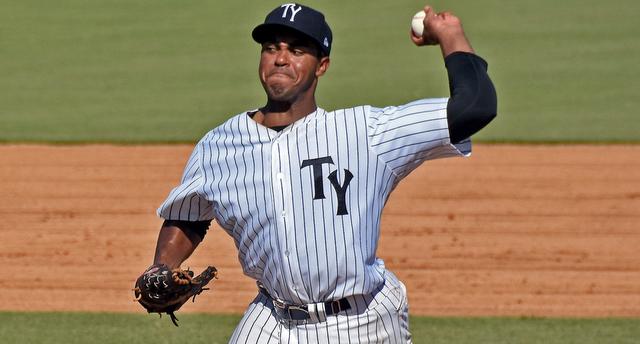 Stephen Tarpley | LHP
Background
Born in Los Angeles, Calif., Tarpley attended Gilbert High School in Arizona. The lefty was drafted in the eighth round (248th overall) of the MLB Draft by the Cleveland Indians. He declined to sign with the Indians, instead opting to attend the University of Southern California (USC).
As a freshman, he pitched well for the Trojans. He didn't allow any home runs and went 5-4 with a 3.22 ERA in 14 games (13 starts). He earned All-Pac-12 Honorable Mention and Freshman All-American honors.
Instead of remaining at USC, he transferred to Scottsdale Community College, closer to home in Arizona. In 16 games (15 starts), he had 2.35 ERA with 108 strikeouts in 92 innings. After one season at Scottsdale, he was able to re-enter the draft and was taken in the third round (98th overall) by the Baltimore Orioles. He signed for the slot bonus of $525,500.
Pro Career
He began his career with the GCL Orioles in July 2013, slowly building up to four inning outings (all starts) with escalating strikeout totals to boot. He was hit harder in later outings, but still strong peripherals with a 25-3 K-BB ratio in 21 innings with no homers. After the season, he was the Orioles' 21st ranked prospect according to Baseball America.
The then-21-year-old was promoted to Aberdeen in the New York Penn League for the 2014 season. He allowed two homers (half of his season total) in his first game and had the reverse of his rookie season, slowly improving as the year wore on. He finished the year with a gem, going eight innings with 10 K and no runs vs. Lowell. He ended with a 3.66 ERA in 66 1/3 innings and was BA's 16th ranked prospect in the O's system.
The following January, Tarpley was dealt alongside reliever Steven Brault to the Pittsburgh Pirates for OF Travis Snider. Joining West Virginia in the South Atlantic League, he got his first taste of full season ball beginning in May 2015. For the year, he went 11-4 with a 2.48 ERA in 116 innings. Despite throwing nearly 50 more innings, he issued just one more walk and had two fewer homers. He maintained a strong groundball rate thanks to his sinking fastball. The southpaw even had a weather shortened no-hitter against his former teammates.
The No. 17 prospect for the Pirates after 2015, he moved to High-A in 2016. Unfortunately, his numbers were worse across the board. He didn't begin his year until May with an oblique injury. He threw 20 starts for the second straight year, averaging just five innings a start. His strikeout rate remained level, but his walk issues crept back up while allowing eight home runs, two more than he'd allowed to that point in his professional career.
On Aug. 30, the Pirates dealt him as a PTBNL (with Tito Polo) to the Yankees for Ivan Nova. He made just one start for Tampa before his season ended and didn't make a postseason appearance.
2017 Performance
For the second straight season, Tarpley missed the beginning of the season with an injury. In an interview with Pinstriped Prospects, Tarpley said it was "a little shoulder soreness." The injury kept Tarpley out through June 10, when he made his debut with two scoreless innings out of the bullpen. That started a trend.
Pitching out of the bullpen for the first time in his career, Tarpley has excelled. In 14 games, he's thrown 30 2/3 innings and has yet to allow a run. His groundball rate is an off-the-charts 66.7 percent while posting a career best strikeout rate of 13.3 percent, more than 10 percent higher than 2016. Despite an elevated walk rate, he still has the best K-BB% since Rookie ball and has a 2.50 GB/FB ratio. He even has an 18.8 infield-fly ball rate.
All but one of his outings has been for at least four outs and 10 of his 14 have gone at least two innings. He's allowed just eight hits, thanks in part to a .129 BABIP and a career-best 5.3 line-drive percentage. Groundballs and weak fly balls are a heck of a way to excel and have helped him post a .082 batting average against.
It was just 30 2/3 innings in High-A (a level he repeated), but this is also his first experience as a reliever. As a plus, he has nearly identical numbers against LHBs and RHBs this year after posting reasonable splits in past seasons. In the interview with Pinstriped Prospects, Tarpley said "my two-seam has improved a lot, just overall my pitches in the zone have improved."
The southpaw earned a promotion to Double-A Trenton this week and threw two shutout innings (No hits, 1 BB, 3 K) en route to a win.
Scouting Report
Tarpley is 6-foot-1 and weighs 185 pounds. He'll be 25 next February. He works off a two-seam fastball that has solid sinking action. He has three off-speed pitches with a curveball, changeup and an improving slider. His fastball tops out around 94-95.
Here's part of MLB.com's breakdown of Tarpley prior to his trade to the Yankees last August:
He'll run his fastball up to 94-95 mph at times and throws it with good sink to generate ground-ball outs. Tarpley has two breaking balls and likes to throw his curve more than his slider, though the Pirates feel the slider is better … He also has a good feel for his changeup, giving him a solid three-pitch mix he uses to pound the strike zone.
In their 2016 Prospect Handbook, Baseball America said Tarpley "profiled as a back-of-the-rotation" starter and was able to neutralize right-handed batters with the way he attacked the zone.
My Take
Tarpley is in Trenton for the stretch run and postseason, where he'll get a new challenge, albeit in a pitcher's park. That, along with a potential stint in the Arizona Fall League, should give the Yankees a better idea of whether he deserves a 40-man spot after being passed up for one last year.
A left-handed relief pitcher repeating High A can be a tough sell for a 40-man spot, but his dominance in Tampa could have made the Yankees think otherwise. He is, after all, a former third round pick and could be finally hitting his potential at 24. As the saying goes, they don't check IDs on the mound.
As for a return to the rotation, his Rule 5 status makes this a tougher proposition. He'd likely need to repeat High A or spend a full season in Double A to return to starting. As my cousin, who first turned my attention to Tarpley, pointed out, his walk rate also doesn't fit the profile of a starter.
If he can impress in Double A or the AFL (in his return back to Scottsdale perhaps), he'd be a potential shuttle reliever as soon as mid-2018 in the best case scenario. Otherwise, Rule 5 eligible for the second straight year, he's shown enough to be chosen by another organization at the winter meetings.