It wasn't easy, but a win is a win, and boy did the Yankees need that win Saturday night. The offense broke out for two (2) runs and the pitching staff made them stand up against an Indians team that seemed to threaten every single inning. The final score was 2-1.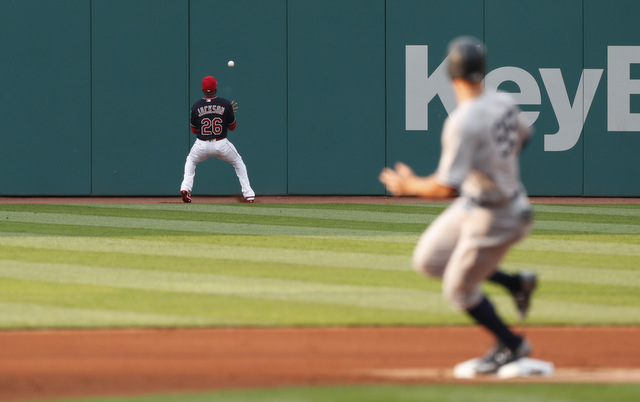 Nearly Three, Settle For One
The Yankees tried something new and exciting Saturday night: they scored in the first inning and held a lead. Pretty wild. Prior to Didi Gregorius' run-scoring double in the first inning, the Yankees had not held a lead since Monday. Monday! They beat the Tigers and Michael Fulmer that day. They didn't hold a single lead Tuesday, Wednesday, Thursday, or Friday. Good grief.
And yet, that one-run first inning was so close to being so much better. Brett Gardner started the game with a walk and Aaron Judge laced a single to left to put runners on first and second with one out. Didi, the cleanup hitter du jour, then smoked a double over Austin Jackson's head in center field and it was this close to being a three-run home run: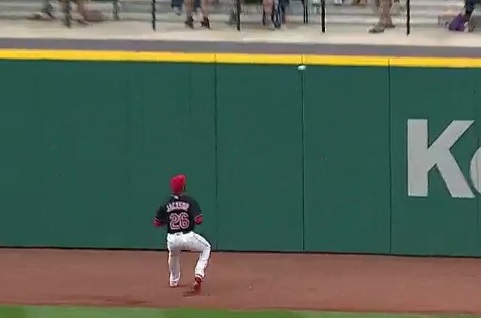 Maybe six inches away from a home run? That's the way it's been going for the Yankees lately. When you're going well, you get that little bit of extra carry over the wall for a three-run homer. When it's not going well, there's a little too much topspin and you settle for a one-run double. Gary Sanchez struck out and Jacoby Ellsbury flew out, stranding Judge at third and Gregorius at second. I guess we should be happy they got at least one run out of it.
65 & Fly
Very good outing for Jordan Montgomery. Very good and surprisingly short. He was pulled after five innings and 65 pitches. Hmmm. Joe Girardi said after the game Montgomery is fine, and the bullpen "is how we are built," so he went to it. Montgomery had gotten through the lineup two times and the top relievers were rested, so Girardi went to them. Considering how badly the Yankees needed this win, I can't say I blame him.
Montgomery made basically one bad pitch all night. Even when Francisco Lindor led off the first with a double and Giovanny Urshela led off the third with a single, they went out and hit pitcher's pitchers. It happens. Montgomery's one mistake was the curveball he hung to Carlos Santana in the second inning. Might as well have put it on a tee. Santana did what he should have done and cranked it over the left field wall for a solo homer. Bad pitch, good hitter, etc. etc.
The solo homer knotted the game up 1-1. Following the Urshela leadoff single in the third, Montgomery settled down and retired the final nine batters he faced, and only one of the nine hit the ball out of the infield. His final line: 5 IP, 3 H, 1 R, 1 ER, 0 BB, 7 K. I thought his curveball was as good as it's been at any point this season. He threw 24 curveballs and got nine swings and misses with the pitch. Nine! He dropped ten others in for called strikes. Very nice. Go Monty.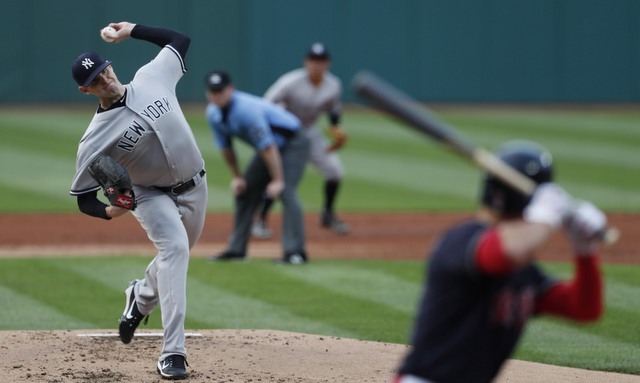 Battle of the Bullpens
With the scored tied 1-1 and Montgomery out of the game, in came David Robertson to throw scoreless sixth and seventh innings. Sure is nice to be able to bring him out of the bullpen in those situations and not Tyler Clippard, isn't it? Robertson actually allowed two hits in the sixth, but he struck out Edwin Encarnacion to strand the two runners. He threw two scoreless innings on 28 pitches. It used to take him 28 pitches to get through one inning.
The score remained 1-1 until the top of the eighth, when Chase Headley golfed a hanging Zach McAllister curveball out to right field for a go-ahead solo home run. Headley homers are very rare. That was his sixth of the season. When he hits one, you've got to make it count. The homer gave the Yankees a 2-1 lead, and given the way they've been swinging the bats, it was up to the bullpen to make it stand up. Scoring again was not really an option.
Dellin Betances got the eighth and holy smokes, he was dominant. A fly ball and two they-had-no-chance strikeouts. His last 12 appearances: 13.2 IP, 7 H, 1 R, 1 ER, 6 BB, 23 K. Good to have Good Dellin back. Aroldis Chapman got the ninth inning and of course he made it interesting. Winning this game was never going to be easy. Michael Brantley led off the inning with a single, then Gardner made an outstanding jumping catch at the wall to rob Jose Ramirez of extra bases.
Very reminiscent of the catch against the Blue Jays last year. Know which one I mean? The Blake Parker game? That catch that had "if he doesn't catch that, the Yankees are losing this game" feeling to it. Gardner took a double away from Ramirez, then Ronald Torreyes laid out to take a single away from Encarnacion for the second out. Chapman froze Santana with a 3-2 slider for the 27th and final out. Ex-friggin-hale.
Leftovers
Hero of the game: the outfield defense. Gardner made that great catch in the ninth. Judge held Urshela to a single in the third by getting to the ball in the gap quickly, then firing into the cutoff man. He also held Lindor to a single in the sixth by playing the ball well of the wall, and throwing it in quickly. Ellsbury made a sliding catch coming on a bloop in that sixth inning. All three outfielders had a gold star play. Judge had two. And Torreyes made that nice running catch in the ninth. This was the opposite of Thursday's game, when the Yankees kicked the ball around behind Sonny Gray.
Five hits by the Yankees. That's all. One by Gardner, one by Headley, one by Judge, and two by Gregorius. The 5-6-7-8-9 hitters went a combined 0-for-17 with nine strikeouts. At least Sanchez and Todd Frazier drew walks, I guess. Gardner drew two. Ellsbury batted with runners on second and third in the first (inning-ending fly out) and sixth (inning-ending double play) and didn't get a run in either time. He's down to .241/.322/.347 (83 wRC+) on the year.
Box Score, WPA Graph & Standings
ESPN has the box score and updated standings, and MLB.com has the video highlights. We have a Bullpen Workload page. Here's the win probability graph:

Source: FanGraphs
Up Next
This four-game series finally comes to an end Sunday afternoon. That's a normal 1pm ET start. Luis Severino and Carlos Carrasco will be on the bump.