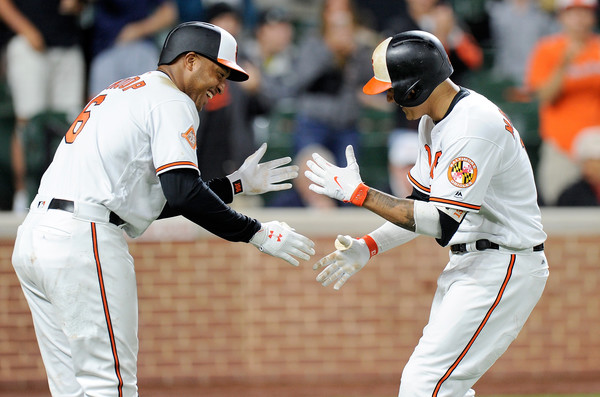 The Last Time They Met
The Yankees swept the Orioles in Yankee Stadium way back in June, outscoring them by 30 runs over three games. By the time that series was over the Yankees were 37-23, and were in the running for the best team in baseball. Some notes from the series:
The Yankees hit twelve home runs in the series as a whole – Aaron Judge and Starlin Castro hit three apiece, Aaron Hicks and Gary Sanchez had two each, and Didi Gregorius and Matt Holliday both chipped in one.
Judge was leading the league in the Triple Crown categories at the end of the series, batting .344 with 21 home runs and 47 RBI. He also hit this home run, which is still the longest of 2017.
While the offense was the story of the weekend, the contributions of the Yankees young starting pitchers shouldn't be overlooked. Jordan Montgomery (7.0 IP, 5 H, 2 R, 1 BB, 8 K) and Luis Severino (7.0 IP, 2 H, 1 R, 2 BB, 8 K) appreciated all of the run support, but they pitched more than well-enough to win on most nights.
Check out Katie's Yankeemetrics post for more fun statistics from the series.
Injury Report
The Orioles are relatively healthy right now. Craig Gentry just hit the disabled list with a fractured right finger, but the team is expected to otherwise be at full-strength for this series. J.J. Hardy has been on the DL since mid-June, for what it's worth, but he's expected to return today or tomorrow.
Their Story So Far
Baltimore is 70-67 and just 1.5 games out of the Wild Card game, despite a -23 run differential. They've won 8 of their last 10, a stretch that includes back-to-back sweeps of the Mariners and Red Sox, and they look far smarter for buying at the deadline than they did at the time.
Tim Beckham, of all people, was their big trade deadline acquisition. He's batting .364/.385/.587 in 32 games with the Orioles, and he has slotted into the top of their lineup with gusto. Beckham is best known for being something of a bust with the Rays, posting a 97 wRC+ in his first three seasons in the majors, and never putting up the sort of jaw-dropping numbers in the minors that one would expect from a player of his stock. He's still only 27, though, and he has a 115 wRC+ in 493 PA this year.
The Lineup We Might See
Buck Showalter has had a fairly steady hand with his lineup on a day-to-day basis, with the first six or seven spots in the lineup being incredibly consistent. He has utilized some platoons, but he seems to prefer to have defined roles for his hitters. Based on that:
Tim Beckham, SS – .291/.335/.463, 18 HR, 6 SB
Manny Machado, 3B – .271/.324/.497, 30 HR, 9 SB
Jonathan Schoop, 2B – .309/.354/.543, 30 HR, 1 SB
Adam Jones, CF – .281/.318/.475, 26 HR, 1 SB
Trey Mancini, LF – .291/.338/.507, 23 HR, 1 SB
Chris Davis, 1B – .224/.319/.437, 22 HR, 0 SB
Mark Trumbo, DH – .246/.301/.415, 21 HR, 1 SB
Welington Castillo, C – .300/.339/.512, 18 HR, 0 SB
Seth Smith, RF – .269/.353/.459, 13 HR, 2 SB
The Starting Pitchers We Will See
Monday (2:05 PM EST): LHP Jordan Montgomery vs. RHP Dylan Bundy
Bundy's season is something of a small miracle. The 24-year-old did not pitch in 2013, and threw a combined 63.1 IP between 2014 and 2015. He was mostly healthy last year, throwing 109.2 IP between the rotation and the bullpen, but he clearly tired down the stretch. And yet heading into today's start he has 155.1 IP of 3.94 ERA (109 ERA+) ball, his velocity has remained steady, and he has been markedly better in the second half (4.33 ERA/7.0 K/9 before the break, 3.04 ERA/10.1 K/9 since). One can't help but worry that he'll wear down, but it's a great story nonetheless.
Last Outing (vs. SEA on 8/29) – 9.0 IP, 1 H, 0 R, 2 BB, 12 K
Tuesday (7:05 PM EST): LHP CC Sabathia vs. RHP Ubaldo Jimenez
To Jimenez's credit, he has stayed healthy throughout his career, and has been (as far as we know) gracious in accepting whatever role changes the Orioles throw his way. That's about all the positivity one can muster on his accord, though, as he has a 6.11 ERA (70 ERA+) since the beginning of last year, and he has transitioned from flame-thrower to someone with average velocity over the last four seasons.
Last Outing (vs. SEA on 8/30) – 2.2 IP, 6 H, 6 R, 1 BB, 3 K
Wednesday (7:05 PM EST): Sonny Gray vs. RHP Jeremy Hellickson
The Orioles were mocked a bit for buying at the deadline, given that they were 50-54 at the time. They sport a 20-13 record since then, however, and have eked back into the playoff race. Hellickson, their "major" acquisition, has not contributed all that much to that success, pitching to a 6.55 ERA (66 ERA+) in 6 starts with his new team. He has been serviceable for the majority of his career, pitching to a 98 ERA in parts of eight seasons, but that's a far cry from the expectations on a consensus top-ten prospect.
Hellickson is a true five-pitch pitcher. He throws a low-90s four-seamer, a low-90s sinker, an upper-80s cutter, a low-80s change-up, and a mid-70s curveball. His change-up is generally his best pitch but, by FanGraphs' reckoning, it has been his worst this year (and one of the worst in the game, at that).
Last Outing (vs. TOR on 8/31) – 4.2 IP, 7 H, 7 R, 4 BB, 2 K
The Bullpen
The Orioles have exceeded both expectations and Pythagoras over the last several years, and the bullpen has played a tremendous part in that. This year, however, the group has been largely mediocre, with several of their core relievers regressing heavily. That was to be expected, given that Zach Britton had a 0.54 ERA in 67.0 IP last year – but that made the team's margin for error that much slimmer this year. It is worth noting that the bullpen has gradually rounded into form, pitching to a 3.09 ERA in the second-half, with most pitchers clustering within that range.
Britton is still the closer, and Mychal Givens and Brad Brach handle the set-up duties. Darren O'Day and Richard Bleier are both specialists, but Showalter will use both against most anyone. They also have Miguel Castro is a dedicated long-relief role, but Showalter has used him to get some big outs.
Who (Or What) To Watch
I enjoy every pitch that I get to see from Bundy, so he will have free reign of this section whenever he pitches against the Yankees. It amazes me that he came back from so many injuries and so much organizational turmoil to be a solid starter at the highest level.
Beyond that, this is yet another important series for the Yankees. They're 3.5 games ahead of the Orioles in the standings, but we've seen how quickly things can shift – and these two teams will meet again next weekend.