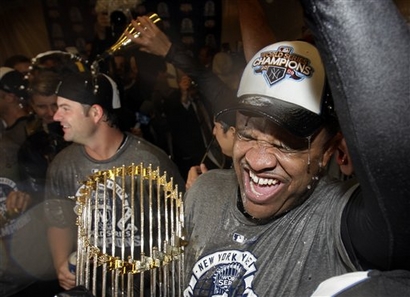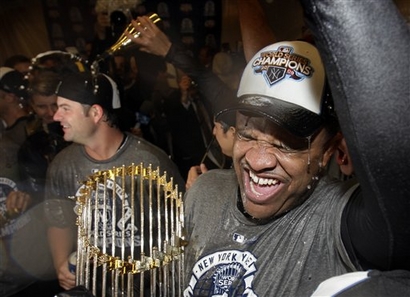 I've said often that the 2009 World Series winning Yankee team is my favorite of all the championship teams. I was finally old enough to appreciate a World Series win and I watched nearly every inning of that season. Additionally, I was (way too) active on this site and met a lot of great people through it. Every night was a new, fun, exciting experience on the road to dominance and an eventual championship. On its face, the 2017 version of the Yankees has very little to do with that team.
The 2009 team was built and focused around veterans. There were the 'holdovers' like Derek Jeter, Alex Rodriguez, Johnny Damon, and Robinson Cano. The team brought in Nick Swisher, CC Sabathia, A.J. Burnett, and Mark Teixeria. That team was expected to win and to win big. And that's what they did. Including the playoffs, they won 114 games en route to World Series number 27. The 2017 team, on the other hand, was built around young players and the hope that maybe if everything broke right, they could fight for the second Wild Card spot. Obviously, things have gone better than that and this year has been, probably, the most enjoyable year of my Yankee fandom since 2009.
Every night, this team is fun to watch. Of course, there have been frustrating moments of offensive and bullpen related frustrations, but those pale in comparison to how great it feels to watch young players playing great on a nightly basis. From Gary Sanchez and Aaron Judge knocking dingers, leading their respective positions in offense, to Didi Gregorius's further offensive development and stellar throwing arm, to Luis Severino and Chad Green reaching heights that seemed well beyond anything we could think of, to Clint Frazier making an unexpected debut, young players have fueled the good times in 2017.
2009 featured walk off after walk off and it was amazing. I'll not soon forget he A-Rod walk off against the Red Sox or walk off weekend against the Twins or all the playoff heroics of A-Rod and others. That sense of drama hasn't quite been there more than a few times in 2017, but the wins have been satisfying nonetheless.
We've talked a lot about expectations this year and how the lack thereof has made this a stress free year of rooting. A different feeling than the expectations-laden one in 2009 for sure. But, at the end of the rooting day, there is a sense of calm I've felt regarding both squads. In 2009, I always knew the team would come through. I knew they'd get the big hit. I knew they'd win even when it looked like they wouldn't. There was a level of comfort knowing just how damn good they were, knowing that they were the best. Even as expectations now rise for the 2017 team–anything less than a DS appearance would be disappointing at this point–there's a comfort level in knowing that they blew past what we should have expected long ago.
Baseball is supposed to be fun, whether you're playing or watching. Since 2012, the fun times for the Yankees have been few and far between, with plenty of frustration flung in there. 2017 hasn't been that at all. 2009 seemed predestined for a championship and I've got no idea what 2017 will really do, but the ride has been fun as all hell and I hope it goes on for a long time and ends with a big parade.