Make it ten wins in the last 13 games for these fun as hell Yankees. Friday's 8-2 win over the Orioles was win No. 81 on the season for the Yankees, meaning they will not have a losing record for the 25th (!) consecutive season. Gary Sanchez and Luis Severino were not born when this streak started. The magic number to clinch a postseason spot is down to ten.
Standard Sevy
Gosh, if Severino is fatigued at all from the longest season of his life, he sure as heck isn't showing it. Sevy hit 100.6 mph with his final fastball of the night and threw a 91.9 mph slider with his 95th and final pitch, a pitch Tim Beckham took right down the middle for strike three to end the eighth inning. Severino's line: 8 IP, 3 H, 2 R, 2 ER, 1 BB, 7 K. He generated 22 swings and misses, which I thought would be his season high, but lol no. It's only his sixth highest total. He's had as many as 26 swings and misses in a game this year.
For all intents and purposes, Severino made two mistakes Friday night. The first mistake was walking Chris Davis with two outs in the second. None of the four balls were particularly close. Probably should've challenged him given his swing-and-miss tendencies, but whatever. Severino's second mistake was a middle-middle fastball to Welington Castillo, the following batter. Sanchez wanted it down and away in the two-strike count, but Severino grooved it …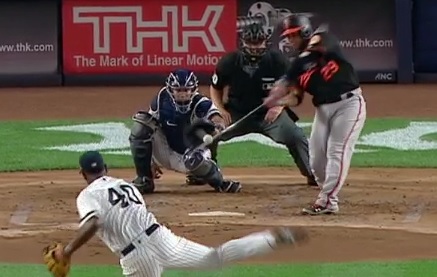 … and Castillo poked it into the first row of the short porch. Yeah, that'll happen sometimes when you leave a hittable fastball out over the plate in this ballpark. After the home run though, Severino locked it down and allowed two (2) baserunners the rest of the game. Pedro Alvarez, who apparently is still a thing, doubled with two outs in the fifth. Jonathan Schoop reached with two outs in the seventh on Chase Headley's error. Twenty-one up, 19 down to end the night for Sevy.
All told, Severino now has a 2.93 ERA (3.10 FIP) with 29.2% strikeouts and 6.6% walks in 184.1 innings this season. His 218 strikeouts are the fifth most in a single season in franchise history. The top five:
1978 Ron Guidry: 248
1904 Jack Chesbro: 239 (in 454.2 innings!)
2011 CC Sabathia: 230
1997 David Cone: 222
2017 Luis Severino: 218 and counting
Severino has two regular season starts remaining, which means he has a legit chance to climb into second place on the franchise's single-season strikeout list. It'll take two big strikeout games — he needs 22 strikeouts to pass Chesbro — but it's not completely out of reach. Not like he needs 35 or something. At the very least, Severino has a really good shot to pass Cone and Sabathia and move into third place. What a season for this kid. Games like this one have become the norm.
Plenty Of Runs, But No Big Inning
For the first time in four home games against the Orioles, the Yankees failed to score at least five runs in the first inning. Slackers. They did score one though! Brett Gardner started the inning with a double, Sanchez singled him over to third, and Didi Gregorius brought him home with a sac fly. Real quick lead. Love those. The Yankees added another run in the second when Davis let Greg Bird's grounder go through his legs. Headley and Matt Holliday singled to put runners on the corners earlier in the inning. Headley bunted against the shift. Neat.
The score remained 2-2 until the fifth inning, after O's righty Gabriel Ynoa was out of the game. He only threw 64 pitches in 4.1 innings. Buck Showalter must not have wanted him to go through the middle of the lineup a third time. Anyway, Aaron Judge worked a one-out walk and stole second in that fifth inning, setting up the amazing and awesome and handsome Gregorius for the go-ahead two-run home run. Love Didi. What a ballplayer. In addition to the dinger and the sac fly, he also made a heck of a defensive play deep in the shortstop hole.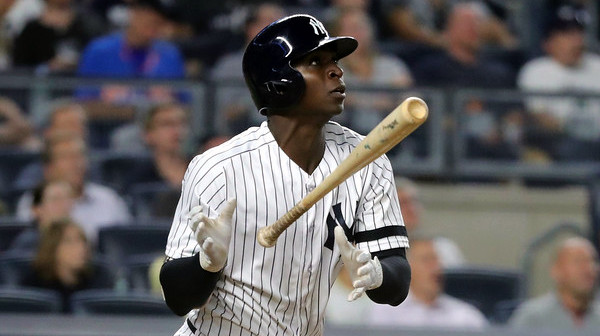 The Didi dinger gave the Yankees a 4-2 lead. They added three more in the seventh thanks to some sloppy Orioles defense. They were sloppy all night. All series. All season, really. It's part of their downfall. Bird started that seventh inning with a walk against Miguel Castro, then Gardner hit into what should've been a force out at second base. At worst, a fielder's choice with the out at first. Instead, both Gardner and Bird were safe because Schoop muffed the grounder at second. Should've been at least one out for sure.
Yet another Judge walk later, the bases were loaded with no outs. The Orioles, Mark Trumbo specifically, did the Yankees a solid and helped bring home the inning's first run. Sanchez poked a little fly ball to right that I thought even Trumbo would catch, but no, he held up for some reason and let the ball drop in. I'm pretty sure Carlos Beltran would've had that one. The ball dropped in, a run scored, and the runners all advanced. Still no outs too.
Gregorius drove home the inning's second run with another sac fly, his second of the game. Center fielder Austin Hays made a real nice throw and it was a bang-bang play at the plate, but Gardner outran the throw. Headley singled in another run to stretch the lead to 7-2. Bird clobbered a solo home run in the eighth against former Yankee Richard Bleier to give the Yankees an 8-2 lead. There was no huge five or six-run inning Friday night like we've seen the last few games against the Orioles, but eight runs is eight runs.
Leftovers
David Robertson pitched the ninth inning with a six-run lead because he was already warmed up. He started to get loose in the seventh inning, before the Yankees tacked on three insurance runs, and he got hot during the eighth inning in case Severino ran into trouble. Once he's up, might as well use him. Robertson was a tad wild in the ninth — only ten of his 23 pitches were strikes, and his two wild pitches were very wild — but he closed it out no problem.
Starlin Castro, who is in quite the funk right now, went 0-for-4 on Friday, as did Jacoby Ellsbury. Ellsbury had a tough 0-for-4. He hit two balls hard that just died in the air. One was caught in center field and another was caught at the wall in right field. Three hits for Headley and two each for Sanchez and Holliday. Gardner, Gregorius, and Bird had one hit apiece. No contact day for Judge. Two walks and two strikeouts.
And finally, congrats to Joe Girardi for his 900th win as Yankees manager. He's only the sixth man to do it, joining Joe McCarthy (1,460), Joe Torre (1,173), Casey Stengel (1,149), Miller Huggins (1,067), and Ralph Houk (944).
Box Score, WPA Graph & Standings
For the box score and updated standings, head on over to ESPN. MLB.com has the video highlights and FanGraphs has the postseason odds. Here's our Bullpen Workload page and here's the win probability graph:

Source: FanGraphs
Up Next
The Yankees and Orioles are halfway through this four-game series I hope never ends. Jordan Montgomery and Jeremy Hellickson are the scheduled starting pitchers for Saturday game. That's a 4pm ET start.