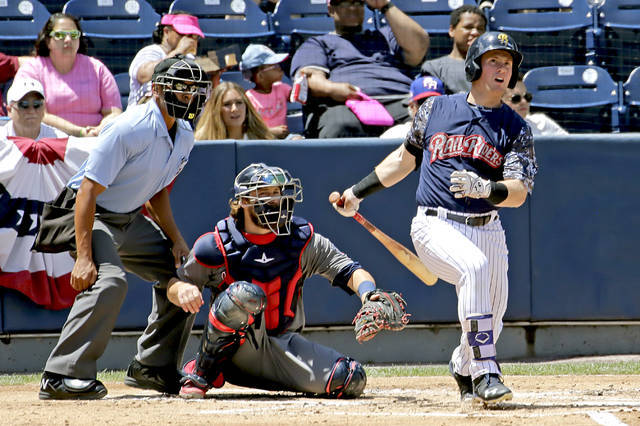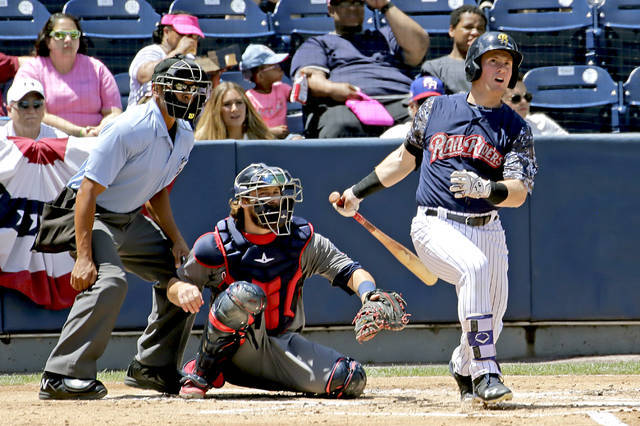 The Yankees and Orioles will continue their four-game series with the third game later this afternoon. That's a 4pm ET start for whatever reason. Here's some notes and links to check out in the meantime.
Yankees planning to add Cave, McKinney to 40-man
According to Joel Sherman, the Yankees plan to add outfielders Jake Cave and Billy McKinney to the 40-man roster this offseason. Unless they trade them first, of course. McKinney, who came over in last year's Aroldis Chapman trade, will be Rule 5 Draft eligible this December. Cave is due to become a minor league free agent, so he'll have to be added to the 40-man pretty much right after the World Series. McKinney doesn't have to be added until late-November.
Cave, 24, hit .305/.351/.542 (145 wRC+) with a career high 20 home runs this season. He reportedly made some swing changes in an effort to get the ball airborne more often, which explains the career high home run total, career low ground ball rate (43.1%), and career high strikeout rate (26.3%). The 23-year-old McKinney hit .277/.338/.483 (124 wRC+) with 16 homers this year. Both he and Cave split the season between Double-A Trenton and Triple-A Scranton. I'm not sure either guy is a long-term piece for the Yankees, but you can't lose them for nothing either, so on the 40-man they will reportedly go.
Several Yankees among Law's best tools
Last month Keith Law published his rankings of the best tools in baseball (hitting, fielding, pitching). Best hit tool, best power, best fastball, so on and so forth. I always enjoy lists like this. Anyway, several Yankees pop up in the various categories, so let's round 'em up:
Best Power: Aaron Judge (second to Joey Gallo)
Best Fastball: Aroldis Chapman (second to Chris Sale)
Best Splitter: Masahiro Tanaka (first)
Best Curveball: David Robertson (fourth behind Corey Kluber, Lance McCullers Jr., Aaron Nola)
Best Catcher Arm: Gary Sanchez (fourth behind Willson Contreras, Jorge Alfaro, Yadier Molina)
Best Outfield Arm: Aaron Hicks (second to Bryce Harper)
The only real surprise to me is no Luis Severino in the best fastball category. (The top five was Sale, Chapman, James Paxton, Joe Kelly, and Justin Verlander.) Nothing else seems out of place to me. Sorta bold prediction: Chad Green tops the best fastball list next year, unless the only criteria is velocity. Green's fastball is ridiculous.
Gardner, Robertson nominated for awards
Within the last few weeks MLB and the MLBPA announced nominees for two prestigious awards. Brett Gardner is the Yankees' nominee for the Roberto Clemente Award while Robertson has been nominated for the Marvin Miller Man of the Year Award. Both awards are decided by fan voting, which seems ridiculous, but whatever. Here is the Marvin Miller Man of the Year ballot. Voting for the Roberto Clemente Award doesn't begin until October. Here are the nominees.
The Roberto Clemente Award is giving annually to the player who "best exemplifies the game of baseball, sportsmanship, community involvement and the individual's contribution to his team." Curtis Granderson won the award last year and Derek Jeter won in 2009. As for the Marvin Miller Man of the Year Award, that one goes to the player "whose on-field performance and contributions to his community inspire others to higher levels of achievement." Granderson won that last year too. Mariano Rivera won it in 2013. Congrats to Gardner and Robertson. Just getting nominated for these awards is an honor.
MLB, NPB negotiating new posting agreement
Before Shohei Otani can come over to the big leagues, Major League Baseball and Nippon Pro Baseball must first agree to a new posting system. The release fee system, which brought Tanaka to MLB four years ago, had to be renewed each year, and earlier this year MLB requested a renegotiation. There's technically no posting system in place right now, so there's no official way for Otani to leave Japan for MLB.
Anyway, Jim Allen recently broke down the latest posting system proposals. In both proposals, the compensation paid to the player's former NPB team would be a percentage of the money he receives from an MLB team. It's basically 15% up to a maximum of $20M. So, for example, if the Yankee were to sign Otani for $2M, they'd pay the Nippon Ham Fighters a $300,000 release fee. Needless to say, NPB teams are not having it. Under the now expired system, the NPB team sets the release fee ($20M max) and the MLB tam pays it when they sign the player.