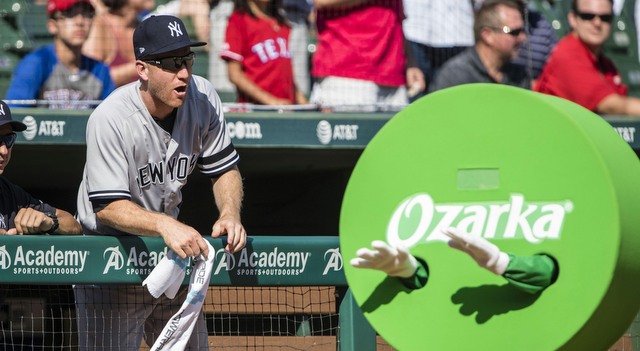 The Yankees won for the 12th time in their last 16 games last night — they blew a four-run lead and a five-run lead in two of the losses, which is annoying — and did so thanks in part to Todd Frazier, who drove in the game-inning run with a sixth inning sac fly. Not the sexiest play, but it helped win the game.
In his nine weeks as a Yankee, Frazier is hitting .226/.371/.439 (118 wRC+) with  ten home runs in 55 games, and that is pretty much exactly who he is as a hitter. He hits for a low average, but he gets on base a bunch and will sock dingers. His OBP is actually inflated a bit by hit-by-pitches. Frazier has been hit by (a team leading!) ten pitches with the Yankees already. He was hit by four with the White Sox this year and eleven total from 2015-16. Huh.
So far Frazier has done pretty much exactly what the Yankees hoped he'd do after the trade. He's been an offensive upgrade over the hodgepodge of first basemen and a defensive upgrade as well. And he seems to have fit in well in the clubhouse, which is no surprise given his reputation. Frazier seems to genuinely love playing in New York, so much so that he's indicated a willingness to change positions to stay in pinstripes.
"It's a pleasure coming in here everyday,"said Frazier to Brendan Kuty recently. "I would love to have this challenge and I would love to play for this city for the rest of my life. I think it would be awesome … I could still play other positions. I know I can. I did it for the first three years with the Reds. I did rather well out there. I'm not afraid to change positions."
Frazier did play several positions earlier in his career. He was drafted as a shortstop and eventually moved to second in the minors, then third. He played a handful of games in left field for the Reds back in the day and plenty more in the minors. Can he play those positions now, at age 31 (32 in February), when he's been a full-time third baseman for the last five years? Eh, maybe. I don't think it's a given though.
Give the Yankees a truth serum, and I'm sure they'd tell you they want Clint Frazier and Gleyber Torres (and Miguel Andujar!) to grab full-time roster spots at some point next season. Maybe not on Opening Day, but at some point in 2018. That's the next phase of the youth movement. Frazier and Matt Holliday are both impending free agents, so the Yankees have two lineup spots opening up. Signing at least one stopgap veteran seems like a given.
The x-factor here is first base. I like Greg Bird. Seems like a good dude. But he's some major problems staying on the field the last two seasons. The fact of the matter is Bird has not been a productive MLB player in two years now, since his 2015 debut, and I'm not sure there's anything he could realistically do the rest of this season to alleviate any concerns going into next year. He's going to be a question mark. Again.
A stopgap veteran who can play multiple positions, provide some first base insurance, and be gently pushed aside when the kids are ready strikes me as an offseason priority. Frazier could be that guy, depending how the Yankees feel about his ability to play first base and left field. And what will it cost to sign him? That's the big question. I suspect some team is going to offer a multi-year deal to play third base full-time, and I don't see the Yankees matching that.
For now, Frazier has brought stability to the lineup and defense, and he's come up with some big hits (and sac flies) along the way too. We've seen other rental players parlay strong late season performances into new contracts (coughIchirocough), so it's not crazy to suggest Frazier could do the same. His potential contract and the youth movement do complicate things slightly.