Ninety-one wins in a rebuild transition year. Not too shabby. The Yankees won their penultimate game of the regular season Saturday afternoon, this one a 2-1 victory over the Blue Jays. They're now 20-8 in September, their best record in any month this season. Alas, the Red Sox beat the Astros up in Boston, so they clinched the AL East title. At least the Yankees did them no favors Saturday and made them clinch themselves. The Yankees will face the Twins in the AL Wild Card Game on Tuesday.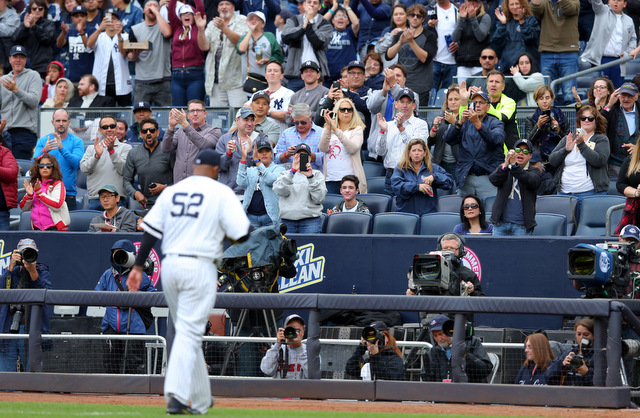 CC's Surprise Start
It wasn't until this morning that we found out CC Sabathia, not Jaime Garcia, would start this game against the Blue Jays. The Yankees were still mathematically alive in the AL East race, so they wanted to put their best foot forward. I don't blame them one bit. Gotta do what you can to win the division. The advantage of avoiding the Wild Card Game is too great.
Sabathia's final start of the regular season — and possibly the final start of his Yankees career (sobs) — went marvelously, though I will say the Blue Jays seemed to be mailing it in. They're ready for their season to end. One foot is in the batter's box and the other is on the plane home, you know? I don't mean to take anything away from Sabathia. He was awesome. The Blue Jays just didn't seem very interested in competing.
In his 5.2 innings Saturday, Sabathia scattered four hits, and two of the four were followed by a double play. The Blue Jays did not have a runner reach second base until the sixth inning, when Ryan Goins doubled to right with one out. A fan reached over the short porch to catch the ball, so Goins was awarded second base following a review. That was Toronto's fourth baserunner of the afternoon and first to advance beyond first base.
Sabathia's final line: 5.2 IP, 4 H, 0 R, 0 ER, 0 BB, 6 K on 75 pitches. Joe Girardi had a pretty quick hook — he didn't let CC face Josh Donaldson a third time when Donaldson represented the tying run — and whatever he said to Sabathia on the mound got a good laugh out of the big guy. With his regular season now complete, Sabathia finishes with a 3.69 ERA (4.48 FIP) in 148.2 innings. Give that man one-year contracts until he retires.
Two Runs Are Just Enough
Aaron Judge probably won't win the AL MVP award — I think Jose Altuve has it locked up, fair or not — but I know he is the MVP of all our hearts. Judge opened the scoring Saturday afternoon with his latest moonshoot, this one a 484-foot blast deep into the left field bleachers. It wasn't quite as far as that ball he hit against the Orioles a few weeks back, though he hit it to the same general area.
CRUSHED! ALL RISE!

No.52 for Aaron Judge giving the @Yankees the 1-0 lead. ??? pic.twitter.com/enK0UCMd2O

— FOX Sports: MLB (@MLBONFOX) September 30, 2017
Judge went 6-for-12 with three home runs against Stroman this season. That makes me happy. Judge hit ten homers in 18 games against the Blue Jays this season, and that also makes me happy. I look forward to him hitting many more dingers against Stroman — he's short and went to Duke, you know — and the Blue Jays in the coming years.
@TheJudge44 is creating history. He hits baseballs extremely far too. Lol looking forward to competing against him the rest of my career!

— Marcus Stroman (@MStrooo6) September 30, 2017
The Judge dinger gave the Yankees a 1-0 lead in the fourth. They added another run later in the inning. Didi Gregorius slapped a single over a leaping Goins at shortstop — I'm pretty sure the ball deflected off his glove — then advanced to second base on a wild pitch. Starlin Castro brought him home with a single back up the middle. I'm pretty sure that one deflected off Goins' glove too. One run on a monster homer and another on two hits off the infielder's glove. Baseball.
The Final Two Innings
I'm not quite sure why Tommy Kahnle came in for the eighth inning. He allowed a dinky infield single and a walk before being replaced by David Robertson. Was it an audition for high-leverage postseason work? If it was, you'd think the leash would be a little longer than that. If you're going to pull the plug that quickly, what could Kahnle have realistically done to build trust? Whatever.
The infield single and walk turned into a run when Donaldson lifted a sacrifice fly to left field later in the inning. I thought he creamed the pitch off the bat. I thought it was way gone. The wind brought it back in though, and I mean really brought it back in. Brett Gardner retreated, then had to sprint a long way forward to make the catch. The play at the plate was really close. Had the throw been a little more on-line, Ezequiel Carrera would've been out.
Anyway, Robertson escaped that eighth inning — he struck out Justin Smoak with two runners on base to end the threat and preserve the 2-1 lead — then Aroldis Chapman did his thing in the ninth. Safe to say neither Robertson nor Chapman will pitch Sunday, regardless of score. The game is meaningless and the Yankees will want them rested for the Wild Card Game on Tuesday. Same with Chad Green, who got four outs Saturday as the bridge from Sabathia to Kahnle.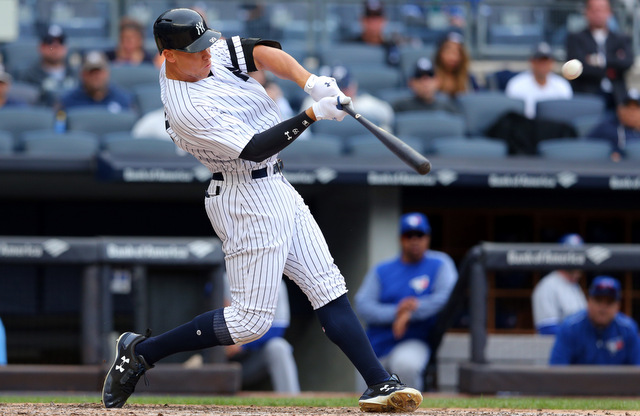 Leftovers
Todd Frazier was the only Yankee with two hits and I don't remember either of his singles. It was one of those quick moving and otherwise nondescript games, the kind of game that'll meld into the glob of baseball we all watch and forget each season. Judge homered while Gary Sanchez, Gregorius, Castro, and Greg Bird had singles. Bird's single was a rocket off the wall. He was thrown out by a mile trying to stretch it into a double. Bird is many things. Fast is not one of them.
And finally, Judge's home run was his 33rd at Yankee Stadium this season — 33rd! — which is a new single-season record. At any Yankee Stadium. The previous record was 32 homers at home by Babe Ruth in 1921. Pretty amazing he's hit 33 home runs at home and still has 19 on the road. Judge had a 38-homer pace away from Yankee Stadium this season. Pretty wild.
Box Score, WPA Graph & Standings
Head on over to ESPN for the box score and updated standings, and MLB.com for the video highlights. Here's our Bullpen Workload page and here's the win probability graph:

Source: FanGraphs
Up Next
The final game of the 2017 regular season. It really flew by, huh? I guess that happens when you're having fun. Jordan Montgomery and Brett Anderson are the scheduled starting pitchers for Sunday's regular season finale. That's a 3pm ET start across the league. Every game starts at the same time.