For the first time since 2012, the Yankees have won 90 games in a season. They shut the Blue Jays out 4-0 in Friday afternoon's series opener, and they did it thanks to a masterful performance from their erstwhile ace. The Yankees are still alive in the AL East, though one more Red Sox win, and it's over. At least the Yankees are making them earn it.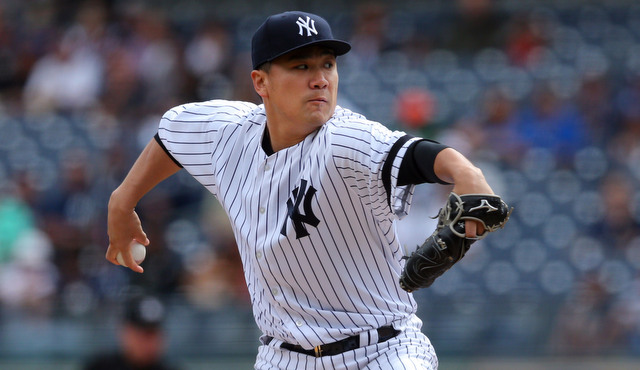 TanaKKKKKKKKKKKKKKKa
If this was indeed Masahiro Tanaka's final start as a Yankee, he went out with a bang. A good bang. Not a "he gave up a lot of home runs" bang. Tanaka took a perfect game into the fifth inning and didn't allow a hit to the outfield until the sixth inning, when Ryan Goins lined a single to center. Toronto's only baserunner up to that point was Ezequiel Carrera, who beat out an infield single in the fifth to end the perfect game bid.
Tanaka struck out six of the first nine batters he faced and 12 of the first 18 batters he faced Friday afternoon, and only one of those 12 strikeouts was looking. Both the splitter and slider were working beautifully. Tanaka threw 103 total pitches and finished with 23 swinging strikes, most of which came on pitches that dove out of the strike zone. Here is the pitch location of those 23 swings and misses, via Baseball Savant: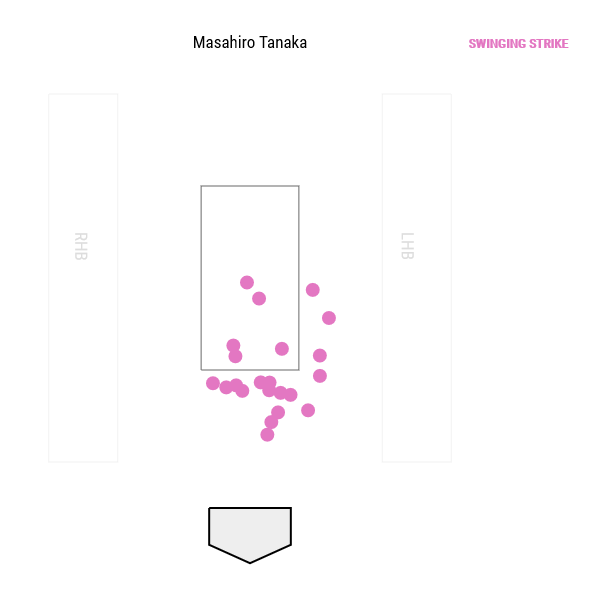 No pitcher in baseball is better than Tanaka at getting hitters to chase out of the strike zone. His 42.7% chase rate going into Friday's game was far away the highest among the 58 pitchers with enough innings to qualify for the ERA title this year. Corey Kluber was a distant second at 39.7%. Tanaka's ability to get swings on pitches out of the zone is unmatched and it was on full display Friday. He had the Blue Jays fishing all afternoon.
Tanaka's final line: 7 IP, 3 H, 0 R, 0 ER, 0 BB, 15 K on 103 pitches. The 15 strikeouts are a new career high and tie Stephen Strasburg for the most in a game this season. Also, Tanaka struck out every Blue Jay at least once. A few other notes:
Tanaka has three 13+ strikeout games this year, tied with Kluber for the second most in baseball. Only Chris Sale has more. He has four.
The last Yankee to strike out every opposing batter with 13+ strikeouts in the game overall? Ron Guidry in his franchise record 18-strikeout game back in 1978.
A full list of Yankees with 15+ strikeouts and zero walks in a start: Masahiro Tanaka and Michael Pineda. That's it. That's the list.
Tanaka finishes the regular season with a 4.74 ERA (4.34 FIP) and 194 strikeouts in 178.1 innings. So close to 200 strikeouts! Only four times in franchise history have two pitchers recorded 190+ strikeouts: 1904 (Jack Chesbro, Jack Powell), 2001 (Roger Clemens, Mike Mussina), 2009 (CC Sabathia, A.J. Burnett), and 2017 (Luis Severino, Tanaka). Between the one-and-done nature of the Wild Card Game and the looming opt-out, this might've been Tanaka's final start with the Yankees. I hope not, but it might've been. Heck of a way to go out. Hope to see you in the ALDS, Masahiro.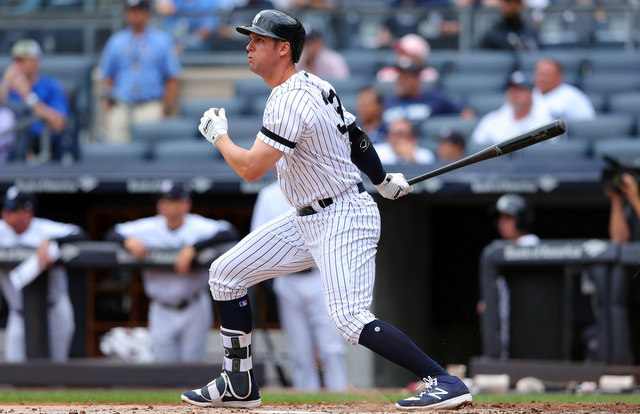 Scratch Out Four Runs
This was one of those games that felt like a blowout even though it wasn't really a blowout. Early runs and great pitching tends to do that. The Yankees struck for two runs right in the first inning. They loaded the bases with one out on a single (Jacoby Ellsbury), a walk (Aaron Judge), and a single (Didi Gregorius). Starlin Castro opened the scoring with an infield single that I could've sworn was foul ball off his foot, but apparently night.
The well-placed infield single — it was a little dribbler in front of third base, Josh Donaldson had no chance for a play at any base — gave the Yankees a 1-0 lead, and Greg Bird stretched it to 2-0 with a sacrifice fly. Judge drove in the third run with a rocket single to left in the fifth inning, after Ellsbury singled and stole second. In the third inning Judge grimaced a bit as he ran through first base on a ground out — cameras caught him trying to stretch something (back? legs?) out in the dugout — which was scary, but he stayed in the game and hit a 116 mph single, so yeah. He's fine.
The Yankees scored their fourth run of the day in the sixth inning, which featured Gregorius stealing second base twice. He stole second, but was sent back to first when the umpire ruled Castro fouled off the pitch. Gregorius then stole second again anyway later in the at-bat. Four steals in four attempts in the game for the Yankees. Blue Jays catcher Raffy Lopez is now 1-for-17 (5.9%) throwing out runners this season. Yikes. A Bird double plated Didi for the 4-0 lead.
Leftovers
David Robertson pitched around a walk in the eighth and Dellin Betances was yanked after allowing a single and a walk in the ninth, which seems completely ridiculous to me. A priority right now should be getting Betances on track, not grabbing every last win. The Yankees were up 4-0 at the time! Somehow Jonathan Holder had a longer leash in a one-run game Thursday night. Good grief.
Eight hits for the Yankees but only one extra-base hit. That was Bird's double in the sixth. Ellsbury, Judge, Gregorius (two), Castro, Bird, and Austin Romine had the singles. Judge and Todd Frazier drew the only walks. The Yankees went 4-for-8 with runners in scoring position, if that's your thing.
Box Score, WPA Graph & Standings
Head over to ESPN for the box score and updated standings, and MLB.com for the video highlights. Here's our Bullpen Workload page and here's the win probability graph:

Source: FanGraphs
Up Next
The penultimate game of the regular season. The Yankees and Blue Jays will play the middle game of this three-game season-ending series Saturday afternoon. That's a regular old 1pm ET start. Jaime Garcia and Marcus Stroman are the scheduled starting pitchers for that one.