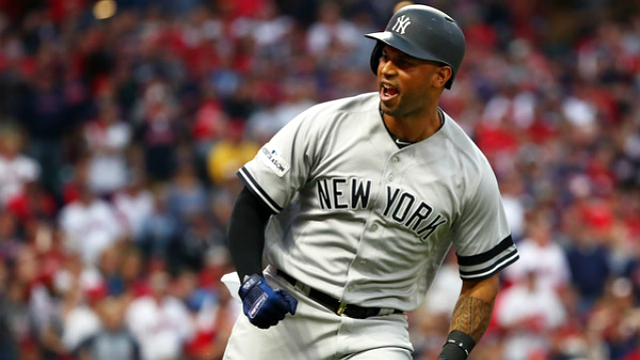 Going into 2017, you would have been forgiven if you chalked up the John Ryan Murphy-Aaron Hicks deal to a lose-lose with both players going bust in their new environments. Hicks hit .217/.281/.336 (64 wRC+) in his first season with the Yankees while fulfilling mostly a part-time, fourth outfielder role.
Despite his clear tools, his breakout in 2017 was nonetheless surprising.
Forging an opportunity
Just like in 2017, Hicks was the fourth outfielder to start the year. He nearly outhit Aaron Judge in spring training while trying to win the right fielder job, putting up a .268/.379/.518 line.
When the regular season started, Hicks was better from the jump. In his first start (Apr. 8), He went 1 for 2 with a double and a walk. After Brett Gardner was banged up on a play at first, he got a chance to start full-time for a week and he took off. He homered twice to lead the Yankees to a win over the Rays. He walked six times while knocking in eight runs in a four-game span.
Impressively, he had four two-walk games in April despite starting just nine times. Since he was in the minors, Hicks was always renowned for his eye, but it hadn't quite translated to the majors. He added a pair of three walks games on May 3 and May 11 while notching seven hits in two games in-between against the Cubs. After the May 11 game, he was hitting .333/.474/.627. That's unreal, even in the small sample size.
Of course, while this was happening, Aaron Judge was taking the entire league by storm while Brett Gardner was beginning to show off some power. Even Jacoby Ellsbury was hitting some, so it would have been simple for Hicks to lose playing time as soon as he had a brief cold streak…
Breaking out
But then came Ellsbury's concussion on May 24. From there on out, centerfield was Hicks' job for the taking.
And take it he did. He put together a 21-game on-base streak from mid-May to mid-June. This included a four-hit game with three doubles and six RBI against Toronto. Just killing the ball.
He was walking consistently and wasn't striking out nearly as much. Meanwhile, Hicks continued to hit for power, posting 10 homers and 15 doubles along with 37 walks to just 42 strikeouts through June 25.
Injuries rear their ugly head
But on Old Timer's Day on the 25th, Hicks injured his oblique. He'd missed a few games with Achilles soreness just a few days earlier. Hicks had dealt with injuries in 2016, but none that kept him out quite as long as the oblique injury did. It robbed the Yankees of their best option in the No. 2 spot of their lineup, where Hicks had been batting for nearly three weeks.
While he was replaced by Ellsbury on the roster, it was still a blow to the team as they lost Starlin Castro and Matt Holliday around the same time. The team was left shorthanded and their lineup took a hit.
Hicks would return more than a month later on Aug. 10 and he wasn't quite the same despite a clutch homer and outfield assist in his second game back.
He went from hitting .290/.398/.515 before the oblique injury to hitting .265/.367/.463 when he left with another oblique injury. At the time, it was thought that it may end his season. He had put up six hits on Aug. 30-31 over nine plate appearances, but it was still a disappointing finish.
However, he'd make it back for six more games (five starts) to close out the year. He robbed his second grand slam of the season in his first inning back on Sept. 26 and walked three times in the game. He'd hit homers each of the next two days and close out the year hitting .266/.372/.475 (127 wRC+), a career-best line.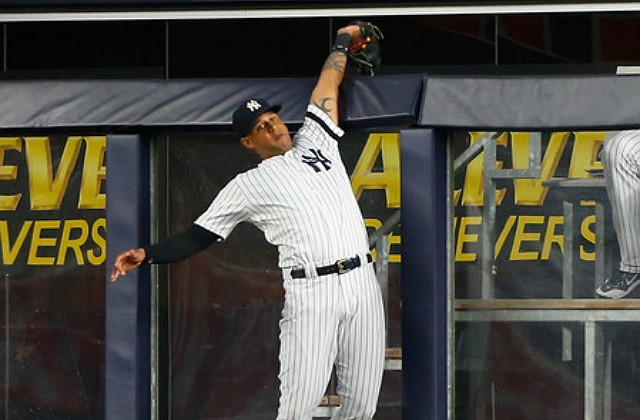 Highlights in the field
Here are the two grand slams he robbed. One was in Anaheim in mid-June (the road trip from hell) and the other in Tampa.
Hicks had yet another strong year in the field. Despite Ellsbury's hot streak to end the year, he earned the starting centerfield job back in part due to his far superior arm in center. It definitely discourages teams from taking an extra base on him like Eduardo Nunez tried to in August.
As for his overall fielding, he occasionally misreads a ball yet he tends to make up for it with his speed. His first oblique injury came making a play near the wall, so he made need to be more careful there moving forward.
Still, Hicks had a career-best 15 Defensive Runs Saved (DRS) and a UZR/150 of 13.5. While he had a strong year at the plate, he didn't let himself take off plays in the field. A testament to him and his all-around game. True five-tool player.
Back in the nick of time
Returning just in time for the postseason, Hicks was right back in center field. It gave the Yankees their best defensive arrangement and a batter with a strong eye near the bottom of the lineup. Getting back into center so quickly showed that he's well above Ellsbury in the Yankees' plans.
And Hicks produced some big playoff moments, including a bases-loaded walk in the Wild Card Game to extend the lead and a monster home run to KO Corey Kluber in ALDS Game 2. He nearly opened the ALCS with a homer off Dallas Keuchel in Game 1, but he hit to the wrong part of Minute Maid Park. While he hit well in the ALDS (.316/.350/.526), he was mostly silent at the plate in the ALCS, finishing the postseason with a .196/.260/.304 line.
2018 Outlook
Hicks likely goes into 2018 as the Yankees starting centerfielder. He's opened the door for the Yankees to salary dump Ellsbury while still having a more than adequate replacement.
If healthy, he has the approach at the plate that can produce something close to his 2017 production over a full year, even if maybe not quite as productive. He hit just .218/.319/.396 in the second half, still showing off his ability to draw walks but striking out a fair amount more while working around injuries.
Still, there's less pressure on him to be a top-of-the-order hitter with Judge, Sanchez, Bird and others ahead of him. He works anywhere in the lineup with a limited left-right split (surprisingly close splits, even for a switch-hitter) and his approach at the plate.