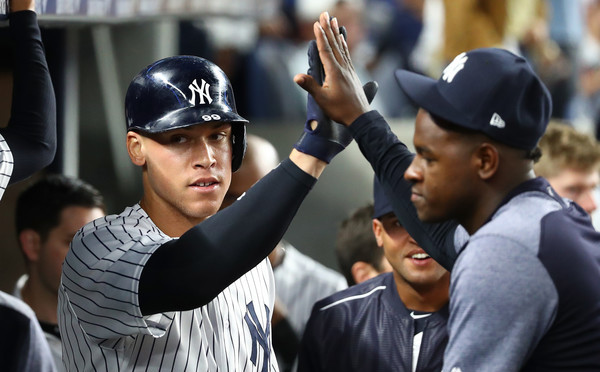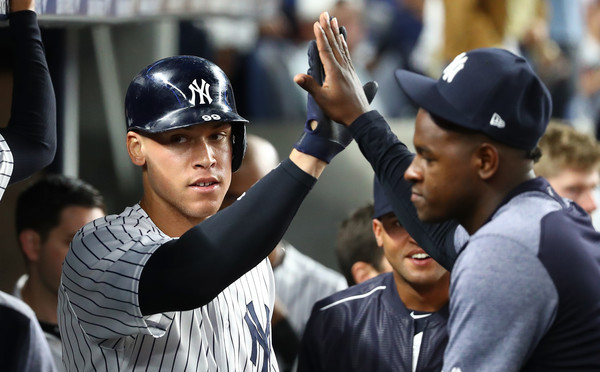 Earlier this evening MLB and the BBWAA announced three finalists for each of the major 2017 awards, and, as expected, Aaron Judge is a finalist for both AL MVP and AL Rookie of the Year. Luis Severino is a finalist for AL Cy Young as well. That is pretty damn awesome. Here are all the awards finalists.
Judge will undoubtedly be named AL Rookie of the Year when the awards are announced next week. He should win unanimously. Judge will be the Yankees' first Rookie of the Year since Derek Jeter, and the ninth Yankee to win the award overall. He'll join Jeter (1996), Dave Righetti (1981), Thurman Munson (1970), Stan Bahnsen (1968), Tom Tresh (1962), Tony Kubek (1957), Bob Grim (1954), and Gil McDougald (1951).
As for AL MVP, I think Judge will have a tough time beating out Jose Altuve for the award, even though he has the edge statistically in basically everything except batting average and stolen bases.
AVG: Altuve (.348 to .287)
OBP: Judge (.422 to .410)
SLG: Judge (.627 to .547)
wRC+: Judge (173 to 160)
HR: Judge (52 to 24)
XBH: Judge (79 to 67)
SB: Altuve (32 to 9)
DRS: Judge (+9 to +3)
fWAR: Judge (+8.2 to +7.5)
bWAR: Altuve (+8.3 to +8.1)
Judge's second half slump will almost certainly cost him the AL MVP award. Altuve had a consistent year from start to finish, and when you have the big dip in the middle like Judge, it'll hurt. Then again, you could argue the Yankees wouldn't have made the postseason without Judge whereas the Astros would've cruised to AL West title even without Altuve. Whatever.
Judge may not win AL MVP, but he will be on the cover of MLB The Show 18, and that's pretty damn cool. He was announced as the cover athlete today.
The Future is Coming. @MLBTheShow 18's cover athlete: Aaron Judge! https://t.co/XDuX2Yugka #TheShow18 pic.twitter.com/2j5Qa6XL4G

— MLB (@MLB) November 7, 2017
Severino, meanwhile, is going to finish third in the Cy Young voting behind Corey Kluber and Chris Sale. You can take that to the bank. Those two likely received the first and second place votes on every Cy Young ballot, in either order. No shame in finishing third behind those two. Severino beat out Justin Verlander, Marcus Stroman, Ervin Santana, and Craig Kimbrel, among others, for the third finalist spot.
The award winners will be announced next week and the BBWAA and MLB already know who won. The votes have been tallied up. They've been announcing finalists the last few seasons to drum up interest. I have no idea why they even call them finalists. They don't vote again. Shouldn't they just be finishers? Anyway, congrats to Judge and Severino. Being up for these awards is an incredible accomplishment.