Got a dozen questions and eleven answers this week, in the first mailbag of the official offseason. As always, RABmailbag (at) gmail (dot) com is the place to send all your questions throughout the week.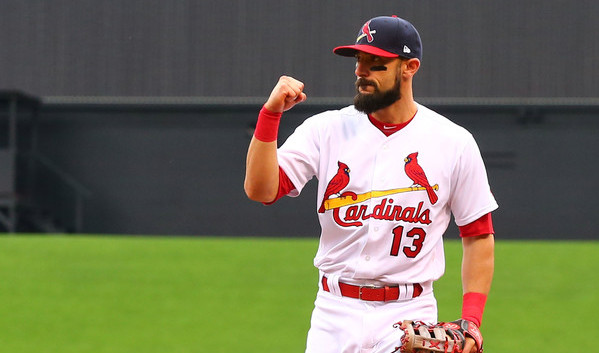 David asks (short version): What about Matt Carpenter?
The Cardinals are a difficult to figure out, aren't they? They seem to be stuck in the middle. Not really good enough to be a World Series contender and not bad enough to tear it down and rebuild. That's not a good place. Carpenter would be one of their better trade chips, if they decided to shake things up. He hit .241/.384/.451 (123 wRC+) with 23 homers and nearly as many walks (17.5%) as strikeouts (20.1%) in 2017.
Carpenter, who turns 32 later this month, appears to fit the Yankees for a few reasons. One, he's a left-handed hitter with power and patience, two Yankees trademarks. Two, he's versatile. He can play both corner infield spots as well as second base, and he even has some outfield experience. And three, he's signed affordably. His contract calls for $13.5M in 2018 and $14.5M in 2019, with an $18.5M club option for 2020.
The downside here is Carpenter is not a good defender anywhere. His best position is first base. And he's really slow. Shockingly slow, really. These days Carpenter is a +3 WAR player or thereabouts, yet I fell like the Cardinals would ask for a king's ransom should you ask about him in a trade. Yes, Carpenter would make sense for the Yankees. I wouldn't trade Clint Frazier or Justus Sheffield for him though. Chance Adams plus secondary stuff? Sure, but that won't happen.
Michael asks: I'd love it if Hal spent $400MM a year on payroll, but given that he doesn't, would it be worth it to attach a couple prospects to Ellsbury to aid in dumping salary? Every dollar that goes to him is a dollar not going to signing Tanaka or someone else who can help the team win, and prospects have a certain volatility to their value – Billy McKinney, for instance, might be at a high point from which his value only sinks going forward.
Reuvy asks: Would including Betances in a trade be enough of an incentive for other teams to take Ellsbury off of the Yankees hands? Would the Yankees be willing to part with Betances for virtually nothing if it means getting rid of Ellsbury's contract?
Going to lump these two questions together. I do not at all like the idea of attaching a prospect or Dellin Betances to Jacoby Ellsbury as a way to unload salary. I'd rather see the Yankees keep the prospect/Betances and use their greatest resource (money) to get rid of Ellsbury. Yes, the Yankees want to unload as much of Ellsbury's contract as possible given the luxury tax plan. But the goal should be opening a roster spot and retaining talent. The Ellsbury contract is a sunk cost. The Yankees owe him that money no matter what and his salary is already earmarked for the 2018 payroll under the luxury tax threshold. Save what you can in a salary dump and move on from the mistake signing. Don't compound problems by giving away talent on top of it.
Noa asks: I have never understood this and was wondering your thoughts on it. Why do managers always tell the media (especially in playoff games) that Pitcher So-and So is unavailable or that they'd be surprised if a certain pitcher got into a game for workload reasons. Even if its 100% true, it seems that it only gives the opponent an advantage in knowing that certain pitchers aren't available. Thoughts?
This used to annoy me too, but it's really not that a big a deal. Teams keep tabs on the workload of the opposing pitching staff, especially in the postseason, so it's not like this is a surprise. We mention the status of the other's team bullpen in our series previews. If we're keeping tabs on it, the other team is keeping tabs on it. The other day Dodgers manager Dave Roberts said Kenley Jansen was only available for three outs, then he got a six-out save that night. Did that catch the Astros off-guard? Probably not. And besides, it's not like the other team can't see who's warming up in the bullpen. Announcing who and who isn't available used to bother me. It's not worth the energy though. Teams keep tabs on their opponents, including their potential bullpen options.
Travis asks: True or false: If McKinney succeeds at 1B in the AFL, Austin will likely lose his 40 man spot? They are redundant players with McKinney having options and a brighter future at this point.
False. Tyler Austin might lose his 40-man roster spot this offseason, but not because McKinney played 15 or so games at first base in the Arizona Fall League. If Austin loses his 40-man spot, it'll be because the Yankees consider Garrett Cooper the better right-handed first base depth option. I'm not sure the Yankees need both. McKinney is still an outfielder, first and foremost. That's his best position. The Yankees are trying to find a way to make him more versatile, and first base is pretty much the only option. There's room for both Austin and McKinney on the 40-man. Probably not enough for Austin, McKinney, and Cooper, however. Either Austin or Cooper is likely to go at some point because they are redundant.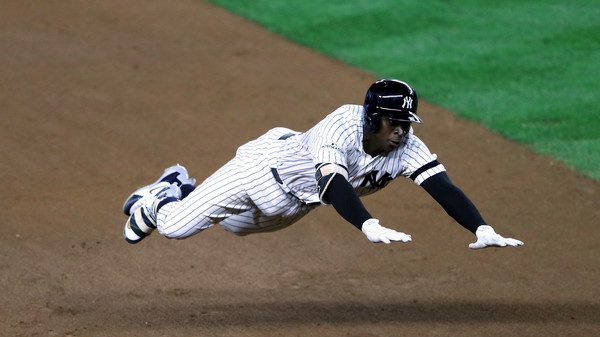 Dana asks: Should the Yankees sell high on Didi if he can headline a deal for a young, controllable starting pitcher? Gleyber is just about ready and his defensive value would be wasted at third or second. Even if Torres isn't ready at the beginning of the season, the Yanks could play Toe or Wade there as a stop gap.
No! I mean, maybe. Always be willing to listen because you never know what offers will come along, but no, don't actively shop Didi Gregorius. Keep him. Even if 2017 was a career season, Didi is still a very productive player in the prime of his career. He's part of the solution. As long as third base remains unsolved long-term and the replaceable Starlin Castro mans second base, keep Gregorius. There's room for both on the infield. Did you see Alex Bregman this postseason? He's a natural shortstop playing third base, and his defensive value sure as heck isn't being wasted at the hot corner. Didi and Gleyber is better than Didi or Gleyber.
Dan asks: What should the Yankees be willing to give up for Schwarber? He seems like a good fit as a buy low candidate with really good upside.
There is no such thing as buying low on Kyle Schwarber. Theo Epstein and the Cubs front office love him. Love love love him. Would they trade him? Yeah, probably, in the right deal. I can't see them selling low on him, however. I'm not a big Schwarber fan. Never have been. He was healthy all season and he hit .211/.315/.467 (102 wRC+) with 30 homers, 30.9% strikeouts, and 12.1% walks. The power and walks are nice, but geez, the way this guy's been hyped you'd think he's a potential MVP candidate. Bad defense, no position, massive platoon split. The Cubs should be very open to trading Schwarber, especially given their pitching staff. I just don't see them selling low on him. If the Yankees want him, they'd have to pay full price, which is way too much in my book considering how Chicago reportedly turned down Andrew Miller for injured Schwarber last year.
Ben asks: Curious your take on this; why was it so frowned upon that A-Rod opted out from his contract during the 2007 World Series? Everyone reported that it was (yet another) unwritten rule that no major news should come out during, and potentially upstage, the World Series. Now Yankees make the Girardi announcement during the World Series, and no one has a problem with it. Seems to be a double standard to me. It isn't like the Yankees HAD to decide (or announce) this week. Thoughts?
Alex Rodriguez opted out literally in the middle of a World Series game. I can't find the clip on YouTube, but I remember seeing Ken Rosenthal in the photographers' well at Coors Field during the 2007 World Series, breaking the news. MLB does not want teams announcing news during the World Series because it draws attention away from the World Series itself. Rosenthal is not an MLB employee though. He got a huge scoop and had a chance to break the news on national television, so he took it, as he should have.
News still leaks and gets reported during the World Series. That's unavoidable. MLB wants to limit it though, so the league prohibits teams from formally announcing anything during the World Series without their permission, and the teams comply. The Yankees had to receive an okay from MLB to announce they parted away with Girardi last Thursday, which was a World Series off-day. The A-Rod news broke in the middle of a World Series game and that was all anyone talked about the rest of the night. You can understand why MLB would be annoyed.
Toshiki asks: Let's pretend Otani signs with an American League team. Can he pitch and bat DH in the same game?
No. Players can only do one or the other, pitch or be the DH. Can't do both in the same game. The Yankees or any other AL team that signs Shohei Otani could let him hit for himself on the days he pitches, though they'd be forfeiting the DH. You couldn't, say, start Otani and let him hit for himself, then keep him in the batting lineup after a reliever replaces him on the mound. They be playing with NL rules, basically. Once he's out of the game as a pitcher, he's out of the game as a hitter.
Nico asks: Judge's big strike zone. I know this is a little crazy, but do you think the fact that Judge wears high socks contributes? The high sock ends below the knee, but it creates a kind of visual cue that might make the knee look lower than it is. The umps might be calling his zone as the "top of the sock", when really it should be a couple inches higher than that.
It might! That's a good question. It's too bad Statcast doesn't have a socks option so we could see whether there's a strike zone difference between players who wear low socks and high socks. Judge should go with the old Bobby Murcer mid-calf stirrup look next season.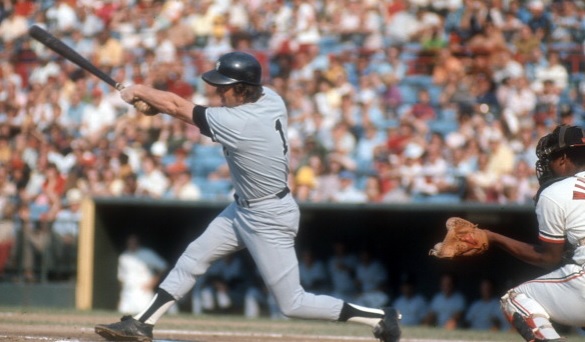 Anything to help the guy get a fair strike zone. All those strikes below the knees this season were ridiculous.
Fernando asks: The A's have made Ryon Healy available. Dh and sometime 1b with good power but not much defense. Is he worth pursuing? A's have interest in relievers and Yankees have surplus there with Shreve, Holder, Gallegos, Mitchell, Rumbelow, Heller, Feyereisen, Mesa, Tarpley, etc. Some of these guys are going to be roster casualties for Rule 5 purposes.
Nah. I don't really see it. Healy's not even that good of a hitter. He hit .271/.300/.451 (100 wRC+) with 25 homers in 605 plate appearances this season. The power is nice, but he never walks (3.5% in 2017) and is a negative in the field and on the bases. A player who is a league average hitter and contributes nothing else whatsoever isn't all that appealing to me. Healy turns 26 in January, so it's not like he super young and you could reasonably expect a lot of improvement going forward. He's the rich man's Tyler Austin, basically. Maybe Healy's worth it if you can get him for one of those fringe 40-man roster players. Something tells me the Athletics would just keep him if that's all you're offering though.
Dennis asks: Thoughts on Cody Carroll? He's huge and throws in the upper 90's. Sounds like a Betances style guy. Misses bats but walks people. At 25 and was in AA, do you think he can be anything or just a career AAA/injury replacement guy?
Carroll is a little too well known right now to be considered a sleeper. The Yankees drafted him out of Southern Mississippi (22nd round in 2015), where he worked as a starting pitcher, and moved him to relief. Suddenly his fastball went from 90-92 mph to 96-98 mph. This season he had a 2.54 ERA (3.04 FIP) with 32.1% strikeouts and 10.8% walks in 67.1 innings split between High-A and Double-A.
The biggest knocks on Carroll are his general lack of command and his good but not great breaking ball, a hard mid-80s slider. The Yankees have him out in the Arizona Fall League right now just to get more reps. You don't need perfect command to be a very effective reliever (e.g. Betances), but it sure does help. Right now I think Carroll is more of an up-and-down depth arm than a true bullpen prospect. If he can begin to locate better going forward — the lack of command is a career long thing — then he'd become real interesting real quick. There are lots of dudes who throw hard but have no idea where it's going down in Double-A.