A dozen questions and eleven answers in this week's mailbag. RABmailbag (at) gmail (dot) com is where you can send all your questions throughout the week.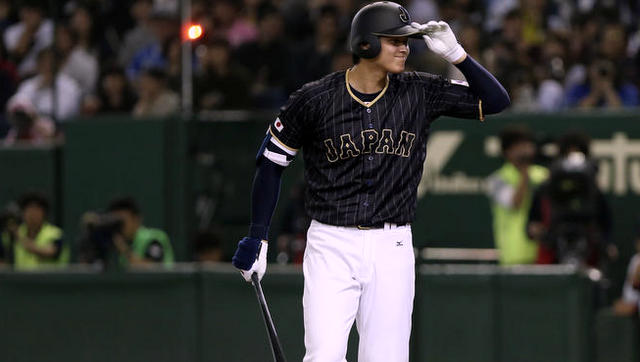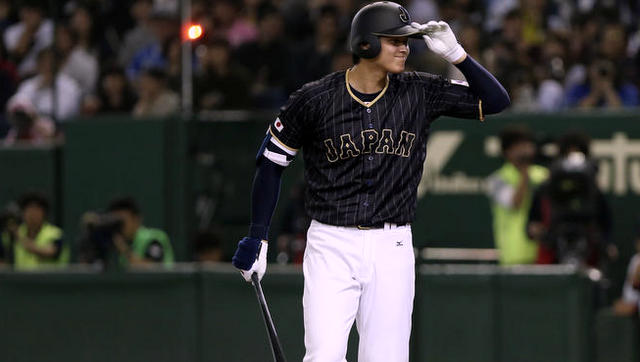 John asks: Considering the money limits placed on signing Otani, I imagine teams will get creative. What can they do? Can they throw in all the lifestyle perks stars get like flying family around and whatever else they throw in? Can they informally agree to an extension that will get him paid for real as soon as possible? Or will his decision have to come down to hitting and comfort level?
Keith asks: Are there any rules or guidelines that dictate how long Otani's contract must be? Can he come over and sign a one year deal and then break the bank the following winter?
Going to lump these two together. The international spending rules, which apply to Otani, strictly prohibit perks and non-monetary payments. You can't promise to call a player up by a certain date, or to sign him to an extension by a certain date, or provide travel/housing for the player and his family, things like that. Ben Badler has the breakdown. I suspect MLB will be on high alert with Otani too. Anything that looks fishy will get flagged. He gets a standard rate minor league contract like everyone else. No multi-year deals or anything.
I suppose the two sides could agree to an extension under the table, though given everything going on with the Braves right now, I don't think anyone will risk it. Reports indicate MLB wants Otani treated like any other rookie, and if he signs an extension at some point, they want it to be in line with the established market. The largest extension given to a player with one year of service time is seven years and $58M. That went to Andrelton Simmons. Want to sign Otani long-term after Year One? That's the benchmark.
Here's the thing though: Simmons signed his contract four years ago. The market has changed since then. Inflation exists. Last year Indians GM Mike Cherboff's young son spilled the beans that the team was trying to give Francisco Lindor a $100M extension, when he had one year of service time. Shouldn't that be the benchmark for Otani? If he goes out and, say, hits .250/.330/.450 with 20 homers and throws 140 innings with a 3.75 ERA in 2017, how in the world could MLB argue he's not a $100M or even a $150M player?
Brandon asks: Have the Yankees publicly indicated that they are willing to go over the luxury threshold after getting under the limit? It is clear that they want to get under, but who's to say they will go back to their free spending ways afterward? I recall Hal saying something to the effect of you can field a WS team under the threshold. This could be justification for getting under the cap or justification on staying under the cap. Thoughts?
Hal Steinbrenner's standard line is "you don't need a $200M payroll to win the World Series." The Yankees haven't said anything indicating they will go back over the luxury tax threshold in the future after getting under and resetting their tax rate next year, though I wouldn't expect them to say that anyway. It could only hurt them during contract negotiations.
The general assumption seems to be the Yankees will go back over the luxury tax threshold as soon as 2019, when Manny Machado and Bryce Harper become free agents, though I'm not convinced it'll happen. Hal seems pretty dead set on getting under the threshold and not going wild with a $250M or so payroll. Then again, isn't that the point? To give yourself some leverage by giving the appearance of holding a hard line? I'm not entirely convinced the Yankees will go go back over the threshold in the future. Everything Hal says is calculated though. He's no dummy.
Mark asks: Do you think the Yankees sign Michael Pineda to a low risk two-year contract? Something like Lindgren and Eovaldi signed with other teams? Or is he old news?
I don't see it happening. It'll chew up payroll space under the luxury tax threshold for a pitcher who won't pitch in 2018. Or at least won't pitch until late in the season. The Rays gave Nathan Eovaldi a one-year deal worth $2M with a club option for a second year, so that's the going rate for a guy like Pineda. Problem is, that's $2M you can't spend elsewhere on the roster given the luxury tax plan. In principle, I'm totally cool with giving Pineda an Eovaldi contract and rehabbing him. I just don't see the Yankees spending finite luxury tax payroll dollars on a guy who won't pitch much, if at all, next year.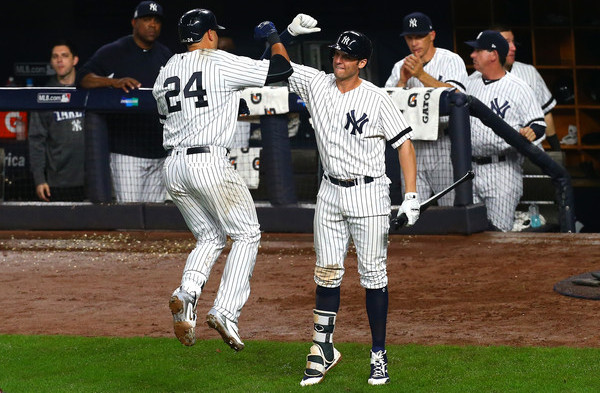 Bart asks: How many home runs combined do you think Judge, Sanchez, and Bird will hit in 2018? Is your over/under number 105? 115? 120? What number would be good, great, or in-your-wildest-dreams? What great 3-player home run combos can you think of?
As much as I love Aaron Judge, and as great as he is, I don't think it's fair to expect any player to hit 50+ home runs in back-to-back years. Fifty is a huge number. The last player to hit 50+ in back-to-back years was Alex Rodriguez in 2001 (52) and 2002 (57). Sammy Sosa did it in 2000 (50) and 2001 (64). Barry Bonds hit 50 once in his career. Jim Thome only did it once. Miguel Cabrera and Albert Pujols have zero combined 50-homer seasons.
Realistically, if Judge hits 40-45 homers next season, I'll be thrilled. Hitting 35-40 would be awesome even if it would represent a big step down from his 2017 output. How about this for their 2018 homer totals?
Aaron Judge: 35-40
Gary Sanchez: 30-35
Greg Bird: 25-30
That gives us a range of 90-105. Super optimistic scenario has them hitting what, 120 dingers combined? That means Bird has to stay healthy, of course. Only 17 trios of teammates in history have combined to hit 120+ homers in a season. Jermaine Dye (44), Thome (42), and Paul Konerko (35) combined for 121 with the 2006 White Sox, the most recent team to do it. Here are the top four homer hitting trio of teammates in history:
1961 Yankees (143): Roger Maris (61), Mickey Mantle (54), Moose Skowron (28)
2001 Giants (132): Bonds (73), Rich Aurilia (37), Jeff Kent (22)
1997 Rockies (130): Larry Walker (49), Andres Galarraga (41), Vinny Castilla (40)
1996 Mariners (129): Ken Griffey Jr. (49), Jay Buhner (44), A-Rod (36)
Four teams are tied for fifth with three players combining to his 127 homers in a season (1996 Rockies, 1997 Mariners, 1998 Cardinals, 1998 Mariners). The Yankees got 110 homers out of their top three homer hitters in 2017 (Judge, Sanchez, Didi Gregorius), and that's with Judge hitting 53. Getting 110 from Judge, Sanchez, and Bird next season would be pretty awesome in my book.
Steve asks: You're Yankee GM and have 2 offers sitting in front of you for Starlin Castro. One is a package of MLB ready low ceiling depth guys that can solve some problems for the 2018 Yankees. The other offer is a package of lower level high ceiling prospects that could restock the farm system. Given the state of the Yankee 40 man roster, which offer do you choose?
High ceiling guys for sure. The Yankees, even after all the trades and graduations, still have a deep farm system with a lot of lower ceiling guys on the cusp of helping at the MLB level, like Billy McKinney and Thairo Estrada and Nick Solak. They don't need more of them. Give me the upside guys in the lower levels. Shoot for the moon. The Yankees have been much better at developing players the last few years — maybe that will no longer be the case with Gary Denbo gone, but who knows — so show faith in your people and go for the high ceilings.
Now, that said, I'm not sure Castro has a ton of trade value right now. He is now closer to free agency and more expensive than when the Yankees got him two years ago. And he's the same damn player.
Last two years with Cubs: .278/.318/.406 (98 wRC+) and +1.9 WAR per 600 PA
First two years with Yankees: .283/.317/.442 (101 wRC+) and +1.6 WAR per 600 PA
Surely the Yankees acquired Castro hoping he'd take his game to another level as he entered what should be the prime years of his career, but it hasn't really happened. Starlin's not a bad player. He's not a great player either. He's … okay. Ideally he's the seventh or eighth best hitter in your lineup, not one of the top three. The Yankees got Castro for Adam Warren two years ago. Realistically, is he worth more than that now?
Seth asks: Since we already have big money committed to the bullpen in Chapman and Robertson, can you see Cashman trading for a cost-controlled lefty reliever instead of signing one like Jake McGee and Mike Minor? I feel like those guys could cost too much for their worth. Someone with years of control like the Orioles' Donnie Hart or the Diamondbacks' Andrew Chafin would probably cost a lot but it might be worth it in the long run.
Finding a long-term left-on-left reliever shouldn't be much of a priority. Those guys generally have such a short MLB shelf life. Very few lefty relievers — relievers in general, really — get through their six years of team control before breaking down and/or losing effectiveness. Lefties like McGee and Jerry Blevins are the exception. Minor was a starter all those years, remember. This was his first season as a full-time reliever. Two years ago Chasen Shreve looked like a potential long-term keeper. Before him it was Phil Coke. Heck, look at Justin Wilson. He just stopped throwing strikes one day. When it goes, it goes quick. Finding a young controllable lefty reliever would be swell. I wouldn't prioritize it though. Seems like a fool's errand looking someone like that.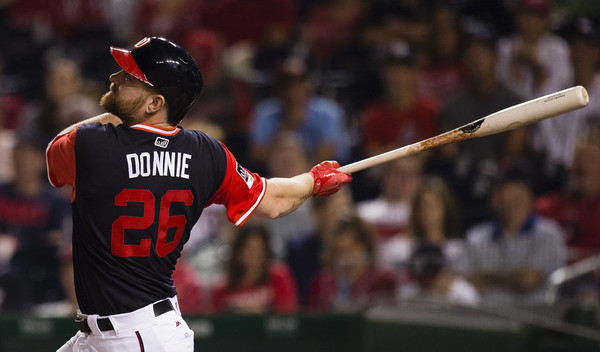 Anonymous asks: Adam Lind as DH/1B insurance?
Eh. I'm not sure carrying two left-handed hitting first base/DH only guys on the roster makes sense. Bird is already holding down one spot. I know DH is open, but I don't love tying that down with one player. At the same time, it would be smart to bring in some first base insurance given Bird's injury history. I'm just not sure you can squeeze him and Lind onto the same roster. A right-handed first baseman would make more sense, or a lefty hitter who could play the outfield or maybe even some third base would be a better fit. With a four-man bench — it's a three-man bench a lot of times during the season — having two so similarly limited players doesn't seem like the best idea.
Robert asks: Writers sometimes use the year after effect to refer to pitchers experiencing a slump or even injury the year after their workload jumps drastically. I know Sevi had a large jump in workload and innings this past season. I was honestly surprised by how much the Yankees allowed his workload to increase. Is this something to worry about with him this coming season?
Yes in that every pitcher is a risk to get hurt, and young pitchers who increased their workloads from one year to the next are more at risk (in theory). Luis Severino went from 151.1 innings in 2016 to 209.1 innings in 2017. That's a 58-inning increase. It's an increase of 47.2 innings from 2015, his previous career high. Among the pitchers who, like Severino, threw 190+ innings at age 23 are Felix Hernandez and Clayton Kershaw, who became workhorses. The list also includes Patrick Corbin and Jair Jurrjens, who broke down the very next year.
Pitcher injuries are not really something you can predict or 100% prevent. All you can do is take precautions and hope for the best. The Yankees aren't dumb. They are one of the most analytical teams in baseball. I'm sure they kept an eye on Severino throughout the season for signs of fatigue, including monitoring his spin rates and things like that, and made the best decision they could. And, to be fair, it wasn't until his very last start that I thought Severino looked worn down. He looked good in the ALDS. The Yankees didn't throw caution to the wind. They kept an eye on Severino and did what they thought was best. That's all you can do. That and hope you get a little lucky.
RJ asks: Mike, what are your thoughts about bringing in Jonathan Lucroy as a backup/DH/1B/mentor to the Kraken and what looks like a young pitching staff? He was an elite pitch framer and was very good offensively a few years ago, but obviously if agreed to such role. Take the savings from Holiday and pay Lucroy a little extra or incentives in the contract if he becomes the starter. Still only 31. He can be our David Ross.
Any half-decent free agent catcher is going to look for more playing time elsewhere before settling for sporadic playing time as Sanchez's backup. Lucroy is only 31 and as recently as 2016 he hit .292/.355/.500 (123 wRC+). He was awful in 2017 (82 wRC+), but he's not old and you don't need to look far back to see his last great season. I have to think Lucroy will look for a starting job somewhere before considering backup catcher opportunities. Adding Lucroy as an extremely overqualified backup would be great. I'd love it. Lucroy is a fit for the Yankees. The Yankees aren't a fit for Lucroy though. Someone will give him a chance to start.
Jon asks: Do you think the Yankees would consider just releasing Ellsbury if they can't find a trade partner (even with covering most of his salary)? It seems like opening a spot for Frazier, Hicks, etc. would still outweigh keeping him on the roster simply because he's making a salary.
No. Not with three years left on the contract. Maybe if there was only one year left on Jacoby Ellsbury's contract, they'd think about releasing him. Not with three. If they can't move him this winter, the Yankees will just keep Ellsbury and go into the season with him as the fourth outfielder. One injury and he's starting again, and hopefully he goes on a hot streak at some point and carries the team for a bit. Eating money to move Ellsbury and open a roster spot makes sense. It's probably a little too soon to consider eating every last dollar and flat out releasing him though. Surely some team would give the Yankees a prospect if they were willing to eat the entire contract, right?
Jonathan asks: I have been hearing how Gleyber Torres is amazing. Number one prospect in baseball, 65 on the 20 to 80 scale, perennial all star potential, etc. But publications are projecting him to be a 270 hitter with 20-25 home runs and solid defense. That's good but how is that an all star? I thought with a 65 hit tool and 55 power, we would be looking at a 300-325 with 25-30 home runs. Which one is true? My version is worth the hype of the number one prospect in baseball, the others seem not to be. Please explain.
I can't remember seeing any reports that call Torres a .270 hitter with 20-25 homer power. At least not recent reports. MLB.com has Gleyber at 65 hit and 55 power, which projects out to .290-.300 AVG and 20-ish homers. (Maybe that's 25+ homers with the juiced ball?) Keep in mind these grades are almost always conservative and undersell the player. They had Judge with 60 power coming into the season. No. Just … no. Between his approach, his bat-to-ball skills, and his ability to make adjustments, Torres absolutely projects to a .300 hitter in my opinion. At his peak, anyway. He might not hit .300 as a 21-year-old in the big leagues in 2018. Long-term, Gleyber has legit .300/.380/.500 potential in my book, not to mention the skills to play very good defense. That is top five prospect in the game worthy.