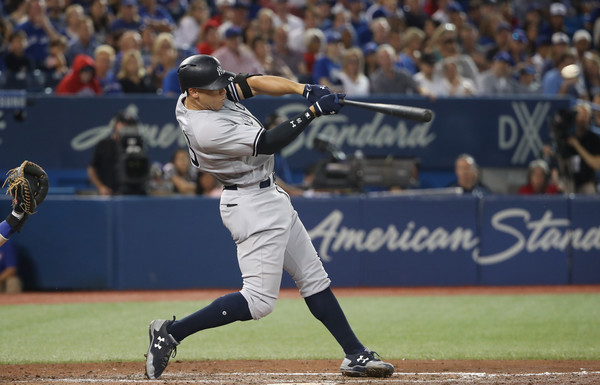 If you're a fan of home runs, boy was this the season for you. MLB teams combined to hit 6,105 home runs in 2017, by far the most in history. The previous record was 5,693 homers set back in 2000. The record was broken by 412 homers (!) and with 12 days to go in the regular season. That is insanity. MLB insists the ball is not juiced. I have a very hard time believing that.
Anyway, the Yankees contributed greatly to that record home run total this season. They smashed 241 home runs in 2017, the most in baseball. One-hundred-and-sixty-one, or almost exactly two-thirds of those 241 homers, were hit by players age 27 or younger. The Yankees play in a home run ballpark and in a division with other home run ballparks, plus they're getting younger and more powerful. Fun!
As a big fan of dingers, I've been putting together these "five longest homers of the season" posts since way back in 2010. Those posts covered 35 different home runs from 2010-16. Exactly one (1) of those 35 would have appeared in this year's top five longest homers list. The Yankees didn't just hit a lot of home runs this season. They hit a lot of long home runs this season. Let's break down the top five.
5. Judge vs. Marco Estrada
Get ready for an awful lot of Aaron Judge, folks. He is featured in this post prominently. New York's fifth longest home run of the season was No. 46 of his record-breaking rookie season. It came in the first inning too. Judge hit Estrada's fifth pitch of the game, an 89.1 mph fastball up in the zone, into the Rogers Centre second deck for a missile solo homer on September 22nd.
The ball very nearly hit the scoreboard ribbon above the second deck. It got out in a hurry too. That's usually what happens when a baseball leaves your bat at 113.6 mph. This home run was the third in a stretch of seven homers in seven days for Judge.
Distance: 469 feet.
4. Judge vs. Addison Reed
I remember this home run as the end of Judge's ugly second half slump. He hit .176/.337/.340 (82 wRC+) in 199 plate appearances from the start of the second half through the start of this game, September 3rd against the Red Sox. And in his first three at-bats of this game, Judge went strikeout, strikeout, ground out. Yuck.
The Yankees took an early lead against Chris Sale in this game, and worked him hard too. He threw 109 pitches in only 4.1 innings. Yikes. The Yankees were in the process of breaking the game open in the sixth inning, and had already stretched their lead to 7-1 when Judge came to the plate against Addison Reed with a man on base. This home run came on another high fastball, though Reed (93.7 mph) throws quite a bit harder than Estrada.
This was around the time teams started pitching to Judge because he'd been struggling for so long. They didn't give him much to hit in the first half. Then, as the strikeouts mounted in the second half, they began to feel more confident attacking Judge. There were two outs and a base open when he hit this homer off Reed. That situation would've equaled an automatic intentional walk in the first half. Instead, the Red Sox had Reed pitch to Judge, and he missed with a 1-1 fastball.
Distance: 469 feet.
3. Judge vs. Marcus Stroman
I told you Judge would be featured prominently in this post. This is another September homer too. In fact, this was his 52nd and final regular season home run. It came on September 30th. Judge really locked it in during the season's final month, following his slump.
As with the Stroman and Reed homers, this was another fastball up in the strike zone. The game was scoreless in the fourth inning when Marcus Stroman's little 2-0 count 93.1 mph two-seamer ran right into Judge's bat path. You almost can't see the ball leaving his bat it got out so quick.
The exit velocity on that dinger: 118.3 mph. Good gravy. It was the eighth hardest hit ball and fourth longest home run in all of baseball this season. Judge hit the ball so hard Stroman couldn't help but praise him after the game.
@TheJudge44 is creating history. He hits baseballs extremely far too. Lol looking forward to competing against him the rest of my career!

— Marcus Stroman (@MStrooo6) September 30, 2017
Judge is crushing dingers so far opposing pitchers have to praise him after the game. What a season. Distance: 484 feet.
By the way, remember when I said just one home run from 2010-16 would've made this list? It would've slotted in fourth behind this Judge blast. Alex Rodriguez swatted a 477 foot homer back in 2015. No other Yankees homer from 2010-16 topped even 460 feet. Pretty crazy.
2. Sanchez vs. Matt Boyd
Hey, it's not Aaron Judge. It's the Yankees other young slugger. Most teams hope to have one guy like this to build an offense around. The Yankees have two powerful 20-somethings with one full season under their belt.
Gary Sanchez went on a ridiculous home run tear in mid-August, hitting ten homers in the span of 15 days. The seventh of those ten homers came in Detroit on August 22nd, two days before the brawl game. Lefty Matt Boyd left an 80.4 mph cement mixer changeup up in the zone in the first inning, and Sanchez hit it to the concession stands beyond the left field bleachers. Look at this thing:
You know what's crazy? Sanchez almost looked a little bit off balance when he hit that ball. Like he was out in front of the changeup a little bit. Somehow he still managed to hit the ball
that
far. The homer broke Statcast. We never did an exit velocity reading on that one. It was, however, the second longest home run of the season. In all of baseball, I mean. Not just for the Yankees.
Distance: 493 feet.
1. Judge vs. Logan Verrett
Ho hum, another Judge homer. He hit baseball's longest home run this season, two of baseball's four longest homers this season, and five of the Yankees' six longest homers this season.
The year's longest home run came on June 11th, during the blowout series against the Orioles, in which the Yankees won all three games by the combined score of 38-8. It was the final game of the series, and the Yankees were up 7-3 in the sixth, so Baltimore's spirit was already broken. Up-and-down arm Logan Verrett was soaking up innings in the eventual blowout, and he threw Judge the hangiest of hanging sliders. It was 84.7 mph and it just spun into nothing.
Judge hit the ball to the very last row of the left field bleachers, near the retired numbers. This one broke Statcast too. We don't have an exit velocity measurement, which is disappointing. The nonstop flood of exit velocity updates on Twitter is pretty annoying, but for monster homers like this one, yeah I'd like to see it. What an absurd home run. It was the longest non-Coors Field homer in baseball since Kris Bryant hit one 495 feet back in September 2015.
Distance: 495 feet.
* * *
Sanchez and Judge have a monopoly on the longest Yankees homers this season and I get the feeling it's going to stay that way for a few years. Those two plus Greg Bird figure to hit plenty of long dingers in the coming years. So, for the sake of variety, here are the Yankees' five longest homers hit by players other than Judge and Sanchez this season.
Shout out to Estrada and Stroman for appearing in this post twice. I remember being surprised Holliday still had that kind of power when he hit that home run against Holland. Who knew he could still hit a ball 460-ish feet at age 37? Also, that May 3rd homer was No. 300 for Holliday in his career.
And how about Choi? He wasn't with the Yankees long, but he did manage to hit a very long dinger while in pinstripes. Frazier's legendary bat speed was on full display with that July 28th homer. I'm looking forward to a full season of the Clint experience in 2018.