There are 13 questions in this week's mailbag. RABmailbag (at) gmail (dot) com is where you can send your questions throughout the week.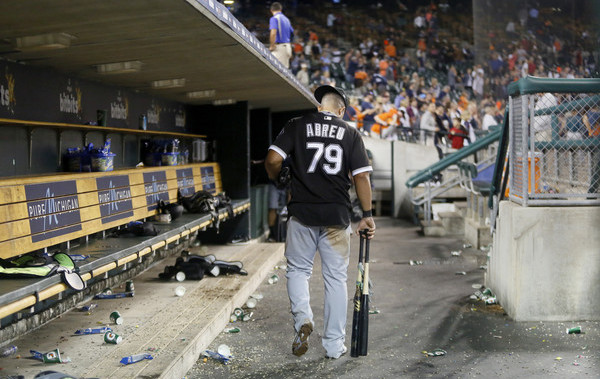 Chase asks: What do you think of a Jose Abreu Trade? If you could buy down the contract to say $15 per year I could see it fit the salary cap. I feel like they could use a bat/DH. I think a lefty might fit better, but a big bat is always welcome. MTPS but Chance Adams, Tyler Wade, Domingo Acevedo, that seem fair?
There are too many first base/DH types in free agency to justify giving up a big prospect package for Abreu, in my opinion. Why trade prospects for Abreu when you could sign Carlos Santana, for example? MLBTR projects Abreu to get $17.9M through arbitration next season, which means he'll probably be at $25M or so in 2019, his final year of team control. Santana very well might be cheaper in terms of average annual value (and thus luxury tax hit). The new Collective Bargaining Agreement says the Yankees would have to give up their second and fifth picks, and $1M in international bonus money next year, to sign a qualified free agent, and I would absolutely rather do that to sign Santana than trade near MLB ready pieces like Adams and Wade for Abreu. If you don't want to sign Santana, then sign Lucas Duda or (ugh) Logan Morrison for much cheaper. The gap in production between Abreu and Duda/Morrison won't be nearly as big as the gap in cost.
Brent asks: Kevin Maitan. He's a highly touted prospect. Should MLB have waited for this Ohtani thing to get figured out before making him a FA? Ohtani and Maitan could be the biggest free agent targets ironically. I think Ohtani is definitely safer just because of level of play and age but you can probably only sign one right? What's the chances the Yanks land at least one of them?and who should it be?
MLB timed the Braves/Maitan thing specifically so teams know not to screw around with Shohei Ohtani, and make him some under the table promises. Do that, and you're going to get banned like John Coppolella, get taken out of the international market for a few years like the Braves, and lose Ohtani anyway. There is not a doubt in my mind the Braves penalties were intentionally announced right before Ohtani gets posted as a warning to teams. Don't try any funny business.
I've said this before, and yes, Ohtani should be the priority over Maitan given their proximities to MLB. One thing I did not realize, however, is teams can use next year's international bonus money to sign Maitan and the other Braves prospects. Anything you give them over $200,000 counts against the hard cap, but teams can choose to have that money count against next year's cap. So it would be possible to sign both. Use all this year's money on Ohtani and part of next year's money on Maitan. The recent Maitan scouting reports are not good, but the Braves lost a lot of prospects, and some of the other guys are worth looking at. And on that note …
Alex asks: With the Braves having to relinquish 12 prospects, how many of them should we hypothetically be going after and what would they cost? Who are the most interesting ones?
Eric Longenhagen, who knows these guys much better than I do, says righty Juan Contreras is the top name after Maitan. Contreras signed for $1.2M and his numbers this year were terrible (5.95 ERA with 21 walks and 12 strikeouts in 19.2 rookie ball innings), but people love his arm. Ben Badler ranked Contreras the 41st best prospect in the 2016-17 international free agent class two years ago. A snippet of his scouting report:
Contreras projects as more of a power arm and already has one of the best fastballs in the class, ranging from 89-94 mph and delivering the pitch with downhill angle. With his arm speed and the projection to his body, Contreras should be able to reach the upper-90s within the next few years … The rest of his arsenal beyond his fastball is inconsistent, with scattered strike-throwing ability.
Shortstop Yunior Severino (No. 8), catcher Abraham Gutierrez (No. 15), shortstop Livan Soto (No. 16), righty Yefri del Rosario (No. 26), and third baseman Yenci Pena (No. 32) all ranked among Badler's top 50 international prospects two years ago and are now free agents, so I guess they're the guys to sign. Looking at the scouting reports, Severino ("quick wrists generate excellent bat speed") and Soto ("high baseball IQ guy with a gamer mentality") interest me the most.
Will asks: Do you think there is anything to the Alex Cobb rumors mentioned by Peter Gammons? Seems like it would be tough to stay under the LT with that type of move, plus he would cost a draft pick.
I didn't expect the Yankees to spend relatively big on a starter (or free agent in general) no matter what this offseason given the luxury tax plan, and that really went out the window when Masahiro Tanaka didn't opt out. And there is no Cobb rumor. This is all Gammons wrote:
Heading for Thanksgiving, the industry consensus is that the Alex Cobb showdown will come down to Cubs v. Yankees.
That has somehow turned into "the Yankees are interested in Alex Cobb" and "the Yankees and Cubs are the finalists for Alex Cobb" and all sorts of other things. It means nothing like that. All it means is people within baseball think the Yankees and Cubs will pursue him most aggressively. That's all. Cobb is really good, but I think he's going to end up with something like $18M to $20M a year, and I don't see the Yankees going there.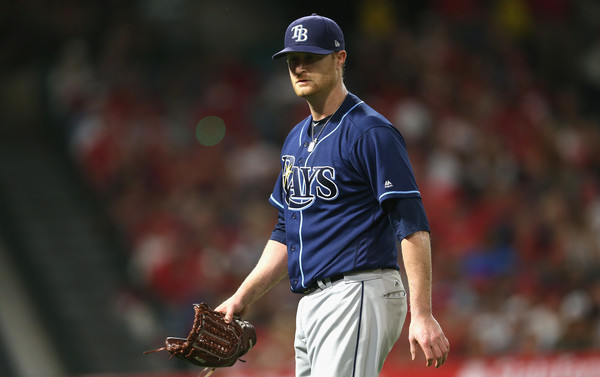 Tamir asks: Has a Mike Trout type ever been traded? If yes, how would it compare to a possible trade now? What kind of trade would the Angels accept? Top talent on the MLB Roster and multiple top 10 team prospects?
Alex Rodriguez! He hit .298/.396/.600 (151 wRC+) with 47 home runs and was the AL MVP in his final season with the Rangers. A-Rod was 28 years old and he'd hit .305/.395/.615 (156 wRC+) with 156 homers in his three years with Texas and was easily the best non-Barry Bonds player in baseball. Ken Griffey Jr. was still a star when he was traded from the Mariners to the Reds. Rickey Henderson was one of the very best players in the game when the Yankees got him from Oakland. Mike Piazza, Tom Seaver, Frank Robinson, Mark McGwire, Carlos Beltran, Randy Johnson, Pedro Martinez, Miguel Cabrera, Gary Carter, Joe Morgan … all star players traded in their primes.
Many of those trades (especially the A-Rod trade) were financially motivated, either because the player was making too much or was due to become a free agent soon. Neither applies to Trout. He's three years from free agency and the Angels can afford his $34M salary the next three seasons. I feel like, if the Angels are going to trade Trout, they have to get MLB pieces back, not prospects, not matter how good they are. You need players who know will make an impact. Ask the Yankees for Aaron Judge. Ask the Red Sox for Mookie Betts. Ask the Blue Jays for, uh, nevermind. Can't trade Trout for prospects and risk getting nothing out of it.
Michael asks: On a scale of 1-10, how worried should we be right now about Aaron Judge for next season after his shoulder surgery?
A two, maybe? Every surgery comes with some sort of risk, that's the nature of the beast, but Judge's surgery was a fairly routine arthroscopic procedure and he'll be ready in time for Spring Training. I'd be much more worried if they had to cut his shoulder open to repair his labrum or rotator cuff or something like that. Scope out a loose body? Not a major procedure or overly invasive. There's always some level of concern whenever a player has surgery. Given the nature of his procedure, my concern is pretty minimal. (As for why they waited until a month after the season ended to do the surgery, it's very likely they were waiting for some inflammation to clear out.)
Adam asks: I was looking at other teams Rule 5 eligible catchers when I saw that the Blue Jays did not protect First round draft pick Max Pentecost. He didn't play particularly well in the AFL this year and is often injured, but he got me thinking: what happens if a rule 5 player hits the disabled list and how does that effect their "sticking" in the majors. Also are there any other rule 5 eligible catchers who the Yankees might want to pop?
Players have to spend 90 days on the active roster to satisfy the Rule 5 Draft rules, and if they don't, the Rule 5 Draft rules carry over to the next season. That's what happened with Cesar Cabral. The Yankees got him in the 2011 Rule 5 Draft, he broke his elbow in Spring Training 2012 and missed the season, then the Rule 5 Draft rules carried over to 2013. Ninety days on the active roster, meaning not on the disabled list, is needed to satisfy the Rule 5 Draft rules.
Pentecost, a 2014 first rounder, played only 171 games from 2014-17 because he's been hurt so much. He wasn't much of a catcher to start with anyway. I wouldn't take him in the Rule 5 Draft for any role. Jonathan Mayo put together a list of the top players available in the Rule 5 Draft this year and the only catcher is Rays prospect Nick Ciuffo, who hit .245/.319/.385 (102 wRC+) at Double-A this year. Meh. The Yankees don't have enough 40-man roster space for their own prospects. They're not going to take some other team's fringe player in the Rule 5 Draft this year.
Michael asks: Hey Mike, who would be on your Hall Of Fame ballot this year if you had a vote?
This was my third season in the BBWAA, so I am still seven years away from a Hall of Fame vote. Still have to wait a while before I get my say. Anyway, here is the Hall of Fame ballot, which runs 33 players deep this year. I'd vote for ten players (listed alphabetically): Barry Bonds, Roger Clemens, Vlad Guerrero, Andruw Jones, Chipper Jones, Edgar Martinez, Mike Mussina, Manny Ramirez, Jim Thome, and Larry Walker.
If you've read RAB long enough you know I am pretty blasé about performance-enhancing drugs. As far as I'm concerned, Manny was punished in accordance with the Joint Drug Agreement and served his suspension. Why people feel it is necessary to punish him beyond that, I have no idea. Andruw had a nine-year run as one of the best players in baseball and he was one of the very best defensive outfielders in history. If he'd had his peak from, say, ages 25-33 instead of 21-29, no one would think twice about his candidacy. Everyone else is pretty self-explanatory, right? I think so.
Chris asks: If the Yankees aren't going to sign any high priced free agents, how about Joe Smith for something like 2 years 8-10 million? Could add depth in the pen in case Betances doesn't bounce back or Green winds up in the rotation.
I like it. Smith is boring and reliable. He's good for 50-60 solid innings year in and year out, and this season he posted a career-high strikeout rate (by far) by throwing more elevated four-seam fastballs rather than simply continuing to pepper the bottom of the zone with sinkers. The Blue Jays got him to do that and it worked wonders.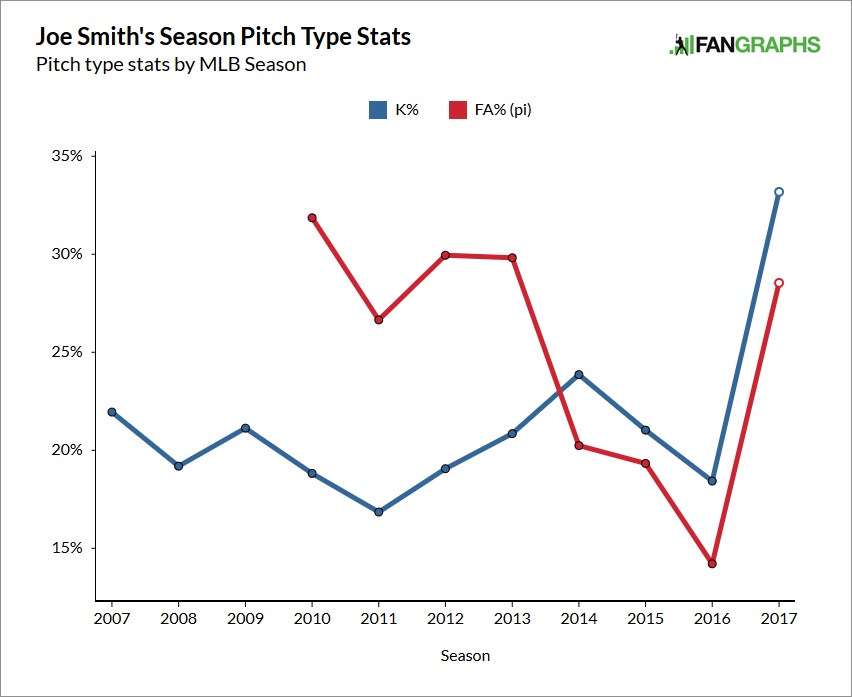 Smith is a funky sidearmer who has generally pitched well against lefties, which is pretty rare for guys with his arm slot, and he's done everything in his career. He's been a setup man, a middle reliever, a part-time closer, you name it. He's one of those "just use me whenever" guys. As I said in the Jake McGee post, I don't think the Yankees are going to spend money on a reliever this winter because the bullpen is already stacked and the luxury tax plan looms. If they do decide to spend on a reliever, throwing $4M annually at Smith for a year or two would be a fine move.
Jeff asks: While I know its likely Ohtani eventually will be a full time SP or hitter, can you give us a little more insight on how MLB teams (or Japan in the past) would manage Ohtani's workload when he first arrives? We know he pitches on 6 days' rest instead of 4, and wants AB's between starts. Would he keep this unorthodox pitching schedule, and have a day off after he starts, then DH/OF on rest days 3-6 or what?
Starters pitch once a week in Japan, not every five days like they do here. That's always a big talking point whenever someone comes over. How will Daisuke Matsuzaka/Yu Darvish/Masahiro Tanaka handle starting every fifth day? Ohtani had a set schedule in Japan:
Sunday: Pitch
Monday: Rest day (most Mondays are off-days in Japan anyway)
Tuesday through Thursday: DH
Friday and Saturday: Rest days
Whichever team signs Ohtani is going to have to work with him to find a schedule that provides him enough rest. Pitching is inherently risky. Pitching while fatigued is even riskier. Could he rest the day before and after starts, then DH the other two days? That'd be ideal, but you need to see how he feels. I get the feeling whichever team signs him will go to a six-man rotation, allowing them to squeeze one more DH day (or rest day) in there. Figuring out a schedule for the whole two-way player thing will be a top priority, and Ohtani will need to have input.
Anonymous asks: Agents can have a big impact on steering players to certain clubs. What's the Yanks relationship with CAA?
Nez Balelo, Ohtani's agent and one of the top agents at CAA Sports, has experience representing other Japanese players (Nori Aoki, Junichi Tazawa) as well as big name stars (Adam Jones, Ryan Braun), so he knows what he's doing. Ohtani is in good hands. According to the MLBTR Agency Database, no current Yankees are Balelo clients, and the only former Yankee represented by Balelo is Phil Hughes. That said, CAA Sports is freaking massive. Aaron Hicks, Todd Frazier, Dillon Tate, Chris Young, Boone Logan, and Sean Henn (!) are all CAA Sports clients. They have relationships with every team, including the Yanks.
Paul asks: If Ohtani end up being a slightly above average pitcher and a slightly above average hitter, would he be an MVP candidate?
I think so. He'd be an MVP candidate among statheads, no doubt. Would the actual MVP voters vote for a player who was merely good but not great on both sides of the ball? What if Ohtani hits, say, .250/.315/.440 with 16 homers in 300 plate appearances and throws 145 innings with a 3.60 ERA? That's basically Kendrys Morales at the plate and Alex Cobb on the mound. Would voters really go with Ohtani over a typical Mike Trout or Jose Altuve (or Aaron Judge!) season? Maybe the narrative would be strong enough to get Ohtani the MVP.
Richard asks: In your Jake McGee scouting post, you noted that Tommy Kahnle has trouble with lefties. The numbers were much worse than I realized: In 2017, LHB hit .315/.360/.370 vs. Kahnle, but with a .475 BABIP in only 101 PA. In 2016, they managed a .143/.318/.257 line with a .148 BABIP in 44 PA. Do you think there was a reason (lefties making harder contact?) for the sky-high BABIP this season, or is it just small sample size noise?
I think it is small sample size noise more than anything. Kahnle prefers his split-changeup thing to his slider, and he did get beat on that pitch several times against the Red Sox, though we later found out the BoSox were dirty sign-stealing cheaters, so I'm not sure how much those outings really tell us. Kahnle was pretty damn great at getting lefties out with that split-change in the postseason.
The real Kahnle against lefties has to be somewhere between 2016 (.143/.318/.257) and 2017 (.315/.360/.370), right? Kahnle doesn't have much of a track record. He's only been
this
good for one year. The Yankees have such a deep bullpen that they can shelter Kahnle against lefties a bit early next season, see how he fares, then adjust accordingly. If he's getting lefties out, great. If the postseason was a mirage and the split-change isn't good enough to get lefties out consistently, then stay away from him against left-handers.