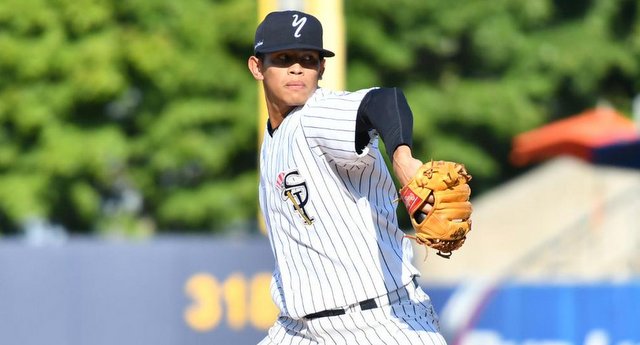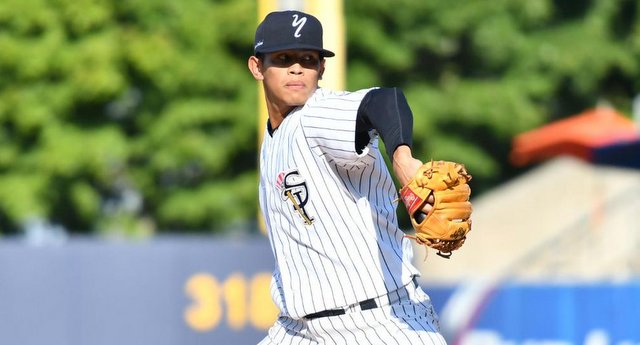 Jonathan Loaisiga | RHP
Background
Loaisiga, who turned 23 last month, originally signed with the Giants out of Nicaragua as a 17-year-old in September 2012. I can't find any information about his signing bonus, which usually means it was a small bonus and he was not considered a significant prospect. It is not surprising then that Baseball America did not rank Loaisiga among the top prospects for the 2012-13 international signing period. Didn't even get an honorable mention.
The Giants had Loaisiga begin his pro career in the Dominican Summer League in 2013. He threw 68.2 innings with a 2.75 ERA (3.47 FIP) that summer, striking out 14.6% of batters faced and walking 5.8%. Baseball America (subs. req'd) did not rank Loaisiga among the top prospects in the Dominican Summer League that year. For all intents and purposes, he was just an interesting lottery ticket type signing and prospect.
Injuries set in the next year — I can't find anything about the nature of said injuries — and Loaisiga did not pitch at all in 2014. The Giants released him in May 2015 and it wasn't until February 2016 that the Yankees signed him out of a tryout camp, so he did not pitch at all from 2014-15. Loaisiga made one start in 2016, allowing two runs in 2.1 innings for Low-A Charleston on May 13th (box score). He blew out his elbow and needed Tommy John surgery.
2017 Season
Loaisiga completed his Tommy John surgery rehab and returned to official game action with the rookie level Gulf Coast League Yankees this past June. He made seven GCL starts (2.30 ERA and 2.72 FIP) before being moved to Short Season Staten Island, where he made four more starts (0.53 ERA and 1.67 FIP). Loaisiga finished the 2017 regular season with a 1.38 ERA (2.17 FIP) and very good strikeout (27.5%) and walk (2.5%) rates in 32.2 innings.
In the postseason, Loaisiga made one start in Staten Island's first round loss to Hudson Valley (Rays), twirling five scoreless innings in the Game Two win (box score), forcing a decisive Game Three. "He was very composed and he had a good fastball, worked both sides of the plate and worked in to hitters," said pitching coach Travis Phelps to Andrew Battifarano after the game. "He's obviously coming off of an injury and he's been nothing less than fantastic."
The Yankees were so impressed with Loaisiga this summer that they added him to the 40-man roster after the season to protect him from the Rule 5 Draft. Protecting a kid who's thrown 103.2 innings in five pro seasons, including only 2.1 innings in a full season league, is pretty rare. The Yankees love Loaisiga's arm though, and the fact more and more rebuilding teams are willing to grab talented lower level guys in the Rule 5 Draft and stash them on their big league roster all season regardless of results led to the decision to add him to the 40-man.
Scouting Report
Loaisiga is listed at 5-foot-11 and 165 lbs. — minor league height and weight measurements are wrong all the time, though this one seems pretty accurate — and he works with a fastball that sits anywhere from 91-97 mph with some run back in on righties. His hard low-80s curveball is a swing-and-miss pitch, and Loaisiga has a quality changeup as well.
Because he's such a good athlete and repeats his delivery well — he won't sustain this year's 2.5% walk rate long-term because no one does that, but throwing strikes isn't a problem for him — there's reason to believe Loaisiga will add more velocity as he gets stronger and further away from all the injuries. He's a tough kid who has had to overcome a lot to get to where he is now. Work ethic and the ability to handle adversity are not concerns at all.
2018 Outlook
After all the injuries and all the comebacks, Loaisiga is finally ready for a full professional season. The Yankees will almost assuredly send him to Low-A Charleston to begin next season, and if he pitches well, they could look to promote him to High-A Tampa at midseason. By putting Loaisiga on the 40-man, the Yankees have started his minor league options clock, meaning he has three seasons to get from Low-A to MLB before he has to stick for good, or be placed on waivers. I suppose Loaisiga could qualify for a fourth option year, though the rules are complicated and I'm not sure whether he'll qualify. I guess we'll find out one day.
My Take
I'm a big Johnny Lasagna fan. On raw stuff alone, he'd be a top five pitching prospect in the system and a top ten prospect in the system overall. The fact he's undersized and missed so much time with injuries knocks him down the prospect rankings, but the stuff is undeniable. Good fastball, very good curveball, good changeup, command, athleticism … Loaisiga has it all. Three pitches and ability to throw strikes will take you a long way. Health is a skill though, and right now there is no reason to believe Loaisiga has it. Hopefully the new elbow ligament does the trick and he can begin his rise up the minor league ladder in 2018.