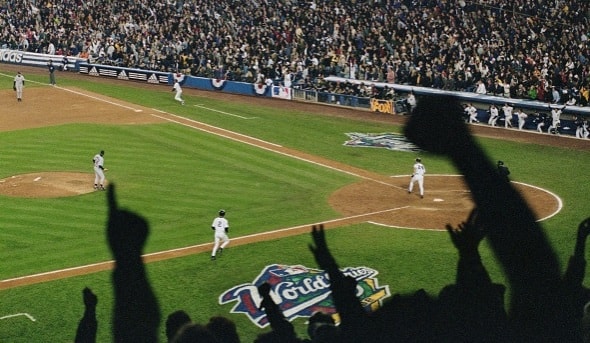 Tino Martinez was a great Yankee for six seasons and he helped the team win four World Series titles, plus a fifth AL pennant. He has a plaque in Monument Park! A core member of the dynasty Yankees, through and through.
Martinez also had some ghastly postseason performances during his time in New York. Love the guy, but it is true. Tino was benched in favor of Cecil Fielder during the 1996 World Series games in Atlanta, and by time Game One of the 1998 World Series rolled around, he'd hit .188/.301/.292 in 29 postseason games for New York. Egads.
Tino's postseason luck changed in Game One of the World Series against the Padres. In what very well might be his signature moment as a Yankee — it's either this or his game-tying two-run homer in Game Four of the 2001 World Series, right? — Martinez clubbed a seventh inning go-ahead grand slam off Mark Langston that turned a 5-5 game into a 9-5 Yankees lead.
"I haven't done much," said Martinez to
Jack Curry
following the game. "We've been winning. We got to the World Series. I knew eventually I'd come up in a big situation and get a big hit to help the team win. It's definitely a big relief to get a hit in a situation like today."
Ask Langston and the Padres, and Martinez never should've been in position to hit that grand slam in the first place. They think the previous pitch should've been called strike three to end the inning. And when you see the 2-2 pitch, it's really hard to disagree with them.
The pitch had plenty of plate. No doubt about that. Home plate umpire Rich Garcia said it was down though. Here's another look: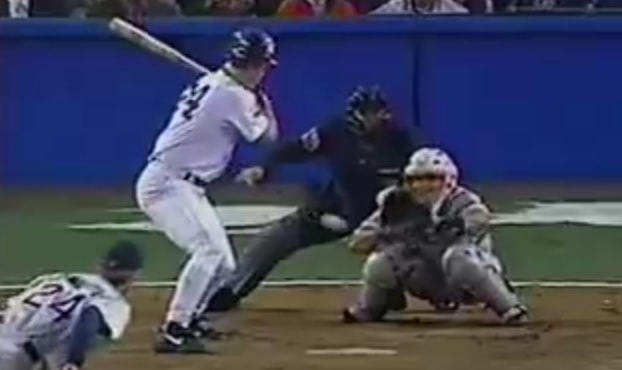 Looks about thigh high to me. Garcia disagreed through. He had it low, the at-bat continued, and Martinez socked the next pitch into the upper deck. "I was looking for a fastball and I thought it was low. I thought (Garcia) did a good job of calling the pitches consistently tonight," said Tino to Curry.
"I thought it was right there when I threw it, and I've already seen it a thousand times on replays and am even more certain about it," said Langston to Ross Newhan after the game. "It was obviously a big pitch, but I've been in plenty of situations where I've not had a call go my way and I know you have to push it aside and execute the next pitch. I didn't and that was the difference in the game. I executed on 2-2 but not 3-2 … I can cry about the call, but it would just be sour grapes."
It is impossible to say how the non-strike call on Martinez changed the series. The Yankees were really freaking good that year and it's easy to say they would've won the series anyway, but who knows? The Padres won 98 games in 1998. They were no pushover. Get the call on Martinez, win Game One to grab homefield advantage … who knows what could've happened?
"Yeah, it changed the whole series, that's for sure," said Andy Ashby to Barry Bloom in 2016. "But you look back on it, I didn't pitch well in Game Two. We needed to win one of those first two games in New York, but we didn't do that. And that changed the whole series."
For Martinez, the non-strike call was the break he needed to get going at the plate in the postseason. He had a three-hit game in Game Two — Tino had three hits in his previous 31 postseason plate appearances combined — plus a single and two walks in Game Four. Following the non-strike call, Martinez hit .282/.348/.436 with seven home runs and 27 runs driven in in 48 postseason games through the remainder of the dynasty years.
"I know I haven't done my part, but we've been winning," said Tino to Curry. "You have to take the post-season game by game. It's a relief to get out of this slump."