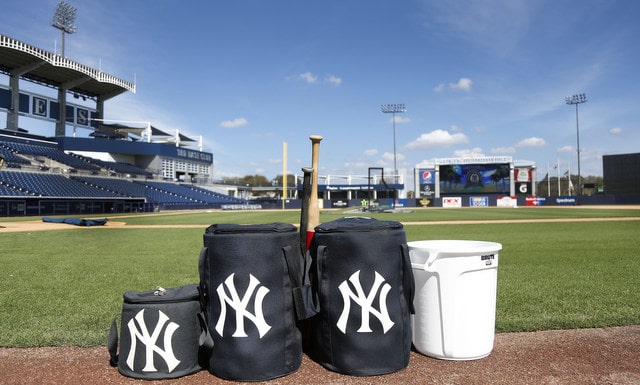 February 22nd: So it turns out the MLB.tv schedule has a new landing page. The old page doesn't work anymore. Anyway, I found the new page and have updated the schedule with the MLB.tv broadcasts. Twenty-one of the Yankees' 32 exhibition games will be broadcast live this spring.
February 19th: This Friday the Yankees begin their 31-game Grapefruit League season at George M. Steinbrenner Field in Tampa. They'll close out the spring schedule with an exhibition game against the Braves at SunTrust Park five weeks from today. Opening Day is Thursday, March 29th, in Toronto. So close, yet so far.
In recent weeks YES, ESPN, and MLB Network have released their Spring Training broadcast schedules, and at the moment, 18 of the Yankees' 32 spring games will be televised live. That number will increase once the MLB.tv spring broadcast schedule is announced. Every network has scaled back on their spring coverage in recent years, but still, most Yankees games will be broadcast this spring.
My gift to you is the table below, which has the team's Spring Training broadcast information in one convenient place. You'll be able to find this post linked in the Opening Day Countdown widget in the sidebar at all times. All start times are ET.
| Date | Start Time | Opponent | Broadcast Info |
| --- | --- | --- | --- |
| Fri., Feb. 23rd | 1:05pm | vs. Tigers | YES, MLB.tv, MLBN tape delay |
| Sat., Feb. 24th | 1:05pm | @ Pirates | |
| Sun., Feb 25th | 1:05pm | @ Phillies | MLBN, MLB.tv |
| Mon., Feb. 26th | 6:35pm | vs. Phillies | |
| Tues., Feb. 27th | 1:07pm | @ Blue Jays | |
| Weds., Feb. 28th | 1:05pm | vs. Tigers | YES, MLB.tv, MLBN tape delay |
| Thurs., March 1st | 1:05pm | @ Phillies | MLBN, MLB.tv |
| Fri., March 2nd | 1:05pm | vs. Braves | YES, MLB.tv, MLBN tape delay |
| Sat., March 3rd | 1:05pm | @ Red Sox | MLBN, MLB.tv |
| Sun., March 4th | 1:05pm | vs. Rays | YES, MLB.tv, MLBN tape delay |
| Mon., March 5th | OFF | | |
| Tues., March 6th | 1:05pm | @ Tigers | |
| Weds., March 7th | 1:10pm | @ Mets | SNY, MLB.tv, MLBN tape delay |
| Thurs., March 8th | 1:05pm | vs. Phillies | YES, MLB.tv, MLBN tape delay |
| Fri,. March 9th | 6:05pm | @ Braves | |
| Sat., March 10th | 1:05pm | vs. Mets | YES, MLBN, MLB.tv |
| Sun., March 11th | 1:05pm | @ Marlins | |
| Mon., March 12th | 6:35pm | vs. Twins | YES, MLB.tv, MLBN tape delay |
| Tues., March 13th | 1:05pm | vs. Tigers | YES, MLB.tv, MLBN tape delay |
| Weds., March 14th | 1:05pm | @ Orioles | MLBN, MLB.tv |
| Thurs., March 15th | 1:05pm | vs. Pirates | YES, MLB.tv, MLBN tape delay |
| Fri., March 16th | 6:35pm | vs. Astros | |
| Sat., March 17th | 1:05pm | @ Tigers | MLBN, MLB.tv |
| Sun., March 18th | 1:05pm | vs. Marlins | YES, MLB.tv |
| Mon., March 19th | 6:35pm | vs. Rays | |
| Tues., March 20th | 1:05pm | @ Tigers | |
| Weds., March 21st | 6:35pm | vs. Orioles | |
| Thurs., March 22nd | 1:05pm | @ Twins | ESPN, MLB.tv |
| Fri., March 23rd | 1:05pm | vs. Red Sox | YES, ESPN, MLB.tv, MLBN tape delay |
| Sat., March 24th | 1:05pm (ss) | vs. Blue Jays | |
| Sat., March 24th | 1:05pm (ss) | @ Braves | MLB.tv, MLBN tape delay |
| Sun., March 25th | 1:05pm | @ Rays | MLB.tv, MLBN |
| Mon., March 26th | 7:35pm | @ Braves | MLB.tv |