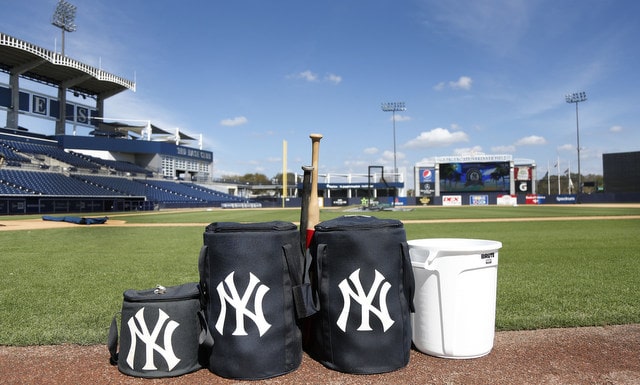 Baseball is back. Yeah, it's meaningless Spring Training baseball, but who cares? It's baseball and we've gone far too long without it. The Yankees return to the field this afternoon for the first time since Game Seven of the ALCS. They'll host the Tigers in the Grapefruit League opener at George M. Steinbrenner Field in Tampa.
Today we'll get our first look at the newest Yankees' star: Giancarlo Stanton. I was all set to make a Brandon Drury joke here, but he's not in the lineup. Alas. Not a good start for Aaron Boone! In all seriousness, Giancarlo Stanton is a Yankee — have you heard? not many people know that — and he's in the lineup. Pretty cool. Boone is a new Yankee too. He'll manage his first game at any level today.
"In a way, but it's different, especially early," said Boone to George King when asked about being excited to manage his first game. "I will treat it a little bit different and we are trying to make different evaluations. We will probably allow some different things and do some certain things we wouldn't do in a regular season game. Get a feel for skill sets and what guys are capable of doing."
The Tigers made the trip over from Lakeland for today's spring opener. Miguel Cabrera will be in the lineup, though I wouldn't expect a repeat of last year's fireworks in Detroit. No one is getting into a brawl on the first day of the Grapefruit League season. Here are the players the Tigers sent over from Lakeland and here are the players the Yankees will use today:
DH Jacoby Ellsbury
RF Giancarlo Stanton
1B Greg Bird
CF Aaron Hicks
SS Didi Gregorius
2B Gleyber Torres
C Austin Romine
3B Miguel Andujar
LF Clint Frazier
RHP Luis Cessa
Available Pitchers: RHP Cale Coshow, RHP J.P. Feyereisen, RHP Gio Gallegos, RHP David Hale, RHP Ben Heller, RHP Jonathan Holder, RHP Brady Lail, LHP Trevor Lane.
Available Position Players: C Francisco Diaz, C Kyle Higashioka, C Jorge Saez, 1B Tyler Austin, IF Danny Espinosa, IF Kyle Holder, IF Jace Peterson, IF Tyler Wade, OF Jake Cave, OF Estevan Florial, OF Billy McKinney, OF Shane Robinson.
It is a bit cloudy in Tampa, and of course hot and humid, so typical Florida weather. There is no rain in the forecast, fortunately. This afternoon's spring opener will begin at 1:05pm ET and you can watch live on YES and MLB.tv. There is no MLB.tv blackout in Spring Training, or at least there wasn't in years past, and I assume that is the case again. Enjoy the game, folks.
Note: The Yankees and every other team in the Grapefruit League will wear Marjory Stoneman Douglas High School caps today to honor the victims of last week's shooting in Parkland. Here's what it looks like. The caps will be auctioned off to benefit the Broward Education Foundation's victims fund.