The Yankees will play their first Grapefruit League game later today and here is a ten-question mailbag to hold you over until first pitch. I'm so happy baseball is back. As always, RABmailbag (at) gmail (dot) com is where you can send all your questions.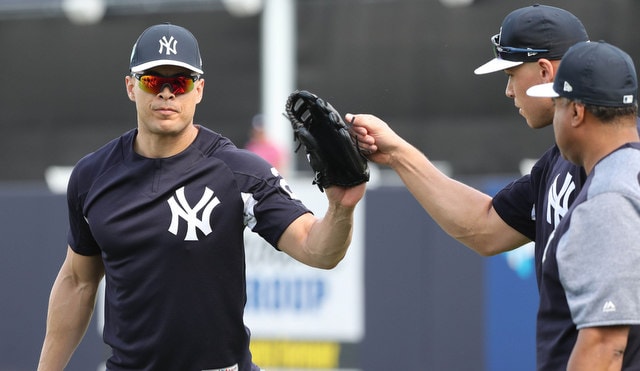 Aryeh asks: Thoughts on a couple of articles out there comparing JD Martinez to Giancarlo as a hitter and the Red Sox are paying a lot less money?
Martinez and Giancarlo Stanton do have similar offensive numbers the last few seasons. Check it out:
Stanton in 2017: .281/.376/.631 (156 wRC+) and 59 HR in 692 PA
Martinez in 2017: .303/.376/.690 (166 wRC+) and 45 HR in 489 PA
Stanton from 2015-17: .265/.354/.580 (143 wRC+) and 113 HR in 1,480 PA
Martinez from 2015-17: .296/.363/.580 (147 wRC+) and 105 HR in 1,663 PA
Both guys have an injury history — Martinez has played more than 125 games in a season once in his career — and, of course, baserunning and defense matter. That's why Stanton has the edge in both fWAR (+12.6 vs. +10.5) and bWAR (+13.7 vs. +10.9) over the last three years. Both ZiPS (+6.5 vs. +3.4) and Steamer (+5.8 vs. +2.4) give him the edge in 2018 as well.
Stanton is two years younger and the two players have identical $22M luxury tax hits. They are comparable as hitters. They are not comparable as overall players, especially when you consider the Yankees will get more peak years from Stanton than the Red Sox will get from Martinez. The "well actually, Martinez is just as good as Stanton" takes were inevitable as soon as Martinez signed with Boston, but Giancarlo is younger and clearly the better all-around player.
Michael asks: Given the weirdness of this offseason, what do you think Stanton would have gotten if he was a true free agent?
Pretty much exactly what is left on his contract, ten years and $295M with an opt-out after the third year. Giancarlo Stanton would have been, by frickin' far, the top free agent on the market this winter, and the best position player to hit the open market since … Robinson Cano? I guess so. And Stanton is three years younger right now than Cano was when he hit free agency, plus he's coming off a 59-homer MVP season. Even in this slow market, a just turned 28-year-old Stanton would've been in demand this offseason. The Red Sox would've been an obvious suitor, and I imagine the Giants would've been aggressive as well. Bryce Harper and Manny Machado will get paid next year. Stanton would've gotten paid this year. It's the second and third tier guys who are really getting hammered in this market. The top players still cleaned up.
Anonymous asks: If Todd Frazier was the same exact player/hitter, but batted Lefty instead of Righty, would that have made re-signing him more of a priority? Or do the Yanks still pass on him because of the $$$?
I don't think that would've changed anything. A left-handed hitting Todd Frazier would've helped balance the lineup, no doubt, but it sounds like the Yankees were only interested in a one-year deal, indicating they didn't want to block Miguel Andujar or get tied to potential decline years with Frazier. Brandon Drury is seven years younger than Frazier, substantially cheaper, and more versatile. He's more luxury tax plan friendly and roster friendly. Frazier was a good Yankee during his brief time in pinstripes. I am 100% cool with moving on in favor of younger options.
Jackie asks: While I know it will never happen given all the analytics these days in baseball – but from my view you can address 'pace of play' simpler by putting more 'play' back in the game – hit and run, stealing bases, etc. Seems to me if there is more action on the field it would by default make the game more exciting and I'd be happy to sit thru a 4 hour game! You think anyone would be brave enough to try that route?
Agreed! I think the single biggest problem with baseball right now is the continued increase in strikeouts. MLB has set a new record strikeout rate every year since 2008. The league average strikeout rate was 21.6% last season. It was 16.4% back in 2005. Huge difference! Given the value of on-base percentage, these days we're seeing more deep counts and long at-bats than ever before, and with each passing year, more and more of those long at-bats are ending without a ball being put in play. It can get dull, for sure.
I see no reason to believe the increase in strikeouts is cyclical and will self-correct at some point. Pitchers are throwing harder than ever before, they have nastier breaking balls, hitters are selling out for power, and they're working deep counts. All of that is conducive to more and more strikeouts. The league average strikeout is going to keep going up, I suspect. It might be near 25% within 10-15 years. For real. Baseball is trending in that direction.
How does MLB fix the strikeout problem? Off the top of my head, the only thing I can think of is lowering the mound. When MLB lowered the mound way back when, the league average strikeout rate went from 15.8% in 1968 to 15.2% in 1969. It kept dropping too. From 1970-85, the league average strikeout rate was 13.4%. Then it started to tick up again. Maybe lowering the mound again isn't realistic. Something has to be done about the strikeouts though. No one cares about pace-of-play as long as there's action on the field.
Ricky asks: This is not exactly Yankees question, but what is the real advantage of a six man rotation? By definition, a team's number 6 starter is guaranteed 25 or so starts per 162 game season. How is this a winning formula?
It's all about health. No team makes it through a season with only five starters nowadays. They're lucky if they make it through a season using only six or seven starters. The idea behind a six-man rotation is keeping everyone healthy, and potentially getting more total starts from your top six starters than you would with a normal five-man schedule. I haven't seen any evidence showing that a six-man rotation helps keep pitchers healthy, but that doesn't mean it doesn't exist. Intuitively, it makes sense. Pitching is inherently risky. You can do everything right and still get hurt. Pitching while fatigued is even more dangerous, so fewer starts with more rest would theoretically reduce injury risk. Yes, your top five starters go from 32 starts a year to 27 starts a year with a six-man rotation, but most aren't making 32 starts anyway. If a six-man rotation keeps them healthier, then you're better off in the long run.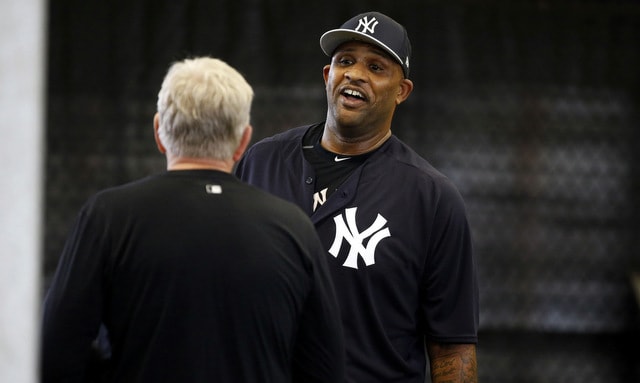 Frank asks: Given the slow FA landscape, do you think CC's 10 mil. contract was an overpay? If so, by how much?
I don't think so. And even if it was, it wasn't an overpay by much. Jaime Garcia got one year and $10M from the Blue Jays. Andrew Cashner and Jason Vargas each got $8M annually, reliever-turned-starter Mike Minor got $9.33M annually, and Tyler Chatwood got $12.75M annually. Every single one of those guys is flawed too. Cashner didn't strike anyone out last season, Vargas got bombed in the second half, Minor has an ugly injury history and was a reliever last year, and Chatwood has an injury history and got hit around pretty hard last season. One year and $10M for CC Sabathia and his balky knee seems about right to me, especially since there's no worrying about whether he'll fit into the clubhouse, if he can pitch in a hitter's ballpark, and if he can handle the expectations.
Joe asks: Can you explain the differences between incentives and escalators? There was a piece how about the Giants got around this. Would this apply to the Yankees and how could they structure a deal with Arrieta or another high priced FA to avoid the $197 luxury tax?
Incentives raise this year's salary, escalators raise next year's salary. The Giants signed Tony Watson to a three-year deal worth $7M guaranteed — he can opt-out after the second year — which is an absolute steal given some of the bullpen contracts that were handed out earlier in the offseason. Escalators could push the total value of the contract to $14M over two years or $21M over three years. So, for luxury tax purposes, Watson counts as $2.33M this year ($7M across three years). If he hits the escalators, his 2019 and 2020 luxury tax hits will be recalculated. The Giants want to to stay under the luxury tax threshold this year and Watson's contract structure helps make it possible.
The Yankees could try something similar with Jake Arrieta or any other free agent, though push it too far and MLB will step in since it's obvious luxury tax circumvention. It's one thing to do it with a reliever who can earn an additional $14M across three years. What would be the structure with Arrieta? Two years and $30M with $20M in escalators for 2019? That's pushing the envelope a bit. It sure seems like MLB is willing to let teams be creative. I imagine they have their limits though.
Frank asks: Thoughts on bringing back the bullpen cart? (Not all relievers can sprint like DRob). With pace of play rules in effect and relief pitchers potentially not getting 8 warmup pitches bc of the new pitch clock, wouldn't getting them to the mound faster be a solution? Not to mention with commercial time being shortened the cart will allow teams to add advertising to make a few extra dollars too.
I saw the report that MLBPA broached the possibility of bringing back bullpen carts and all I could think was "at least the union is focused on the important things." The bullpen cart might get the pitcher to the mound a little quicker, and that will be important now that there are 20 fewer seconds during commercial breaks, so in that sense I guess bringing them back would be worthwhile. And if it's a fun novelty that makes people enjoy baseball more, great. Not sure this is a pressing issue though. The MLBPA has bigger fish to fry. Doesn't seem to be much upside to bringing back bullpen carts aside from selling ad space and squeezing in maybe one more warm-up pitch.
Dan asks: In light of the Drury trade, what two prospects get added to the Yanks top-30?
I had Nick Solak and Taylor Widener ranked as the 16th and 22nd best prospects in the farm system, respectively, in my annual Top 30 Prospects List. The last two prospects to get cut from the list were Nolan Martinez and Pablo Olivares, though I don't spend a ton of time ordering guys outside the top 30. Josh Rogers, Rony Garcia, and Glenn Otto were also in that 31-35 range. In fact, a few early iterations of the top 30 included both Martinez and Oliveras (and Rogers and Garcia) before I shifted things around and settled on a final order. Olivares was one of my Not Top 30 Prospects. Martinez missed a chunk of last season with a shoulder problem but has nasty stuff, including a high spin curveball that is one of the best in the system. Hopefully he stays healthy this year.
Daniel asks: Do you think that the two people that can't co-exist on the Yankee roster/bench are Drury and Tyler Austin? Drury hits better, is more versatile in the field and hopefully can do the one thing that Austin is penciled in for: BU1B.
It sounds like Drury is going to take Andujar's roster spot as the starting third baseman. I don't love it, but whatever. (I'd rather see Andujar at third and Drury at second until Gleyber Torres is ready.) The Yankees figure to have a four-man bench. Two spots will go to Jacoby Ellsbury and Austin Romine. Another goes to a utility infielder, probably Ronald Torreyes. That leaves the final spot open for Austin, who Aaron Boone said is the leading candidate to back up Greg Bird this year. Eventually, when Gleyber is deemed ready, Austin would be the obvious candidate to lose his roster spot. Drury would take over backup first base duties in that case. I could definitely see both Drury and Austin on the Opening Day roster. Once Torres (and/or Andujar) get their shot, there won't be enough space on the roster for Austin.