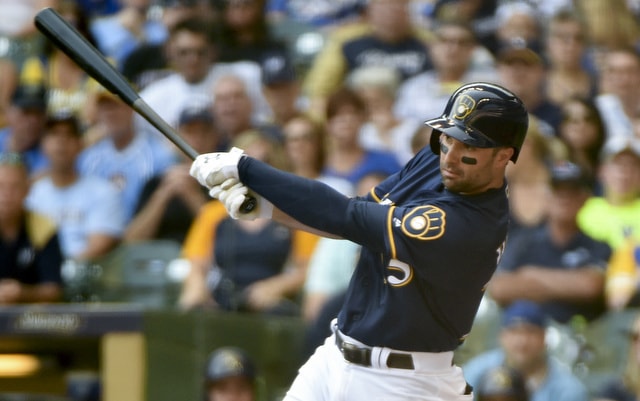 5:17pm ET: The Yankees have announced the signing. Walker gets $4M guaranteed plus another $125,000 each for 450, 475, 500, and 525 plate appearances. That works out $4.5M total. Man. Bryan Hoch says Walker is already in the clubhouse. He participated in MLBPA's free agent camp and should be ready to jump into games soon. Jake Cave has been designated for assignment to clear a 40-man roster spot.
11:42am ET: As it turns out, the Yankees were not comfortable going into the 2018 season with two rookie infielders. Or even one rookie infielder, for that matter. According to Jeff Passan, the Yankees have agreed to a contract with free agent infielder Neil Walker. Jon Heyman says it's a one-year deal worth about $5M. Walker will presumably step right into the open second base job.
The Yankees and Walker discussed a deal prior to the Brandon Drury trade, and apparently the Yankees never fully closed the door. They have roughly $22M to spend under the luxury tax threshold, so Walker fits the payroll nicely. He's a quality player and the Yankees just upgraded a position that was set to be a revolving door, and they did it without busting their luxury tax plan. There are still plenty of dollars to be spent.
Walker, 32, hit .265/.362/.439 (114 wRC+) with 14 homers and strong strikeout (17.2%) and walk (12.3%) rates in 2017. He has been primarily a second baseman in his career, though he played some first and third last year. When it was reported the two sides were discussing a deal a week or two ago, Walker said he was open to moving around the infield and playing wherever, so there you go.
With Drury and Walker aboard, it all but guaranteed Miguel Andujar and Gleyber Torres will begin the season with Triple-A Scranton. Tyler Wade could end up with the RailRiders as well, though his versatility could land him on the bench. Now that Walker is around to back up first base, the Yankees don't need Tyler Austin or Adam Lind on the roster, clearing the way for Wade to be a super utility guy, if the Yankees want.
The Yankees were poised to wait out the market and sign a bargain free agent late in the offseason, and that is exactly what happened with Walker. Getting him for one year and $5M is insane. They still have enough money to add a pitcher as well, though Alex Cobb might be too pricey at this point, assuming Lance Lynn's one-year, $12M deal with the Twins sets his market. We'll see.