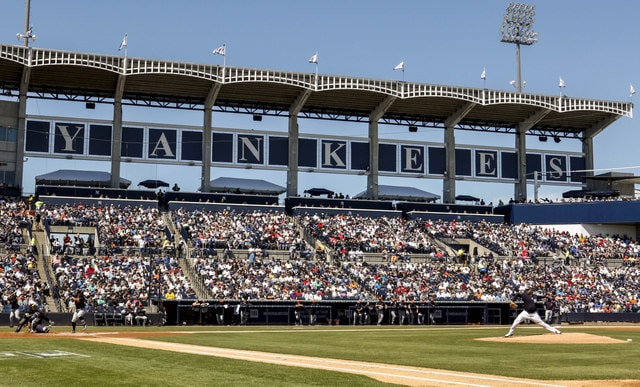 Fifteen days from now the Yankees will open their 2018 regular season against the Blue Jays at Rogers Centre. The Yankee Stadium home opener is 19 days away. So close! There are still Grapefruit League games to be played and pitchers who need to get stretched out in the meantime. Let's get to some miscellaneous thoughts.
1. A week or two ago Aaron Boone said the Yankees want to use either Giancarlo Stanton or Aaron Judge in left field during the regular season, not both. They want to leave one guy in right and let the other guy move around, which makes sense. Why complicate things for two players rather than one? So far this spring, Stanton has been the guy in left field. He has more games (five to two) and innings (27 to 10) in left than right, and he hasn't played right field at all since February. Two straight weeks in left field. Judge has been working out in left on the backfields, though shagging fly balls on a backfield is way different than playing left field in an actual game. Seems like, if the Yankees are going to give Judge time in left field this spring, it has to happen very soon. Opening Day isn't far away. I think it's more likely the Yankees have decided Stanton will be the guy to move to left field — Giancarlo has said he's all for it, he'll play wherever — and they're going to give him as much time as possible at the position this spring. Giving Stanton two weeks in left field, then Judge two weeks in left field, then going with Stanton as the guy in left during the regular season is a bit … convoluted. How a team uses their players during Spring Training is often more revealing than anything they say. Boone and the Yankees say they're still deciding whether to move Stanton or Judge to left field. Their actions suggest it's going to be Stanton. And that's fine. I think either guy would be fine there. Just seems like this has been decided already even if the Yankees won't admit it.
2. Because Stanton has been working out in left field, Brett Gardner has already played nearly as many innings in center field this spring than he did the previous two springs combined (18 to 20). Gardner can play center field, we all know that, so all that time in center is more about making sure he gets his work in while Stanton learns a new position. That said, Jacoby Ellsbury is out with an oblique strain, and Boone recently conceded Ellsbury may not be ready for Opening Day. In that case, Gardner becomes the backup center fielder behind Aaron Hicks, so giving him some time at the position this spring to get reacquainted is an obvious move. Tyler Wade, who may still make the roster despite the Neil Walker signing, has played a few games in center in the minors, though he hasn't played the position in the big leagues or at all this spring. I guess he would be the third center field option behind Hicks and Gardner on Opening Day? Would the Yankees stick Judge in center for a game, if necessary? Gardner has been playing more center than usual this spring because Stanton is learning left field. That Ellsbury will (probably) miss the start of the season, forcing Gardner to be the backup center fielder, makes this spring work in center a little more meaningful than usual. The Yankees want him to be ready to play the position on Opening Day, if necessary.
3. Boone had his first real managerial blunder over the weekend, when no one bothered to call down to the bullpen to tell Adam Warren to warm up for his scheduled inning. Dellin Betances, who had already thrown his inning and was in the clubhouse getting undressed, had to go back out to the mound to face one batter while Warren warmed up. The game was a delayed a few minutes while Dellin put his uniform back on. Pretty embarrassing! Here's the video:
"Um … well … we had some issues there. We'll just leave it at that," said Boone during the conveniently timed in-game interview with YES. I doubt Boone is personally responsible for calling down to the bullpen — that seems like something a manager would delegate to a coach — but still, he's the manager, and the buck stops with him. Fortunately this bullpen blunder was harmless. Betances basically laughed it off and Warren said it was good to simulate getting ready in a hurry given how often it happens during the regular season. This seems like one of screw ups that a) would never happen in a regular season game because reliever usage is way different than it is during Spring Training, and b) won't ever happen again. A silly mistake like this never happens twice. (And if it does happen again, that's a problem.)
4. Like I said yesterday, the Walker signing all but guarantees Miguel Andujar will begin the season with Triple-A Scranton. That's fine. I'm disappointed — I think Andujar is ready to be a big league third baseman — but it's fine. Andujar hasn't spent a ton of time in Triple-A and there is still defensive work to be done. Anyway, I bring this up because when it comes to a prospect's readiness for MLB, teams always know better than fans and analysts. Always and forever. A guy might seem ready based on the scouting reports and the numbers, but, at the end of the day, the team has more information that us. We were all screaming for Rob Refsnyder a few years ago and guess what? Refsnyder can't field and can't really hit either. Gary Sanchez seemed like the obvious choice at backup catcher two years ago, then the job went to Austin Romine. Sanchez came up later in the season, after a few months of minor league seasoning, and has mashed ever since. I'm bummed Andujar (and Gleyber Torres) will begin the season in Triple-A, but if the Yankees believe it is the best thing for their development, who am I to argue? Gleyber and Andujar remain part of the long-term plan, and at this point next season, they very well might be the starters at second and third bases, respectively. Even if the Yankees are confident either is ready for a full-time big league job, adding depth and hedging against young unproven players is never a bad idea.
5. Speaking of Torres, I'm not at all surprised he was optioned down to minor league camp yesterday. I thought he was destined for Triple-A even before the start of Spring Training. Sending him down for 16 days to push his free agency back a year is too good to pass up. The system sucks, but it is what it is, and the Yankees would've been foolish to pass up a full season of control down the line for 16 days — 16 days! — this year. The injury and long layoff proved plenty of cover no matter how well he played in Spring Training. Then Gleyber went 4-for-25 (.160) with some defensive goof-ups this spring, making it even easier to send down. To me, Torres looked like a kid who was both rusty and trying too hard to make the team. Trying to hit a five-run homer every at-bat, you know? "It's not easy, nine months of no games and come back perfect. I'm human. I'll stay focused and go wherever they tell me, do my job and wait for another opportunity," said Torres to Bryan Hoch yesterday. Yup. The Walker signing buys the Yankees some time. Gleyber can go to Scranton, catch his breath a bit, then come up at some point this summer and remind everyone why he's on the short list of the best prospects in the game. A little bump in the road is all this is, if you can even call it that.
6. This is probably just Spring Training madness talking, but you know who's looked impressive in his Grapefruit League outings? Brady Lail. Forget about the numbers  (7.1 IP, 8 H, 3 R, 3 ER, 1 BB, 7 K) for a second. Lail has been anywhere from 90-95 mph with his fastball on the television gun and I've seen three secondary pitches (changeup, slider, curveball). Here is his most recent televised outing:
Fun Fact: Lail had a higher swing-and-miss rate at Triple-A last season than Chance Adams (9.5% to 9.0%). Lail's overall Triple-A numbers haven't been good, but the Yankees have brought him to big league camp three straight years now, so clearly they like something about him. Maybe they see him as another Adam Warren type? Or maybe even another Caleb Smith type who could potentially come up in a pinch to throw a few innings? Lail was raw as hell when the Yankees drafted him out of a Utah high school, so even getting this far is quite the player development success story. He's going to become a minor league free agent after the season and I wonder if the Yankees will give him a big league look at some point this summer, just to see what they have before letting him walk. I dunno, man. Spring Training makes you think crazy things.