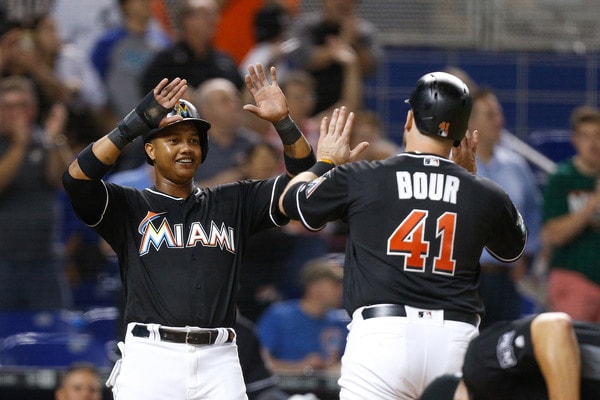 The Yankees were expected to have something of an easy weekend, as they headed to Detroit to face the tanking Tigers. A hard-fought victory on Friday cleansed the palate of the bad taste of the Red Sox series (at least to an extent), and then the Yankees were quite literally able to take the weekend off, as freezing rain postponed the second and third games of the series. Up next on the docket: the Marlins.
The Last Time They Met
It has been nearly three years since these teams squared-off, the last time being a four-game home and home series in June of 2015. The series was split right down the middle, with both teams winning their home games. A couple of notes:
Giancarlo Stanton enjoyed facing the Yankees pitching staff, going 5-of-15 with 2 HR and 4 RBI in the series. And one of those two home runs was his first in Yankee Stadium.
The Marlins roster is, unsurprisingly, completely different nowadays. Only three of their starting position players from that series remain in the organization, in J.T. Realmuto, Justin Bour, and Derek Dietrich. Interestingly enough, that makes their lineup more recognizable than the Yankees – Brett Gardner and Didi Gregorius are the only position players from that series that are still with the team.
Check out Katie's Yankeemetrics post for more information on the series.
Injury Report
The willingly depleted Marlins are further hindered by injuries, with Wei-Yin Chen, Garrett Cooper, Martin Prado, J.T. Realmuto, and Dan Straily all on the disabled list. That's two starting pitchers, two starting position players, and a bench player sidelined for the time being, for what it's worth. Though, both Realmuto and Straily could be back as early as this week (with the former a possibility for this series).
Their Story So Far
Miami is 4-11 (with a -35 run differential), which is good for the fourth-worst record in the game. They opened the season with a surprising four-game split with the Cubs, and followed that up by dropping nine of their next eleven. And that stretch includes a humiliating 20-1 loss at the hands of the Phillies. None of this is particularly surprising, though, given that the Marlins traded four of their top-five players (by WAR) this off-season, and the fifth has yet to play a game due to a back injury. FiveThirtyEight pegged the Marlins as the worst team in baseball heading into 2018, predicting a 67-95 record, and they're well on their way to that manner of futility.
The Lineup We Might See
Manager Don Mattingly has changed his lineup around quite a bit in this young season, with the only real consistency being Starlin Castro's presence in the third slot. If their last week or so is any indication of what to expect, we might see something like this:
Derek Dietrich, LF
Miguel Rojas, SS
Starlin Castro, 2B
Justin Bour, 1B
Brian Anderson, 3B
Cameron Maybin, DH
J.B. Shuck, RF
Lewis Brinson, CF
Chad Wallach or Bryan Holaday, C
If Realmuto returns, I expect him to DH and hit somewhere in the first five slots in the lineup.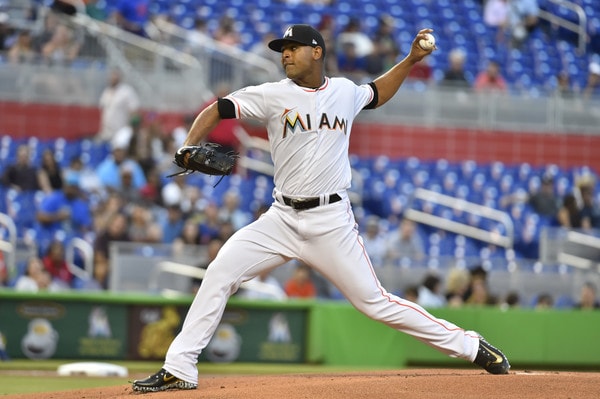 The Starting Pitchers We Will See
Monday (6:35 PM EST): RHP Luis Severino vs. LHP Caleb Smith
It's only three starts, but Smith has one of the more interesting pitching lines in baseball thus far. Through 13.1 IP he has a 31.2% strikeout rate, 16.4% walk rate, and a 28.1% groundball rate, which all contribute to his 4.73 ERA (77 ERA+). One assumes that this cannot continue but, given the Marlins depth (or lack therefor), there's a good chance that we'll find out in time. It's worth noting that he has struck out better than a batter per inning in each start, so that isn't buoyed by one lights out performance
Smith is a three-pitch guy featuring a low-90s four-seamer, a mid-80s change-up, and a low-80s slider. He throws that slider about a third of the time, and batters are hitting just .087 against it in 2018.
Last outing (vs. NYM on 4/10) – 5.0 IP, 5 H, 3 R, 1 BB, 7 K
Tuesday (6:35 PM EST): RHP Masahiro Tanaka vs. LHP Jarlin Garcia
Garcia pitched exclusively out of the bullpen last season, tossing 53.1 innings in 68 appearances. He was frequently used as a LOOGY, but his stuff allowed him to face righties every so often, as well. Garcia came up as a starter, and the move to the bullpen was always supposed to be temporary, so it's no surprise to see him in the rotation in 2018. And he was working on a no-hitter against the Mets before being pulled because Mattingly felt he was laboring, so the early returns have been quite good.
I can almost copy and paste Smith's repertoire here, as Garcia throws a low-90s four-seamer, a mid-80s change-up, and a mid-80s slider. The extra ticks on the slider and the groundball tendencies make a world of difference, though.
Last outing (vs. NYM on 4/11) – 6.0 IP, 0 H, 2 BB, 3 K
The Bullpen
The Marlins bullpen has struggled through fifteen games, with a 4.71 ERA in 70.2 IP. Closer Brad Ziegler has an 8.10 ERA, and has allowed at least one run in three of his six appearances. And, going a step further, he has yet to throw a one-two-three inning. They have three additional relievers with at least 5.0 IP and an ERA above 6, too. Set-up man Kyle Barraclough is next in-line to close, and has been solid thus far, as has former Red Sock Junichi Tazawa.
Yankees Connection
Where should I start?
The Marlins CEO is Derek Jeter who will, unfortunately, not be making the trip to Yankee Stadium. He's joined in the front office by Vice President of Player Development and Scouting Gary Denbo, who filled the same role for the Yankees as recently as last Fall. And, of course, there's Donnie Baseball in the dugout.
On the player's side there's Starlin Castro, Caleb Smith (lest we forget his 7.71 ERA in 18.2 IP with the Yankees last year), and Tyler Cloyd (who pitched at SWB in 2016), as well as the currently injured Martin Prado and Garrett Cooper.
Who (Or What) To Watch
I'm interested to see how (former?) best friends Didi Gregorius and Starlin Castro interact in the opportunity arises, as they were always a great deal of fun together in the Bronx. And, on a more comical note, I'm curious to see how the Yankees announcers handle discussing a lineup and pitching staff full of rookies and journeymen.
If you're looking for player to watch on the Marlins, Lewis Brinson might be the best bet. He's struggled mightily thus far, but he's one of the toolsiest young players in the majors, and was a consensus top-30 prospect for each of the last three years.