For the seventh time in their last nine games, the Yankees allowed 6+ runs Friday night. It was their ninth game with 6+ runs allowed so far this season. Only the crummy Orioles, Rangers, Padres, and Athletics have more such games. The run prevention has been trash in the early going. Friday's final score was 8-5. Back to .500 they go that 9-9.
Cloudy Gray
Even with Giancarlo Stanton's slow start and the bullpen woes and the injuries, there isn't a single bigger concern for the Yankees right now than Sonny Gray. He made some mechanical adjustments earlier this week — specifically, he moved his hands away from his body during his delivery and picked up the tempo — yet the result was the same. Too many walks, too many hitter's counts, too many runs. His line Friday night: 3.1 IP, 5 H, 5 R, 5 ER, 4 BB, 0 K. His season line: 8.27 ERA (4.30 FIP).
Twice the Yankees staked Gray to a two-run lead and twice he gave it right back. Shutdown innings are kinda dumb — you're not supposed to give up runs in any inning, the inning after you score isn't special — but damn dude. First Teoscar Hernandez hit a two-run home run in the third. First homer Gray has allowed this year. Hernandez kinda beat him to the spot on the inside fastball. Wasn't a terribly located pitch. But of course a walk preceded it, so two-run homer.
Russell Martin led off the fourth with a gap shot double (in a 3-1 count) and Kendrys Morales got him home with a dumb bloop ground rule double that landed on the foul line and hopped over the side wall. A sliver of bad luck mixed in with all the awfulness. Kevin Pillar singled to center and, two batters later, Lourdes Gurriel Jr. singled up the middle to score two runs, turning a 4-3 lead into a 5-4 deficit. A four-pitch walk to Curtis Granderson followed, ending Gray's night.
Overall, Gray faced 19 batters Friday night and only six saw a first pitch strike. Coming into the game his 52.2% first pitch strike rate ranked 166th among the 186 pitchers to throw at least ten innings this season. His 73 pitches generated two (2) swings and misses. This was the third time in four starts this year Gray failed to record an out beyond the fourth inning. I'm a Sonny fan. He's sooo much better than this. But he's been inexcusably terrible this season.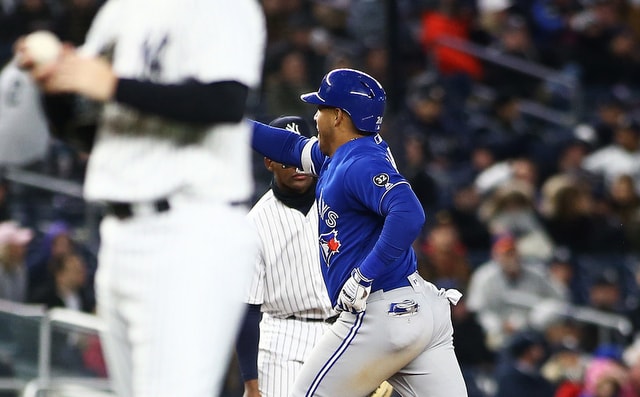 But Wait, It Gets Worse
I didn't love the decision to go to Domingo German in the fifth inning only because there were two men on base, the middle of the lineup was coming up, and he's not used to entering the game in the middle of an inning. It worked though. He got Justin Smoak and Yangervis Solarte to fly out to end the inning. Miguel Andujar popped a homer in the bottom of the fourth to knot things up 5-5.
The wheels fell off in the fifth inning, and, of course, it started with a leadoff walk. A shift-beating ground ball single put two on with no outs, and two batters later a walk loaded the bases with one out. Gurriel got a run home with a single the other way — he did a nice job reaching out to poke the 0-2 changeup to right — then the Yankees' eight walk in the first five innings forced in another run. Painful. Just a wretched night on the mound, particularly Gray and German.
Adam Warren and Chasen Shreve mostly settled things down over the final four innings, though by then the damage had already been done. Warren gave up a solo homer to Solarte, the first batter he faced, and Never Nervous Yangervis hopped around the bases. He wasn't this much of a hot dog with the Yankees, right? Whatever. It's a kid's game. Have fun. Warren and Shreve combined to allow one run (the Solarte homer) in four innings.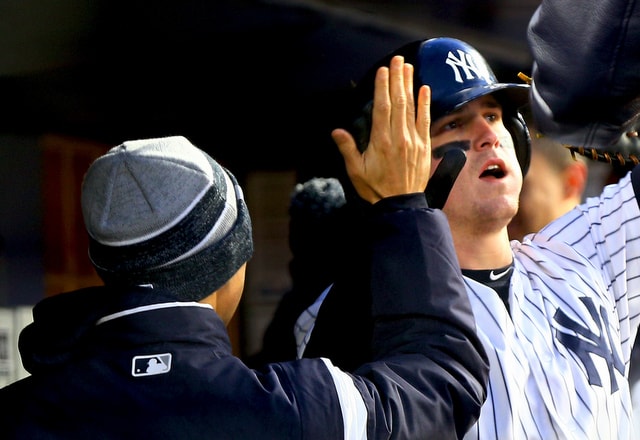 Leftovers
The Yankees scored five runs, all on homers. Tyler Austin hit a two-run shot into the short porch in the second inning — it was already his third homer against Marco Estrada this season — and Stanton hit a two-run shot to right field in the third inning. That one was not a Yankee Stadium cheapie. He hit it quite well. Andujar hit a short porch solo dinger in the fourth.
Two hits apiece for Austin and Aaron Hicks, and three hits for Ronald Torreyes, who is hitting .438/.455/.563 (184 wRC+). He had a 13-pitch at-bat too! How about that? Longest of his career. His previous career high was ten pitches done twice last season. The at-bat ended in a fly out, but still. Torreyes usually sees 13 pitches in a full game. It was the longest at-bat by a Yankee since Chris Stewart (!) had a 13-pitcher in September 2013.
Andujar's multiple extra-base hit streak did come to an end — he would've been the first player with multiple extra-base hits in four straight games since Ryan Braun in 2008 — but he did go deep, so that's seven extra-base hits (four doubles, one triple, two homers) in his last four games. To hell with small sample size: Andujar's .273 ISO and 14.9% strikeout rate is my jam.
Gray (four walks), German (four walks), and Warren (one walk) combined for nine walks on the night. It's the first time the Yankees walked nine batters in a nine-inning game since walking ten Indians in a game in August 2015. The Yankees came into the game with baseball's sixth lowest walk rate (8.2%).
Box Score, WPA Graph & Standings
Head over to ESPN for the box score and updated standings, and MLB.com for the video highlights. Here's our Bullpen Workload page and here's the loss probability graph:

Source: FanGraphs
Up Next
We're halfway through this four-game series. The Yankees and Blue Jays will reconvene at Yankee Stadium for the third game tomorrow afternoon. That's a 1pm ET start. Jordan Montgomery and Marcus Stroman are the scheduled starting pitchers. Fun Fact: Montgomery's average release point is 21.5 inches higher than Stroman's so far this year.