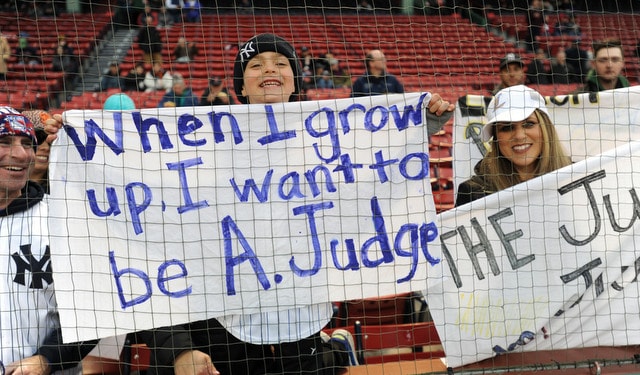 Last night's game stunk. The game before last night's game stunk too. The Yankees are in a funk right now, their worst of the season (by default), but tonight represents an opportunity to straighten things out. A 14-1 loss like last night's is an anomaly. Happens to every team a few times each year. Shake it off and get back out there tonight.
On the mound tonight is Masahiro Tanaka, who has yet to walk a batter this season. Fifteen strikeouts and zero walks in two starts and 12.1 innings. That's pretty cool. Tanaka has a 4.5% walk rate (1.7 BB/9) in nearly 700 big league innings, so I guess it's not crazy he'd start the season with two walk-less starts. I dunno where I'm going with this. The Yankees could really use a win. Here are the starting lineups.
New York Yankees
1. CF Brett Gardner
2. RF Aaron Judge
3. LF Giancarlo Stanton
4. SS Didi Gregorius
5. C Gary Sanchez
6. 1B Neil Walker
7. DH Tyler Austin
8. 2B Tyler Wade
9. 3B Miguel Andujar
RHP Masahiro Tanaka
Boston Red Sox
1. RF Mookie Betts
2. 3B Rafael Devers
3. DH Hanley Ramirez
4. LF J.D. Martinez
5. 1B Mitch Moreland
6. 2B Eduardo Nunez
7. CF Jackie Bradley Jr.
8. C Christian Vazquez
9. SS Brock Holt
LHP David Price
Another cold and windy ballgame tonight. Can't wait for the weather to heat up. Tonight's game is scheduled to begin at 7:10pm ET and you can watch on WPIX and MLB Network. Enjoy the game.
Injury Updates: Aaron Hicks (intercostal) will play nine innings with Triple-A Scranton tonight, and if all goes well, he could rejoin the Yankees tomorrow.