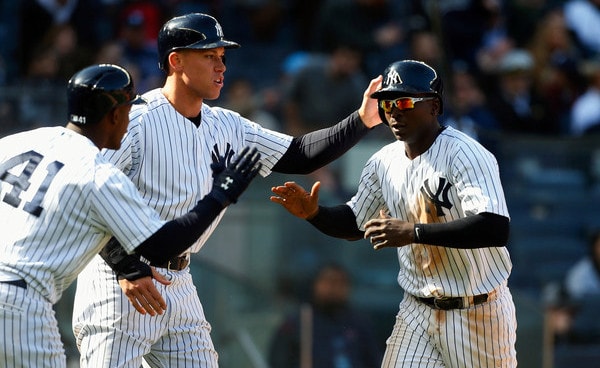 Ten games into the 2018 season, perhaps the one number that stands out the most to me is nine. That's how many walks Didi Gregorius has drawn so far this season. One of those nine was intentional, but eight unintentional walks in ten games? For Didi? It seems impossible. His eighth unintentional walk came in his 58th game last year.
Didi's sudden willingness to take a walk does date back to late last year to some degree. He drew seven walks in 13 postseason games — at one point spanning ALDS Games Three and Four, and he walked in five consecutive plate appearances — and he walked seven times in his final 28 regular season games. Gregorius drew 25 walks all season, remember. Now he has 23 walks in his last 51 games.
Obviously, ten games is a tiny and possibly meaningless sample. Gregorius has drawn eight unintentional walks in the first ten games and would anyone be surprised if it takes him until June to draw his next eight unintentional walks? I don't think so. There is one thing worth noting, however. Didi has seen fewer pitches in the strike zone so far this season than at any other point in his career.
2018 zone rate: 37.4% (40.0% MLB average)
2017 zone rate: 44.4% (previous career low)
Career zone rate: 46.8%
My guess is opposing teams are trying to get Gregorius to chase out of the zone because they know he's a free swinger. Makes sense, right? He's still chasing out of the zone quite a bit, just not as much as in the past. His 38.5% chase rate is above the 32.0% league average, but is down from 41.8% last year. Fewer pitches in the zone equals more walks. That's usually how it goes.
And the fewer pitches in the zone thing started late last year, really. Gregorius started seeing fewer and fewer pitches in the zone sometime around August, and it's continued into the early going this season.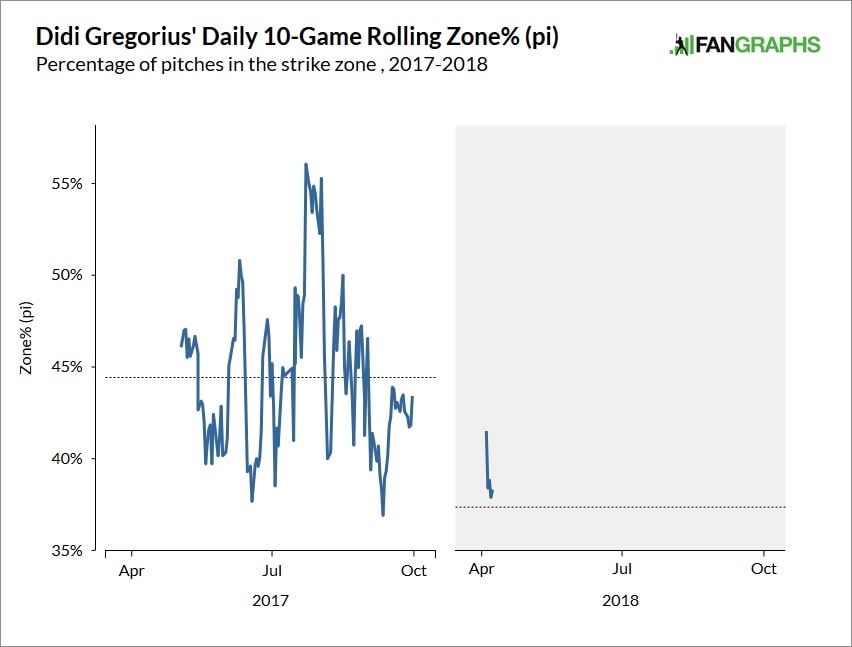 Plate indiscipline and a lack of walks has been the one bugaboo in Didi's game during his career with the Yankees. He's grown into power, he hits to all fields, and he's one hell of a defender. He just hasn't walked a whole lot. As great as he was last year, he had a .318 OBP, and that isn't good at all. One-hundred-and-forty-four players qualified for the batting title last season and only eight drew walks at a lower rate than Didi (4.4%)
For whatever reason Gregorius has seen fewer pitches since about last August. I'm sure there are some "Gary Sanchez sucks now and teams are pitching around Didi to get to Sanchez" fire takes out there, but no. This is something that dates back to late last year. And that's cool! If this were a little ten-game blip, it wouldn't even be worth writing about. But it started last year and it's continued this year.
I know this much: Gregorius won't continue walking at his current 21.4% clip (19.6% if you remove the intentional walk). Not even Joey Votto and Aaron Judge walk that much. The hope is that, as his walk rate does inevitably slow down, Didi can settle in closer to a league average walk rate (about 9%) rather than the 5% or so he's posted most of his career. Four extra walks per 100 plate appearances may not seem like much, but it does add up.
"We've challenged him to be more of a patient hitter," said Aaron Boone after Gregorius drove in eight runs in the home opener. "But the reality is he's a free swinger, and we like that about him because he can handle good pitching too."