So, you think the rivalry is back? Things had gotten stale the last few years, but Wednesday night, the rivalry heated back up with a benches clearing brawl. It was a real brawl too. Punches were thrown and everything. MLB and the television networks must absolutely love it. Oh, the Yankees and Red Sox played a game too. The Yankees won 10-7. Good times.
Spikes High & Punches Thrown
We'll get to the actual game in a minute. Let's talk about the brawl first. The benches actually cleared twice. This all started in the third inning, when Tyler Austin slid into second base with his spikes up trying to break up the double play. Austin spiked Brock Holt in the calf, they had some words, and the benches cleared. Nothing really came of that though. Just a bunch of standing around.
Now, I don't think Austin intentionally spiked Holt and I don't think there was any intent to injure. Austin's a good kid and it looked like he slid in hard to break up the double play, and didn't get his foot down in time. I mean: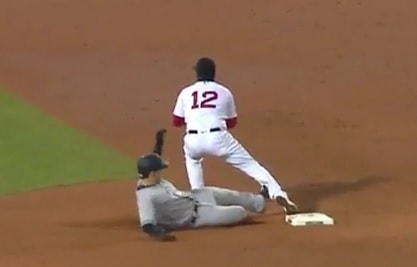 Again, I don't think it was intentional, but it kinda looks like it was intentional. Austin stuck his leg out a bit and he had his spikes up, and that's a no no. If someone did that to Didi Gregorius at the second base bag we'd all be pissed, right? Right. Intentional or not, it just looks bad, and these things are usually met with some kind of response.
That response came in the seventh inning. Joe Kelly, who is so bad he missed the first time he threw at Austin and had to throw at him a second time, drilled Austin with a 98 mph heater. Geez. That's Armando Benitez on Tino Martinez velocity. It looked like the pitch hit Austin in the ribs, but after the game he confirmed it hit him in the elbow. He's fine either way.
The spiking didn't seem intentional. Maybe it was, but it didn't seem that way. Kelly throwing at Austin was clearly intentionally. He went with the old "I was trying to pitch him inside and it just got away" excuse after the game but no. Just no. Anyway, Austin was pretty pissed after getting hit, so he charged the mound. To the action footage:
I can't remember the last time a Yankee charged the mound. Even the brawl with the Tigers last season started with Austin Romine and Miguel Cabrera at home plate. No one charged the mound. No matter who did it last, Austin charged the mound Wednesday and both he and Kelly landed some punches.
CC Sabathia decked Chris Sale and Mitch Moreland
. Aaron Judge and Giancarlo Stanton tossed people around like rag dolls.
Slade Heathcott was talking trash on Twitter
. It was pretty crazy.
Kelly and Austin were ejected, of course. So was Tommy Kahnle, who apparently got into it with an umpire somewhere on the periphery. Third base coach Phil Nevin was ejected as well. Not sure why, but he was. After the game he joked he would've worn fewer layers if he'd known he'd be on camera so much so he didn't look fat. The rest of the game was played without incident, but yeah, Kelly and Austin gave it a pretty good go there.
I am generally anti-brawl. Most of them are stupid and not worth the potential injuries or suspensions. The Yankees lost Sanchez for four games against division rivals due to that brawl in Detroit last year. Not worth it! But you know what though? I'm totally cool with this one. It was good to see the Yankees fight back. The season is 12 games old and this team still seems to be finding itself. There are some new players and lots of new coaches. It feels like everyone is in a feeling out phase, you know?
It's one thing to brawl with an irrelevant team like the Tigers. In this case the Yankees stood up to their rival, the team that dragged them 14-1 one night ago, and they did it as a team. I'd be cautious about thinking this is the kind of thing that could spur a long winning streak — people said that about the brawl last year and the Yankees lost four of their next six games — but maybe this is something that can bring the team together and help them find their identity. That would be cool. Most brawls are dumb. You can't let your biggest rival, the team you're trying to beat out in the division, push you around though. Austin and the Yankees didn't.
The Kraken Awakes
Earlier on Wednesday I wrote about Gary Sanchez's hideous early season slump, and it was hideous. He went into Wednesday night's game hitting .056/.081/.167 (-41 wRC+). Good gravy. As planned, my post helped snap Gary out of his slump, and he went 3-for-5 with a double and two home runs Wednesday. Sanchez's batting line now sits at .122/.143/.390 (41 wRC+). Still terrible! But at least he got rid of the minus sign in front of his wRC+.
Gary's first home run came in the first inning against David Price, who he has now taken deep five times in 12 at-bats. Price threw 14 scoreless innings in his first two starts before the Yankees hung a four-spot on him in the first inning Wednesday. The first inning went Brett Gardner infield single, Judge single, Stanton triple that landed landed here …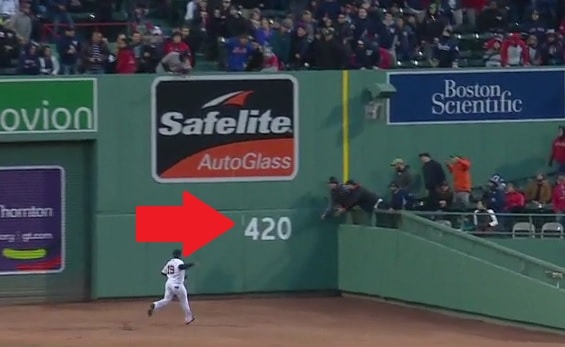 … and would've been a home run in literally any other ballpark, Gregorius popup, Sanchez two-run homer, Neil Walker ground out, Austin walk, Tyler Wade strikeout. Four runs in the first. Perfect. That was it for Price too. He left the game with what the Red Sox called a "sensation in his left hand." That's a new one. After the game Price and the Red Sox said it was precautionary and he'll make his next start. Sounds like he was ducking the offense. Can't blame him.
The Yankees added runs in the third (Austin run-scoring single), fourth (Gregorius sac fly, Sanchez two-run homer), and sixth (Stanton single, Gregorius sac fly). Over the weekend the Yankees blew a 5-0 first inning lead against the Orioles because they never really tacked on runs. On Wednesday they kept adding runs and geez, they needed them all too. Four in the first, one in the third, three in the fourth, and two in the sixth. Go offense.
Tanaka Bends, Almost Breaks
The Yankees scored four runs in the top of the first and Masahiro Tanaka immediately gave one back in the bottom half. Hanley Ramirez, who apparently is good again, hit a missile homer over the Green Monster. The #obligatoryhomer came early. Tanaka needed 25 pitches to battle through that first inning — he allowed a two-out single to J.D. Martinez and two-out walk to Moreland after the Hanley homer — and let's face it, the 4-1 lead didn't feel safe.
Thankfully, Tanaka settled down after that. He threw seven pitches in the second, five in the third, and eighth in the fourth. Perfect. Twenty-five pitches in the first and 20 combined in the second, third, and fourth. Things unraveled in the fifth though. The Yankees had an 8-1 lead, but the BoSox pushed across five runs that inning, including four on a Martinez grand slam to dead center. The inning went single, fly out, single, double, fly out, walk, grand slam, ground rule double, popup. Yikes.
The final line: 5 IP, 7 H, 6 R, 6 ER, 2 BB, 3 K, 2 HR. You can live with the #obligatoryhomer when it's a solo shot. The #bonushomer is the ones that kills you, especially when it's grand slam. Tanaka was pretty great for the first four innings Wednesday. He really was. The Red Sox then went 3-for-5 with two doubles, a homer, and a walk the third time through the lineup. Good thing the offense came to life!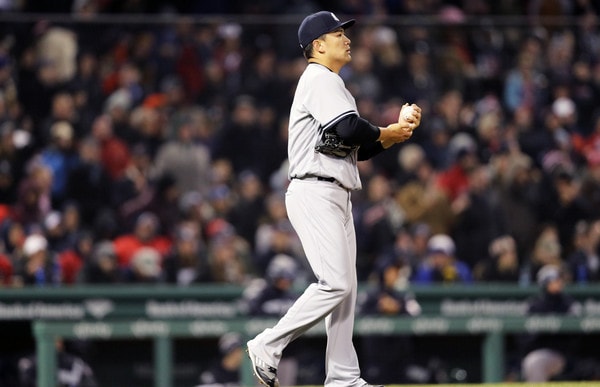 Leftovers
Aroldis Chapman made things interesting in the ninth — does he ever not make it interesting against the Red Sox? — but Chad Green (two scoreless innings) and David Robertson (perfect inning) looked pretty great bridging the gap between Tanaka and Chapman. To be fair, Chapman did throw a ridiculously great 3-2 slider to strike out Mookie Betts in the ninth. Maybe the best slider I've seen Chapman throw. Betts was way out in front with his swing.
The 1-2-3-4-5 hitters: 10-for-20 with a double, a triple, two homers, and three walks. The best way MLB can improve pace-of-play is by putting Gardner and Judge on base to start the first inning every game. Those two were on base seven times this game. Gardner is hitting .267/.389/.378 (127 wRC+). Judge is hitting .348/.474/.587 (203 wRC+). That'll work, boys.
The 6-7-8-9 hitters: 2-for-16 (.125) with singles by Walker and Austin, and a walk by Walker. Wade went 0-for-5 with three strikeouts and Miguel Andujar went 0-for-4. Dudes. Gotta do better than that. Shane Robinson took over at DH after Austin was ejected and worked a walk. Also, I didn't realize this until I read the box score, but Ronald Torreyes replaced Andujar for defense in the ninth. Hmmm.
Box Score, WPA Graph & Standings
Here are the box score and video highlights for the game, and the updated standings for the season. Still a little too early to scoreboard watch, but to each his own. Here are our Bullpen Workload page and the win probability graph:

Source: FanGraphs
Up Next
The Yankees and Red Sox will play the rubber game of this three-game series Thursday night. Sonny Gray and Rick Porcello are the scheduled starting pitchers. A series win would be pretty awesome.