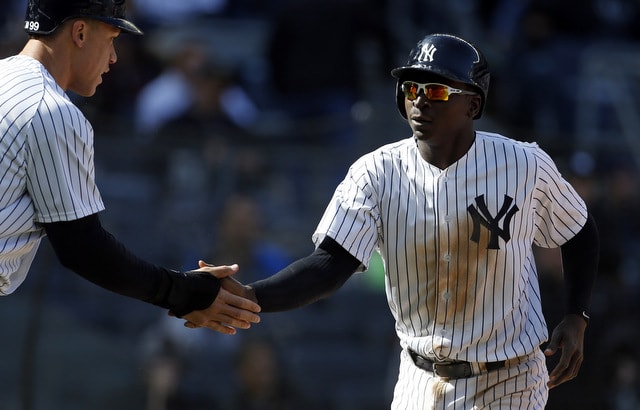 Twelve games into the 2018 season, Didi Gregorius has not only been the best player on the Yankees, he's been one of the best players in all of baseball. Sir Didi comes into today hitting .359/.471/.795 (239 wRC+) with three home runs. His +1.1 fWAR is tied with Matt Chapman for the highest in baseball. Yes, it's early. That doesn't change the fact Didi has been awesome thus far.
Gregorius, who turned 28 in February, has become a heart and soul Yankee in his three seasons plus 12 games in pinstripes. Remember how poorly things went early in 2015? Fans were chanted "Der-Ek Je-Ter!" after Didi botched some plays during the first homestand. It was bad. Now it's impossible to imagine this new era of Yankees baseball without him. His trade was the first significant move as part of the youth movement. It really was.
The Yankees have Gregorius through next season as an arbitration-eligible player. What happens after that? No one really knows. Over the weekend Didi told Randy Miller he is willing to discuss an extension at any time, but the Yankees have yet to approach him about a deal. From Miller:
"If they offer me something and I get a chance to stay here, I'll stay here," Gregorius told NJ Advance Media.

…

"I have no offer," Gregorius said. "Nothing. No talks. I'm just playing the game. If they want to offer me a contract, they'll offer me a contract. But they haven't told me anything. All I worry about right now is my job."
On one hand, this isn't surprising. The Yankees have been sticklers with long-term extensions in recent years. The last two players they signed to extensions before free agency were Brett Gardner and Robinson Cano. Granted, the Yankees didn't have many young players worth signing to long-term deals, but still, they haven't been as aggressive locking up their young players as many other teams.
On the other hand, this is a new era of Yankees baseball, one featuring lots of young talent, and that young talent is going to get expensive before you know it. Luis Severino will be arbitration eligible for the first of four times as a Super Two after the season. Gary Sanchez and especially Aaron Judge are going to clean up in arbitration. I'd be smart of the Yankees to do whatever they can to keep this core intact as long as possible. Some thoughts on a potential Didi deal.
1. Any extension will have to wait until the offseason. Because of the luxury tax plan. Prior to Opening Day, the Yankees could've signed Gregorius (or any player) to an extension that started in 2019 without it affecting the 2018 luxury tax payroll. It had to be before Opening Day though. Now that the season has started, any player who signs an extension will have his 2018 luxury tax hit recalculated. An extension will have to wait until the offseason because of that. Don't blame me. It's the Collective Bargaining Agreement.
The Yankees had approximately $13.5M in payroll space under the $197M luxury tax threshold when I ran the numbers two weeks ago, but it's less now because injuries have necessitated call-ups, and every call-up counts against the luxury tax payroll. Whatever the number is (closer to $12.5M now), it still leaves lots of room under the threshold for in-season additions, and I don't think the Yankees want to take a bite out of that by extending Gregorius. The time to extend Didi was before Opening Day. Well, the time to extend him was a year or two ago, but you know what I mean.
2. A discount is probably off the table. Historically, when a player signs an extension the offseason before free agency, he gets free agent dollars. Some recent examples:
Charlie Blackmon, Rockies: Five years, $94M.
Danny Duffy, Royals: Five years, $65M.
Stephen Strasburg, Nationals: Seven years, $175M.
Blackmon, Duffy, and Strasburg were all a year away from free agency and yet they signed extensions on par with what they would've received as free agents. I think there's a chance Blackmon's extension is worth more than he would've received as a free agent, but I digress.
Point is, when a player signs a long-term extension the year before free agency, he gets a contract on par with what he could've expected to receive in free agency. That's where Gregorius will be after this season, so the possibility of a discount is probably out the window. Then again, the free agent market was wonky this winter, and maybe that throws a wrench into things. Historically though, a year before free agency equals a free agency caliber contract.
3. So what's a fair offer? Here's a fun question: Who's the last above-average shortstop to hit free agency? Not even a star shortstop. Just an above-average shortstop. I guess it's Hanley Ramirez, but everyone knew he wouldn't stick there long-term. In fact, the Red Sox moved him to left field (lol) immediately. I think you have to go back to Jose Reyes during the 2011-12 offseason for the last above-average no doubt about it shortstop to hit free agency.
Above-average shortstops rarely hit fee agency because they're incredibly hard to find, and when teams do find one, they lock him up. The Giants signed Brandon Crawford long-term. The Mariners signed Jean Segura long-term. Andrelton Simmons got a big deal early. Carlos Correa, Corey Seager, and Francisco Lindor figure to get theirs before long too. Manny Machado is the notable exception, but he was a third baseman prior to this year.
Anyway, because so few shortstops (or quality middle infielders in general) hit free agency, we don't have any good contract benchmarks for Gregorius, who figures to demand free agent dollars this coming offseason. Is it possible Gregorius is a $100M player on the open market? I never really considered the possibility, but he might be! Reyes got six years and $106M at age 28, though that was six years ago, and he had more hardware (All-Star Games, MVP votes, etc.) when he became a free agent than Didi does now.
Segura received a five-year deal worth $70M last year, two years before he was due to become a free agent. Does that put Gregorius in the five years and $80M to $90M range after the season? That's Blackmon, Lorenzo Cain, and Dexter Fowler money. Those guys are all outfielders, which complicates things, obviously. They are all center fielders though, up-the-middle players like Gregorius. Maybe that's the template. Five years and $80M-ish? Feels like that would be a good deal for the Yankees to me, which means it's probably low.
For what it's worth, Didi told Miller he's not looking for top dollar — "It's not about money for me. It's about the love of the game and what I do for my teammates," he said — and hey, maybe he means it. That just struck me as one of those things a player would say because it sounds good, not necessarily because he means it. I'm not saying that's bad! That's what I'd do. Give the good sound bite while secretly plotting how to get the most money possible behind the scenes. Either way, finding common ground with Gregorius may be a bit of a challenge.
4. What if they don't extend him? I mean, this is always a possibility, right? Play this year and next year out, see where things stand when Gregorius hits free agency, and decide what to do. And who knows, maybe the right decision is letting him walk. Didi will be 30 in his first post-free agency contract year and the Yankees have an elite shortstop prospect coming in Gleyber Torres. Replacing Gregorius with Gleyber may be the natural order of things.
Not extending Gregorius does two things. One, it mitigates risk for the Yankees. Should Didi's performance slip or he suffer a serious injury, they wouldn't be locked into a long-term deal. And two, it opens up the possibility that another team will swoop in with a huge offer when he does hit free agency, similar to the Mariners and Cano. Again, above-average shortstops don't hit the open market often. Some general manager could have a Jack Zduriencik moment. Not extending Gregorius is a definitely possibility though. The Yankees might just let it ride these next two years, and see where they're at come the 2019-20 offseason.
* * *
Personally, I am pro-extension for Didi, though I definitely think there is a case to be made for waiting. Gregorius is awesome right now. Will he still be awesome when he's due to become a free agent? I hope so. But he might not be, and when you have a kid like Torres in the pipeline, there's an argument to made for waiting. I just think quality players (and quality people!) are worth keeping around. There's room for Didi and Gleyber on the roster.
For now, the Yankees have yet to discuss an extension with Gregorius, and since the season has started and any deal will change the luxury tax payroll situation, I can't imagine they'll talk about a deal anytime soon. It'll have to happen after the season, if it happens at all. This isn't an urgent matter, but signing Didi long-term is one of those things that, if the Yankees want to do, they really should've done it already. Now things aren't quite as straightforward.