Is okay to back away from the ledge? Or do we still need to panic with *checks notes* another 153 games to go? The Yankees bounced back from Friday's 14-inning loss to earn an 8-3 win Saturday. There was so little downtime between games that Aaron Boone slept at the ballpark. For real.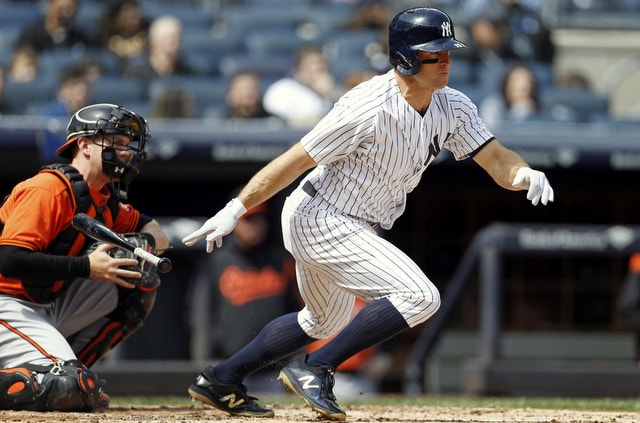 A Sluggish Start Against Tillman
Will all due respect to Chris Tillman, who's had a very nice career and has banked more money than I could make in about three lifetimes, it takes a lot to make him look like a serviceable pitcher these days, and the Yankees did that for five innings Saturday. He came into this game with a 7.89 ERA (7.03 FIP) in 97 innings since the start of last year. Opponents hit .326/.410/.593 against him. Bryce Harper hit .319/.413/.595 last year. Yeah.
And yet, a Brett Gardner double and an Aaron Judge walk went to waste in the first inning. A Giancarlo Stanton one-out walk went to waste in the fourth. At one point Tillman retired six of seven batters faced — the one baserunner was immediately erased with a double play — which is annoying. The Yankees scored two runs in the second when Gardner fought a single through the right side to score Miguel Andujar and Ronald Torreyes. That gave the Yankees a 2-0 lead, and that was it until the sixth inning, when Tillman was on fumes.
Sonny For Six
After a 14-inning game Friday night, the Yankees really needed some length from Sonny Gray on Saturday, and he got them through six mostly effective innings. I thought he was going back out for the seventh given his pitch count (86), but nope. Based on the first nine games, it seems to me Boone prefers to have his relievers start an inning clean whenever possible, rather than bring them in mid-inning. I like it.
Gray got off to a wonderful start Saturday. Six-pitch first and five-pitch second. Six outs on eleven pitches on a day the bullpen was short? Perfect. Things got a little hairy in the third. Pedro Alvarez drew a leadoff walk and Trey Mancini poked a two-out single to right field, which set Manny Machado up for a two-run double into the left field corner. The ball landed only a few inches fair …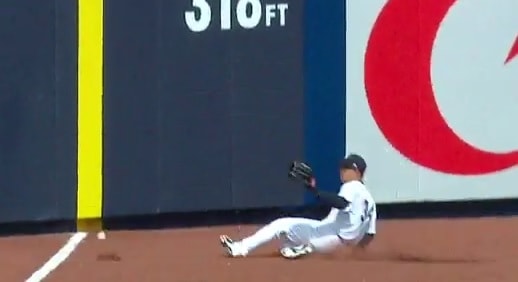 … because that's how things have been going so far this season. Gray ran into more trouble in the fourth, when a two-out Tim Beckham single and an Alvarez double to right gave the Orioles a 3-2 lead. I'm not sure whether the Yankees would've had Beckham at the plate anyway, but Tyler Austin's less-than-stellar relay throw took away any chance to cut down the run. The relay was slowly turned and the throw was well wide of home.
Gray's final pitching line: 6 IP, 4 H, 3 R, 3 ER, 3 BB, 4 K. The just called up Jace Peterson made a very nice running catch on Alvarez's line drive to end the sixth inning, which saved two runs. Considering he was in Scranton last night and didn't play any outfield in Spring Training, Peterson did a nice job in left. He made a sliding catch earlier in the game too. Anyway, solid outing for Gray. Not great, but solid.
Breaking Through Late
Must be nice to be a veteran manager. Buck Showalter inexplicably stuck with Tillman in the sixth inning — I get the bullpen was a little short after the 14-inning game, but still — and no one batted an eye. Had Boone done that, the result would've been a multi-inning discussion across multiple broadcasts. With the Yankees down 3-2, Tillman went walk, single, long sac fly, single, single to the five men he faced in the sixth.
The Didi Gregorius walk to start the inning was a no stress four-pitch walk. Not one close pitch. I thought it was clear Tillman was on his last legs there. Austin punched a single to left and Didi aggressively went first-to-third, and Andujar cashed him with a sacrifice fly to deep right field. Surely that would be it for Tillman, right? No, apparently. Peterson fell behind in the count 0-2, worked a six-pitch at-bat, and singled up the middle.
I thought that was it. Peterson is a fringe big leaguer and he just put together a hard fought at-bat. Tillman had nothing to put him away. And yet, Showalter stuck with him. That brought Austin Romine to the plate with runners on second and third — a wild pitch moved Austin and Peterson up — and Tillman had nothing to put him away either. Eight pitch at-bat! Second longest of Romine's career. He had a nine-pitch at-bat against David Price in 2013. Anyway, this happened on the eighth pitch:
Austin Romine singles and Tyler Austin score. #Yankees #BALvsNYY pic.twitter.com/bs4cd44WyG

— ?????????unH? (@L1C4RDS) April 7, 2018
Hooray for a little luck. Two runs scored and the Yankees took a 5-3 lead. Why Tillman remained in the game, I'll never understand, but I'm not complaining. The Yankees thankfully tacked on some insurance runs in the seventh inning as well. Gardner walk, Judge double to left, Gregorius intentional walk, Austin two-run single for the 8-3 lead. Both Gardner and Austin had ten-pitch at-bats against Jimmy Yacabonis, who you won't be surprised to learn is from New Jersey. Hooray insurance runs.
The Shorthanded Bullpen
The 14-inning game did a number on both bullpens, so both teams had several unavailable relievers. Fortunately for the Yankees, David Robertson was available, and he recorded the two biggest outs of the game. Adam Warren started the seventh with a 5-3 lead, allowed a ground ball single to Chance Sisco and a double to Mancini — the Mancini double came on a nasty slider down and away, just tip your cap — which put the runners on second and third with one out.
Boone, who was presumably saving Robertson for the eighth (and ninth?), instead went to his ace reliever against Machado and Jonathan Schoop in the seventh. The tying run was in scoring position and Baltimore's two best hitters were due up. Of course you go to your best available reliever. Robertson fanned both Machado and Schoop and it was a clinic. Fastballs painted at the knees, curveballs chased out of the zone, and even an elevated fastball for a foul tip swing through.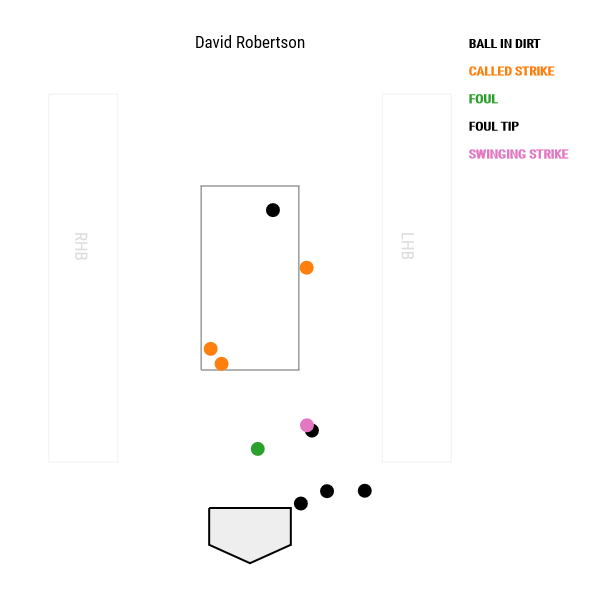 Masterful execution in a high-leverage situation by Robertson. Nothing to hit there. Machado and Schoop didn't know what was coming or where to look. The two strikeouts stranded the two runners and preserved the 5-3 lead. Robertson chipped in a scoreless eighth as well, then Luis Cessa struck out two in a perfect ten-pitch ninth. That is the start of my fourth bold prediction coming true! Robertson and Cessa retired all eight batters they faced, six via strikeout. That's how you slam the door.
Leftovers
Impossibly stupid baserunning in the eighth inning. The Yankees had runners on the corners with two outs and Judge at the plate. For whatever reason, Gardner broke for second, got in a rundown, and then Peterson was caught breaking for home. Why wouldn't you just let Judge hit? Too cute. I dunno if Gardner did that on his own or if it was called from the dugout. Whatever it is, it was bad. Bad bad bad. Just let Judge hit with as many men on base as possible. The Yankees made some other baserunning mistakes I'm willing to let slide. That was turrible.
Thanks to the injuries, the 5-6-7-8-9 portion of the lineup looked like a Spring Training lineup. So, naturally, they went a combined 8-for-18 (.444) and drove in four runs. Go figure. The big bats at the top of the lineup had a good game too. The 1-2-3-4 hitters went 3-for-11 (.273) with six walks and one strikeout. Every starter reached base at least once and six of the nine hitters reached base multiple times. Gardner reached four times (singles, double, two walks).
Box Score, WPA Graph & Standings
Here are the box score and video highlights for the game, and the updated standings for the season. We have a Bullpen Workload page that's worth checking out. Here's the win probability graph:

Source: FanGraphs
Up Next
The Yankees and Orioles will wrap up this four-game series Sunday afternoon at Yankee Stadium. That's a 1pm ET start. Jordan Montgomery and Mike Wright Jr. are the scheduled starting pitchers for the homestand finale.