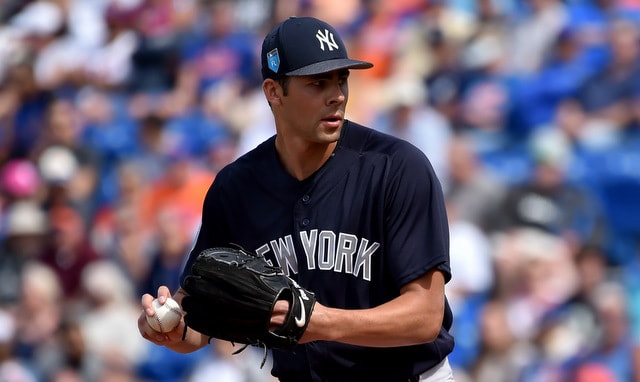 April 7th: Turns out Heller had a much bigger problem than a bone spur. The Yankees announced he had Tommy John surgery yesterday. The bone spur was taken out of his elbow as well. That's a bummer. Heller is obviously done for the season, and given the timing of the surgery, he'll miss the start of next season as well.
April 2nd: Earlier today, the Yankees announced they have voided right-hander Ben Heller's minor league option, and placed on him on the big league 10-day DL (retroactive to March 27th) with a bone spur in his elbow. The Yankees didn't say anything about whether he needs surgery. Heller was among the final spring roster cuts. He was sent down on March 21st.
The option being voided indicates Heller suffered the injury at some point before being sent down, and either they didn't find it until now or he didn't tell them until now. For all intents and purposes, it's like he was never sent down. Heller will retroactively receive service time and big league play dating back to Opening Day, and yes, that counts against the luxury tax payroll.
The 26-year-old Heller struck out 17 and pitched to a 3.86 ERA in 11.2 innings this spring. He spent much of last season in Triple-A, throwing 56.1 innings with a 2.88 ERA (3.09 FIP) and 36.8% strikeouts, and he allowed just one run in eleven big league innings. Heller appeared in seven September games, so the Yankees gave him a bit of a look once rosters expanded.
With Heller and Gio Gallegos (groin) hurt and Jonathan Holder in the big leagues, the Triple-A Scranton bullpen is suddenly short on experienced late-inning arms. The Yankees signed Oliver Perez over the weekend to help cover for the injuries. Cale Coshow, J.P. Feyereisen, and Brady Lail will be the go-to relievers for the RailRiders, I guess.