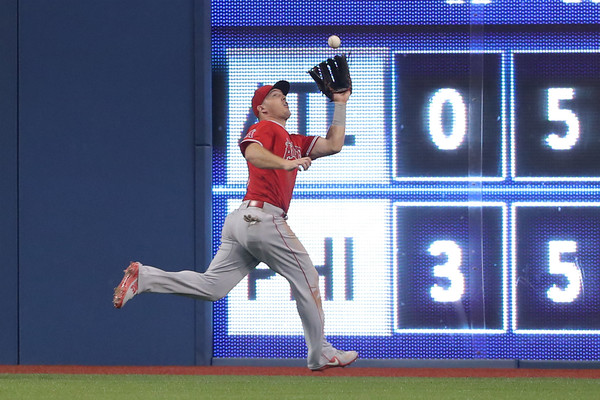 The Last Time They Met
These two teams squared-off for a three-game set just under a month ago, the result of which was a sweep for the Yankees. Two of the three games were decided by just one run, but the middle game was a bit of a laugher, as the Yankees won 11-1. Some notes from the series:
The Yankees pitchers were on-point throughout the series, holding the Angels to just five runs in 28 innings. And, surprisingly, the worst start of the series belonged to Luis Severino, who allowed three runs in seven innings. The fact that that represented the worst outing of the series speaks volumes, doesn't it?
Game two was a tremendous all-around effort for the Yankees, as the aforementioned 11-1 victory was a perfect example of a team firing on all cylinders. Everyone in the starting lineup reached base at least once, with six players reaching base at least twice. And they scored 11 runs despite hitting zero home runs, which still feels like an impossibility. The pitchers were great, too, with Tanaka tossing 6 innings of one-run ball (and striking out 9), and the bullpen closing it out with three scoreless frames.
Mike Trout hit .250/.455/.250 in the series, and that feels noteworthy.
Check out Katie's Yankeemetrics post for more interesting tidbits.
Injury Report
Pitchers Alex Meyer, J.C. Ramirez, Matt Shoemaker, and Blake Wood are still on the disabled list, and they've been joined by reliever Keynan Middleton and catcher Rene Rivera. None will be back in time for this series.
Their Story So Far
The Angels are 28-22 with a +27 run differential, good for third place in the AL West. They've won three of their last four, but that came on the heels of dropping five straight – and that's emblematic of their season as a whole. They've been up and down since jump, and their injury-riddled bullpen certainly hasn't helped matters.
Shohei Ohtani has continued to be a revelation on both sides of the ball, boasting a .319/.385/.606 (170 wRC+) slash line in 104 PA, and a 3.35 ERA (124 ERA+) in 40.1 IP. The sample sizes are small, to be sure – but I don't think anyone expected him to be this good at either aspect of the game right away, let alone both. Unfortunately (or fortunately, if you worry about how Yankees bats will hit him), Ohtani's would-be start on Sunday was pushed back for "workload management," so we won't get to see him pitch against the good guys this year … barring a playoff match-up, of course.
The Lineup We Might See
Mike Scioscia has shaken things up quite a bit recently, so if the past few games are any indication we'll probably see something like this:
Ian Kinsler, 2B – .190/.264/.282, 2 HR, 6 SB
Mike Trout, OF – .291/.443/.628, 15 HR, 12 SB
Justin Upton, LF – .250/.315/.458, 11 HR, 3 SB
Albert Pujols, 1B – .253/.293/.414, 7 HR, 0 SB
Shohei Ohtani, DH – 319/.385/.606, 6 HR, 1 SB
Andrelton Simmons, SS – .331/.402/.466, 3 HR, 5 SB
Zack Cozart, 3B – .235/.311/.412, 5 HR, 0 SB
Martin Maldonado, C – .256/.323/.376, 2 HR, 0 SB
Kole Calhoun, RF – .150/.186/.190, 1 HR, 3 SB
The Starting Pitchers We Will See
Friday (7:05 PM EST): RHP Luis Severino vs. LHP Andrew Heaney
The Yankees struggled to square-up Heaney back in April, with the southpaw pitching to the following line: 5.0 IP, 5 H, 2 R, 1 BB, 9 K. And he's been even better since then, pitching to a 1.38 ERA in his next four starts.
Last outing (vs. TBR on 5/19) – 6.0 IP, 3 H, 0 ER, 5 BB, 7 K
Saturday (7:15 PM EST): RHP Sonny Gray vs. TBD
The Angels don't have any high-end pitching prospects, so this is likely to be filled by an up-and-down guy like Jaime Barria.
Sunday (1:05 PM EST): RHP Masahiro Tanaka vs. RHP Garrett Richards
Richards was awful against the Yankees last month, exiting in the second inning after allowing nine runs (five earned) and 8 baserunners in 1.2 IP. He has a 2.52 ERA in his other nine starts this year, so that probably shouldn't the expectation for Sunday. Then again, the Yankees have tuned him up for a .271/.336/.531 slash line in six games, so they might just have his number.
Last outing (vs. TOR on 5/22) – 5.0 IP, 6 H, 1 ER, 2 BB, 4 K
The Bullpen
Even with all of the injuries, the Angels bullpen has a surprising amount of depth. Jose Alvarez, Blake Parker, Jose Alvarez, and Noe Ramirez are their top four relievers in terms of innings pitched, and all are at least a tick above-average in terms of run prevention. They lack a true light's out type with Keynan Middleton on the DL and Cam Bedrosian struggling, but they have a few solid options out there.
Who (Or What) To Watch
I'm interested to see what Ohtani can do in Yankee Stadium. He's not a dead pull hitter or anything like that – his pull percentage is actually a tick below league-average – but he's still a left-handed hitter with big-time pop. I'm also curious to see how fans will respond to Ohtani, due to both his semi-shunning of the organization, and the curious timing of him being skipped in the rotation.