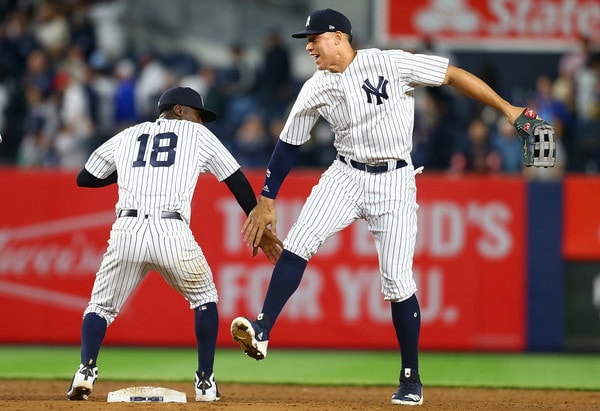 Sixteen wins in 17 games! The Yankees have not done something like this since way back in 1953. The last few wins haven't been easy, but the Yankees are rolling right now, and it sure is a lot of fun. Could really go for a blowout win though. Don't get me wrong, close wins are fun in their own way. A few big innings and an easy game for the bullpen would be appreciated tonight.
Masahiro Tanaka's overall season numbers are underwhelming (4.39 ERA and 3.81 FIP), but he's strung together back-to-back-to-back strong starts, and he looks more like the good version of Tanaka we've seen over the years. The pitching has been exceptional during the 16-1 streak. The Yankees have a 2.06 (2.54 FIP) during these 17 games. Pretty great. Keep it going tonight, fellas. Here are the lineups:
New York Yankees
1. LF Brett Gardner
2. RF Aaron Judge
3. SS Didi Gregorius
4. DH Giancarlo Stanton
5. C Gary Sanchez
6. CF Aaron Hicks
7. 1B Neil Walker
8. 3B Miguel Andujar
9. 2B Gleyber Torres
RHP Masahiro Tanaka
Boston Red Sox
1. CF Mookie Betts
2. LF Andrew Benintendi
3. DH Hanley Ramirez
4. RF J.D. Martinez
5. SS Xander Bogaerts
6. 1B Mitch Moreland
7. 2B Eduardo Nunez
8. 3B Rafael Devers
9. C Sandy Leon
RHP Rick Porcello
Nice weather in New York today. Good night to be at the park. Tonight's game will begin at 7:05pm ET and you can watch on YES locally and ESPN nationally. Enjoy the game.
Injury Update: Tommy Kahnle (shoulder, biceps) threw all his pitches in a 20-pitch bullpen session this afternoon, his first time throwing off a mound since being placed on the disabled list. He said everything went well and he's on track to return sometime this month … Greg Bird (ankle) will begin an official minor league rehab assignment with High-A Tampa tomorrow. The rehab assignment can run as long as 20 days.