For the first time since Sunday, the Yankees played a full nine innings Friday night. Too bad they didn't celebrate their return to baseball with a win. The Yankees dropped the series opener 5-2 to the Royals. I reckon we'll all forget this game happened in no more than 96 hours. How nondescript.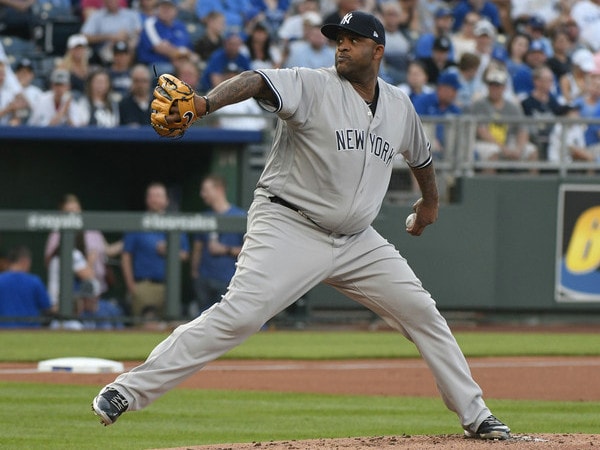 One Bad Error
This was very close to being a classic Old Man CC two runs in five innings start. Instead, it goes in the books as four runs (two earned) in five innings thanks to a rather brutal Gleyber Torres error. Torres bobbled a would-be inning-ending ground ball in the third inning, allowing a run to score and extending the inning, which led to another run scoring. Yuck. A costly error, that was.
CC Sabathia's night started with Whit Merrifield hitting a ball over Aaron Hicks' head in center field for a double, which led to the game's first run. Merrifield stole third and scored on a Salvador Perez fielder's choice. In this instance, fielder's choice means Gleyber had a pop-up clank off his glove as he reached up in shallow center. Even if he catches it, Merrifield scores. No way Torres turns and throws home in time. Gleyber still got the force at second, so the dropped pop-up meant nothing but bad optics.
The fourth run on Sabathia's ledger was a Perez homer, the hardest hit ball he allowed all night. His final line: 5 IP, 4 H, 4 R, 2 ER, 4 BB, 5 K on 99 pitches. The four walks are annoying, especially since one went to the No. 9 hitter leading off that third inning after Sabathia got ahead in the count, and another came with the bases loaded. The Royals went into the game with baseball's fifth lowest walk rate (7.6%). Annoying! The Gleyber error was really costly.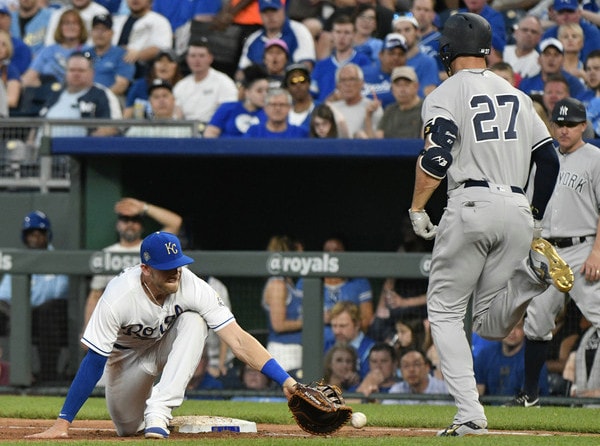 One Inning of Offense
Friday night, one team went 2-for-6 with runners in scoring position and the other team went 0-for-8 with runners in scoring position. Guess which team won? Yep, the team that went 0-for-8. Go figure. The Yankees scattered a lot of baserunners against Jakob Junis — they had at least one man on base in every inning from the second through the sixth — but didn't push across enough runs. They only scored in the sixth inning.
The two-run sixth inning started with a Giancarlo Stanton infield single, his second of the night. The first totally should've been an error on Mike Moustakas, but I guess the official scorer wants to boost Stanton's numbers against righties. Whatever. Hicks dunked a single to center, Neil Walker singled back up the middle to score the first run, and Miguel Andujar lifted a deep sac fly to right field to score the second run. There were two potential pinch-hitter spots in that inning. Aaron Boone passed on both:
Tyler Austin for Walker against sidewinding lefty Tim Hill, who had just entered the game.
Clint Frazier (or Austin) for Brett Gardner against Hill later in the inning.
Walker singled in a run against Hill, so I guess we're just going to forget about that pinch-hitting opportunity. As for Gardner, there was a right-handed reliever warming up, so the decision was Gardner against a lefty or Frazier/Austin against a righty. Eh. Lefties were hitting .308/.400/.385 against Hill in limited time going into the game. Well, whatever. Boone stuck with Gardner, who grounded out to end the inning. The bigger problem was stranding runners in the second, third, fourth, and fifth.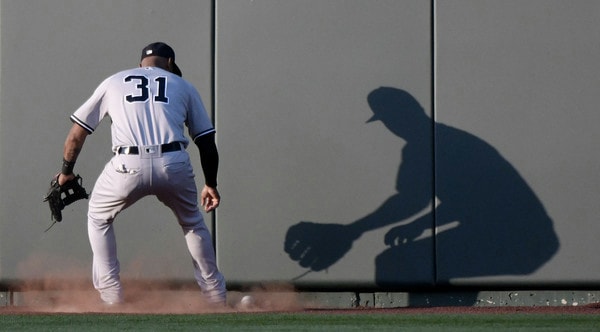 Leftovers
The Yankees scattered eight hits, all singles, as well as two walks. The last ten men they sent to the plate made outs though. That's kinda annoying given how terrible Kansas City's bullpen has been this season. Hicks had three of the eight hits and Stanton had two. The rest of the Yankees went 3-for-26 (.115). Gary Sanchez had a loud 0-for-4. He hit two balls right on the screws that just died on the left field warning track. One of those games.
David Robertson allowed a run for the third time in his last five appearances. He walked Moustakas with two outs and Perez dunked a fly ball double juuust beyond the reach of a diving Aaron Judge in right field. Walking the un-walk-able Moustakas is more annoying than the well-placed fly ball double. Chasen Shreve and Jonathan Holder both threw scoreless innings. Hard to believe, but basically everyone in the bullpen who didn't pitch in this game will need work Saturday.
Box Score, WPA Graph & Standings
For the box score and updated standings, go to ESPN. MLB has the video highlights. Here's our Bullpen Workload page and here is the win probability graph:

Source: FanGraphs
Up Next
Assuming the weather cooperates, the Yankees and Royals will play the middle game of this three game series Saturday night. That's a 7:15pm ET start. There is rain in the forecast though. Getting sick of the rain, you guys. If they do play, Luis Severino and Danny Duffy are the scheduled starters.