And the Yankees are still the only team in baseball without a three-game losing streak this season. The Yankees rebounded from those back-to-back losses to the Rangers earlier this week with a 2-1 win over the Angels in the homestand opener Friday night. The Baby Bombers led the way. (Again.)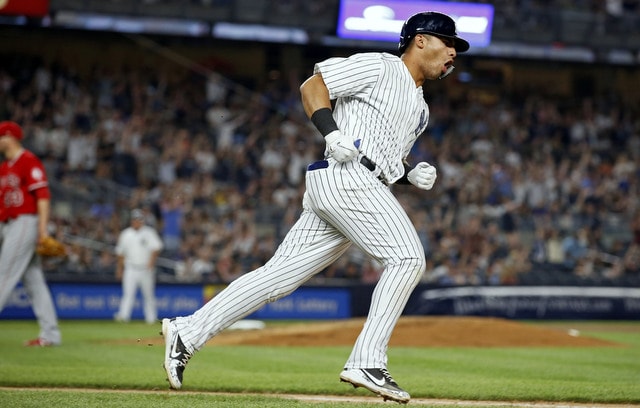 Score One Run
The Yankees had nine baserunners Friday night and they bunched them together. Four times in their eight offensive innings they went down 1-2-3, and in one of the other innings, all they mustered was a two-out walk. The Yankees opened the scoring in the second inning on a Gleyber Torres infield single that was anything but routine. A two-strike single (Gary Sanchez), a walk after being behind in the count 1-2 (Aaron Hicks), and a four-pitch walk (Miguel Andujar!) set that rally up.
Andrew Heaney, who has been quite good this season, got ahead in the count 1-2 on Torres with two outs. The kid swung out of his shoes at a first pitch changeup and a third pitch slider — huge swings in non-two-strike counts seems to be Gleyber's thing — but he took a slider for a ball, then stayed on a changeup for a hard-hit ground ball to third base. A few things about this:
Zack Cozart made a tremendous lunging grab at third base to keep that ball from going down the line for a bases-clearing double.
I have no idea why Cozart went to tag third base for the force out rather than throw to first. The two or three steps he took toward third was enough for Torres to beat out the infield single.
Both Hicks and Andujar made bad baserunning plays. Hicks stopped between third and home when the ball got away from Albert Pujols. Andujar put his head down and kept running.
In hindsight, Hicks should've just kept running home. But once he stopped, Andujar had to stop, and he was caught too far off second base. Had Pujols thrown to second, Andujar would've been out. He threw home, because duh, and Hicks was barely out. I was waiting for the Yankees to challenge. It was that close. A run scored to give the Yankees a 1-0 lead, but they ran themselves out of a potentially larger inning. The Yankees have made 20 outs on the bases this year, third most in baseball. I am generally cool with being aggressiveness, but there's been a few too many dopey mistakes.
Give Up One Run
As the career high tying four walks show, Luis Severino did not have his best control working Friday night. And yet, he held one of the best offensive teams in baseball to one run in six innings. The one run? A Mike Trout solo home run. Severino threw Trout a 98.5 mph fastball here …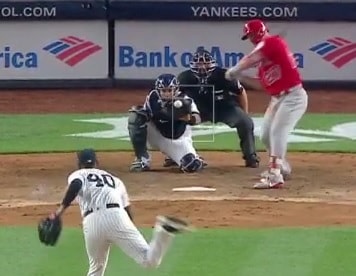 … and Trout hit it into the second deck in right field with what seemed like an effortless swing. A totally normal baseball thing that players do all the time. Definitely not something pretty much only the best player on the planet can do. (What a freak Trout is. Good gravy.)
Severino's final pitching line: 6 IP, 4 H, 1 R, 1 ER, 4 BB, 6 K, 1 HR on 99 pitches. His defense gave him some help — more on that in a bit — but credit Severino for getting some big outs. He got Pujols to bang into an inning-ending double play in the first, and he struck out Cozart and Martin Maldonado after putting two on with one out in the fourth. Even when Severino isn't razor sharp, he's still pretty great. What a stud this kid is.
Score One More Run
After the Halos tied the game on Trout's fifth inning homer, the score remained 1-1 into the seventh inning. It wasn't until Heaney was out of the game that the Yankees were able to break through and score again. Heaney was real good: 6.1 IP, 4 H, 1 R, 1 ER, 3 BB, 5 K. He was left in to face left-crusher Tyler Austin in the seventh and he struck him out, which doesn't bode well for Austin's job security.
Anyway, out came Heaney and in came Jim Johnson, who sure seems to have a knack for giving up big home runs in Yankee Stadium. I miss having that guy in the AL East. Johnson came in, got Andujar to line out to second, then gave up the game-winning solo home run to Torres. Here's the video. I know everyone wants to see it so let's just get it out of the way.
Hoo boy. Lots to talk about there. One,
just this morning I mentioned I'd like to see Torres use the entire field a little more
, so of course he goes out and smacks an opposite field homer. Wasn't a Yankee Stadium cheapie either. He drove it several rows back. Sat back on a 96 mph sinker and hammered it the other way. What an impressive piece of hitting.
Two, the at-bat Gleyber had leading up to the home run pitch was very good. He took a first pitch curveball for a strike, then spit on three tough pitches just below the zone to get himself into a 3-1 count. Look at the pitch locations: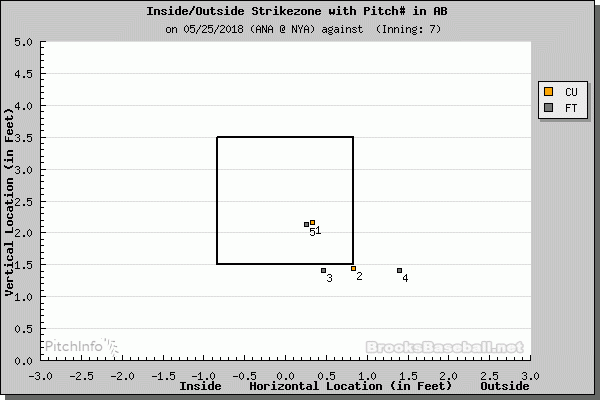 Gleyber didn't flinch at the 0-1 or 1-1 pitches just below the zone. That put him in the hitter friendly 3-1 count and got him the hittable sinker in the zone. I love Andujar. He's awesome. But no chance does he lay off those pitches below the zone there. I feel like I've said this 50 times already: Torres takes at-bats like a ten-year veteran. He doesn't play like a 21-year-old at all.
And three, that home run made history. Gleyber is the youngest player in American League history to hit a home run in four straight games. Only three players have done it at a younger age and they're all National Leaguers: Andruw Jones in 1998, Pujols in 2001, and Miguel Cabrera in 2004. Good company? Great company. Gleyber's sixth homer in his last six games — it was his nine homer in his last 16 games as well — was a game-winner and it made history. Not a bad night for the kid.
Strong Arm of the Law
Aaron Judge went 0-for-3 with a walk and two strikeouts Friday night, but he still made an impact on the game with his arm. When the Angels had runners on first and second with two outs in the third, Justin Upton poked a two-strike single to right field, and Judge came up firing to nab Kole Calhoun at the plate. Great throw by Judge and a great scoop and tag by Sanchez at the plate. Saved a run and ended the inning.
Then, in the seventh, Maldonado battled Chad Green for a ten-pitch at-bat, a battle he won with an opposite field double that hit the foul line in the right field corner. Judge played it, casually threw to second, and threw out Maldonado. Right on the money. So absurd. Look at these throws:
Statcast had the first throw at 100.5 mph — "About time. I've been trying to hit 100," he joked after the game — and I' pretty sure Judge didn't even put all he had into it. The second throw definitely wasn't max effort and it didn't need to be. Strong yet seemingly effortless throws, and both were right on the money. Judge is up to four outfield assists this season — Calhoun leads MLB with seven and only five others have more than four outfield assists — which is pretty rad. A complete all-around player, he is.
Leftovers
In this week's mailbag I pointed out Aroldis Chapman has only been used to start innings this season, so, naturally, he came in for the four-out save Friday. David Robertson walked Upton with one out in the eighth. Aaron Boone went to Chapman to face Shohei Ohtani with two outs — Boone said it wasn't specifically for the left-on-left matchup, they were going to use Chapman for four outs not matter who was at the plate — and Chapman got him to ground out before retiring the side in the ninth. Chapman has been nails this year.
The Yankees had five hits total. The infield single and homer by Gleyber, an infield single by Brett Gardner, a single by Sanchez, and a loud double by Andujar. Judge, Sanchez, Andujar, and Hicks drew the walks. Giancarlo Stanton, Didi Gregorius, and Austin were the only Yankees who failed to reach base. The Yankees have blown a lot of teams out this year. Sometimes you need to win a close one.
Box Score, WPA Graph & Standings
ESPN has the box score and updated standings, and MLB has the video highlights. Here's our Bullpen Workload page and here's the win probability graph:

Source: FanGraphs
Up Next
The return of Greg Bird! Probably. He is expected to be activated for the middle game of this three-game series. That's a night game with a 7:15pm ET start*. Sonny Gray will be on the mound for the Yankees. The Angels are calling up rookie righty Jaime Barria to make the spot start.
* Shakes fist at the Saturday night game.